Case studies & testimonials
Antiopa
It's not just British horses benefiting from Dengie fibre feeds. Vesna, Dengie's representative in Slovenia, tells us about her 16.2hh KWPN mare Antiopa, who is fed on Alfa-A Lite and Leisure Balancer. This is their story…
"Antiopa, also known as Opi, is a ten-year-old mare. I bought her when she was five – she was sold by the stud farm where she was born and unfortunately they saw no future for her. Lots of people came to see and try her but no one really wanted her as she has a shorter neck and longer back. They thought something was wrong with her back as she kept changing her hind leg leads in canter.
It was pure destiny that brought us together. I happened to visit a friend at the stud and she told me about this mare, how kind and affectionate she was, and how they can't sell her but she really wanted a good home for her. At that time I was looking for a horse, just for leisure riding, so the owner said I had to give her a try. Opi caught my eye the minute I saw her. Her frame was nice, but without any real topline but I thought I can build that one with correct work and a good diet. I watched her under saddle first and she was very closed in front but had powerful hind legs. I knew this was why she struggled in canter. When I got on her, that was it, I could feel she's the one! I loved her power and temperament, so I told them I would have her. However, it turned out that there was somebody else coming to see the mare, so I had to wait another two weeks to hear the outcome. It was the most nerve-wracking fourteen days, but I said to myself that if she was meant to be with me then she would be.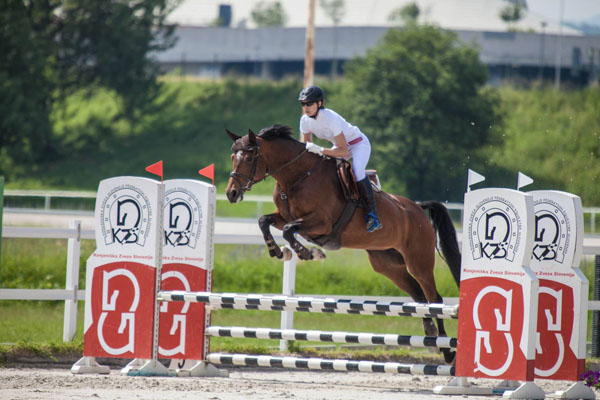 When I finally went to collect Opi, we had no problems walking her on the horse trailer for the first time and she travelled like a pro. She was quite a handful to work with at first, her ego was very big, so I had to do lots of groundwork – you could say I used natural horsemanship or just common sense. I asked my friend from UK Sharon Newman, who is a BHSII instructor, to help me transform her. We were on the same page with her, so working with Sharon every six to eight weeks started to show results.
When I got Opi, I gradually changed her diet. She was on quite a high-starch cereal diet for the work she was doing and she wasn't reacting well to it, so I opted for a high-fibre, low-sugar and -starch diet of Dengie alfalfa The change was apparent quite quickly, she became much calmer and more relaxed. First I tried her on Dengie Healthy Tummy as she experienced a couple of stress colics after competition. However, after a while and for some strange reason she stopped eating Healthy Tummy, so I swapped her to Alfa-A Lite and Hi-Fi Balancer instead. She has been on this diet for the last two and a half years, has enough energy for the work she does and is a good weight, despite being a good do-er. My dad loves to spoil her though and says that I feed her like a hamster, i.e. not enough!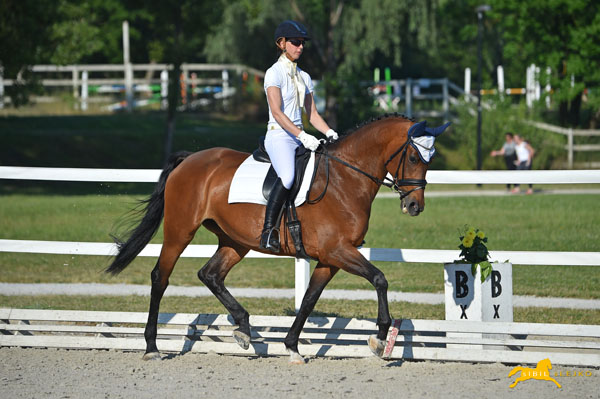 My aim isn't to do lots of competitions, but to see how far Opi can get with proper work and nutrition. Saying that, Opi has won or been placed at every dressage competition we've contested so far and regularly jumps clear when we go showjumping, competing up to Newcomers. I use the showjumping to keep her motor running and help with the dressage, which is our main focus. Next year, we are planning to compete in Advanced dressage, which is real success for a mare nobody wanted or saw any potential in! Antiopa is just the most amazing, affectionate and willing horse I have ever met – I can even let my four-year-old daughter Zara help with grooming her. In five years she has come from a freshly backed youngster to an advanced horse, which I think is amazing considering with all the things that happened in-between. We wouldn't have been able to get to where we are today without the help we've received from Sharon, my dad and Dengie."
If you would like to know more about the availability of Dengie products outside of the UK, or would like some nutritional advice, don't hesitate to call our friendly Feedline team on 01621 841188, drop us an email at [email protected] or chat live to a nutritionist online.