A Deluged Squib
---
Well, the end of the 2019 eventing season has come around and it feels somewhat like a damp (or let's face it, completely deluged) squib. Our big hope and ambition for the year – getting to compete in our first international – has not been realised and it is hard to look past that disappointment to all the great strides forward we have made.
Way back in August we were all geared up for Somerford and feeling ready to take on the two star challenge, eeking every inch of pleasure from it that we could. The tack was cleaned, I'd learnt every footfall of the dressage test and Somerford put some sneak peeks up of the cross country that had me super excited. Then I got a call from the dressage steward that I wasn't needed as a volunteer on the Friday because the national classes were all rained off. I spent the Friday morning watching the rain fall, hoping that the weather was being kinder 4 miles away. It was not. I have had events cancelled before and it is always disappointing, particularly for the organisers who have put in so much hard work in preparation, but this was a harder blow than most. After eight years of sweat, tears and thankfully very little blood, we were on the verge of our international start and then just like that it was gone. It would be fair to say I did not handle it well, not helped by there being no show jumping that I could re-route to and no obvious way to re-plan my next events, and I realised just how much it meant to me.
Eventually, Mum and I formulated a plan. She bravely suggested that it wasn't that important to wear a tailcoat this year and I quickly rebuffed that notion. We decided against trying for Osberton three day without having first done a short format international, and instead started aiming for Bicton. We entered Frenchfield and then Allerton Park intermediate novice, cracked on with jumping the 1.15m tracks at British Showjumping and progress was good. We even started to have a little play with flying changes since we've finally started to get a half decent quality of canter and if you can't have fun trying to be Charlotte Dujardin then what's the point?! Even though at one point I was doing twenty circles of counter canter as Corey wondered what on earth I was asking for whilst my instructor despaired at my ability to tell my left leg from my right leg…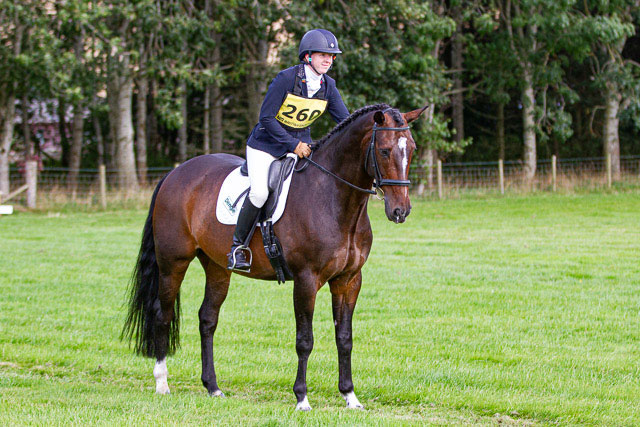 So we travelled up to Frenchfield in Cumbria and oh what a beautiful event. I had to stop halfway round my course walk just to take pictures of the view! However, I didn't realise that there was a problem brewing. He'd not been checked by a physio for a while for a variety of reasons, not least that he'd been feeling great so I'd not prioritised it. I hadn't thought much of him feeling a bit lacklustre schooling in the week, because I thought once warmed up he worked hard and felt good. He warmed up ok at Frenchfield and did what I thought was a lovely test, with a few annoying errors but overall a good quality. Turns out my feel was off kilter too; I got one of my worst ever scores and when I watched the video afterwards I couldn't disagree with the judge who had clearly spotted he was backward and lacking impulsion throughout.
Similarly, at first I felt positive about the show jumping, which I rode reasonably well and was pleased with myself for getting the rhythm back after I started to lose it part way round. But I should have taken more heed that he struggled over the oxer in the warm up and then wasn't meeting the fences quite right in the ring. And then, warming up for the cross country he was taking me forward but hesitated at the practice fence, all the time with an uneven contact down the reins. I knew something was not normal at least, I wondered if he was ok, but then told myself he was jumping so I needed to stop dithering and get on with it. He set off with joy and forwards drive, but felt unsure of his stride to fence 3 and from that point on I was having to ride him hard to get him over every fence. He wasn't meeting the jumps well and not "taking them on" as usual. We jumped into a one stride double on the top of a hill and as I sighted the second part I had no confidence in Corey's ability to make the distance so circled away. Instead of questioning why as a partnership we'd suddenly lost the harmonious 'attacking' approach we've spent so long cultivating, I cursed my stupid dithering and pointed him back at the fence. He wasn't convinced I really meant it and ducked out. I wasn't having that, so third time of asking we jumped it. We continued round the rest of the course in a similar vein; no more stops, just nothing feeling easy or rhythmical. I have never had to work that hard round a course on Corey and by the end he was pulling left so strongly that I was having to hold my right reins with both hands just to keep him straight. There were so many warning signs that I wish I hadn't kept going, even if I know so many of those warnings were not so obvious in the heat of the moment and I was being determined to overcome my history of 'wimping out'.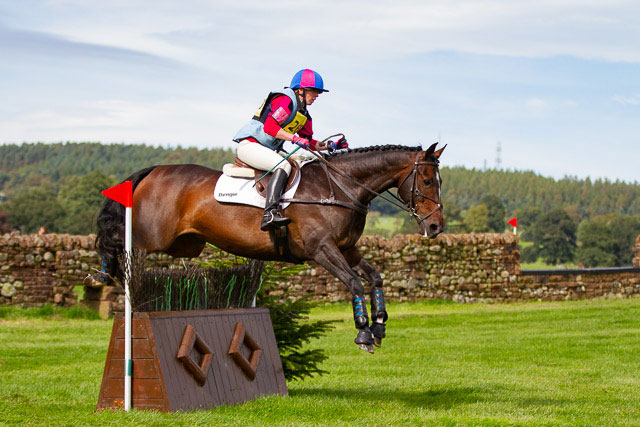 We headed back down the M6 in a very introspective mood. What was wrong? Where did we go from here? Was it all falling apart? We managed to get a physio to him later that week and were not surprised to hear that he was very sore in his back. Bless the little Cobstar for trying despite what must have been considerable discomfort. He's even still got his ears pricked in all the photos. We withdrew him from Allerton Park and took the hard decision to call an end to the eventing season altogether. If there had been more of the season left we would have kept him in work and built him up for another event, but with darker nights, a waterlogged field and only a few weeks of eventing still to run (and in fact with many of them falling foul of the weather gods anyway), we couldn't prepare properly for Bicton. However much we want to do an international, we want to make sure we do it right. The tailcoat will stay in the cupboard until next year.
So Corey is turned away for the winter and has gone feral. He must have heard us talking because the day after we made this decision his winter coat was in full bloom. We had a couple more rides and a play over some grids and a small show jumping course to finish with some fun. The spring that is back in his step has made me determined to never again dismiss him feeling lethargic. And I'm trying to look back over my season at all the positives. Cruising round nearly all of Lincoln like it was a pre novice track, taking on the big questions at Kelsall with bravery and conviction, getting a lifetime best result at Llanymynech and finally feeling like I can enjoy it all without being scared of getting eliminated every time. My 2019 record has a disappointing number of errors on it and whilst I feel to some extent it doesn't reflect the season we've really had, I do think it shows that there is a lot to work on. We came out fighting this Spring and Mum has written a brilliant plan to do the same in 2020; with the same determination but a more meticulous attitude towards everything that goes into the Corey-Brook partnership. It might be far simpler to take up a sport with only one body to keep fit, but I'm inclined to think it would be far less fun.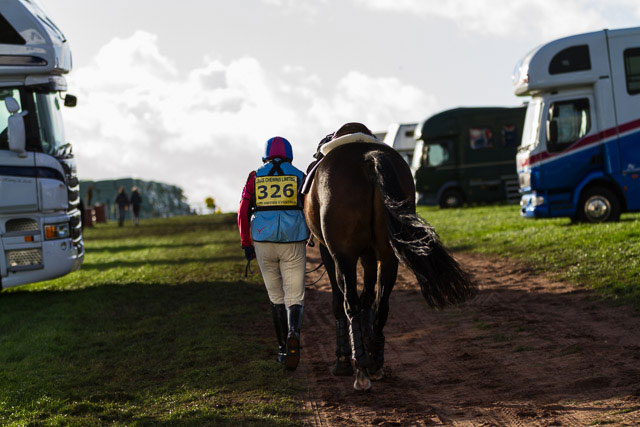 I'm sad to say however that this is the last blog I will be writing on my eventing exploits. I'm really grateful to have had the opportunity to work with the wonderful Dengie team for so long and have enjoyed sharing my journey with you all. But I am very conscious that finding time to sit and write is increasingly difficult. I've not even been riding the last couple of weeks but between the children, Corey and work, my brain just runs out of space. Thank you for reading, and from all of the Supercobs team, farewell.