A start to the season worth waiting for
---
Well, two of my three countdowns from early March went relatively according to plan, but the third had a few false starts before we finally kicked off the 2018 season. However, it was a start to the season worth waiting for! Apologies that this blog has been a long time coming too, it is a bumper one as so much has happened, and I hope you will forgive me since I've been somewhat busy the last few weeks…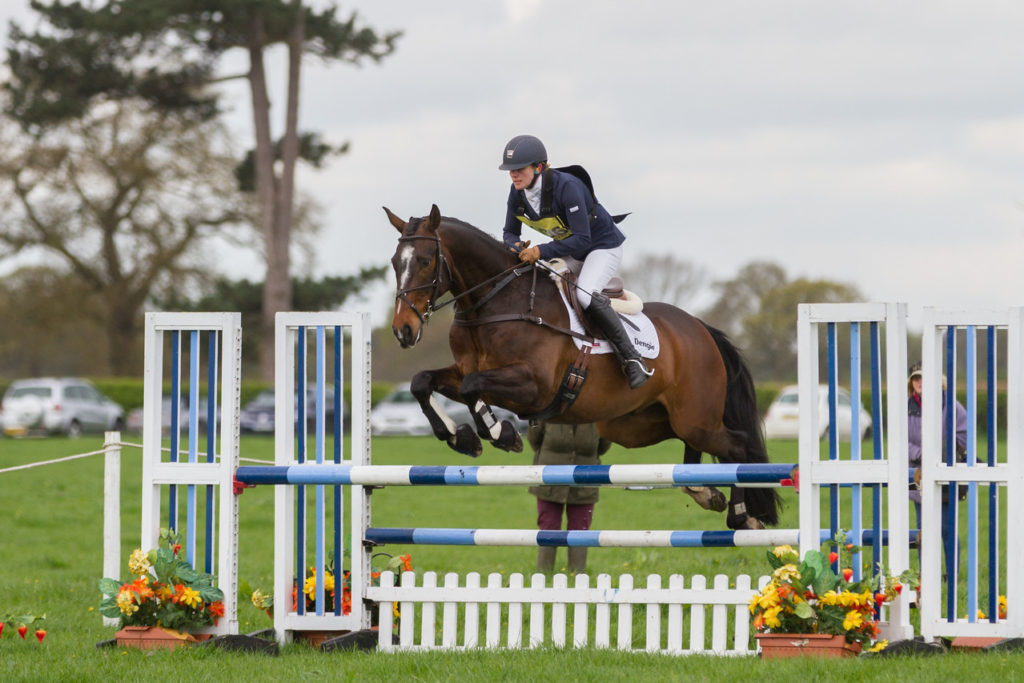 When I last wrote, we were eagerly awaiting the arrival of Baby Howells, hoping that we'd make it to watch Nicki at Lincoln Horse Trials. Not one to take it easy, three days before due date we were at Somerford for Nicki to jump Corey with our riding club, ECCTG. She did a great job with solid clears in both the 110cm and 120cm classes, but I was increasingly uncomfortable as I watched and it turned out to be an omen of things to come… that night my waters broke. We had planned for a home birth after Floss's relatively quick arrival, so the next few hours passed in reasonably relaxed form as we waited for labour to establish itself. The midwife came and checked everything was over, then left us to relax since nothing was happening quickly. Or so we thought; we called her back as things started to progress, but baby beat her to it! Delivered at speed and caught by Al and my Mum, Arthur Bosworth Howells arrived safe and well. Great drama and a great story – we're even going to get a copy of the 999 call Al made when we realised the midwives wouldn't make it… a slightly unusual piece of media for the digital family album!
So that is the baby news – now back to horses! Shortly after Art arrived, I got to thinking about whether I'd make it to Lincoln on the Sunday to watch. Our biggest concern was that Nicki was due on late in the afternoon, so we'd have all day to get there but a late drive home, which wouldn't have bothered a week old baby, but would have been tricky with Floss. Al kept trying to persuade me to satisfy myself with video and Mum's commentary over the phone, but it was watching the blizzards on the Saturday afternoon that finally convinced me it wasn't going to happen. However, the decision became moot when the heavy snow across Lincolnshire lead to the rest of the event being abandoned. We were somewhat relieved that Nicki wouldn't be going cross country in arctic conditions, but at the same time gutted for Nicki and Cobs. Little did we know that it would not be the last event cancelled this year. Weston Park was the next event to fall by the wayside… though with Al away on a stag do I was again somewhat relieved, since it meant I didn't have to figure out how to juggle everything to get there in time for an early dressage. I feel so sorry for the organisers of these events – it is disappointing for us riders but at least we can (in theory) reroute and replan.
We continued working towards Chatsworth and Nicki had a lesson with local dressage trainer Paul Hughes, who got him really sitting behind and revealed Corey's brilliant attitude – he may only ever do as much as you ask of him, but he rises to the challenge if you ask more. She then took him showjumping at Field House equestrian centre and with this improved canter Nicki pulled off a fantastic double clear for 3rd place in a big newcomers class. Finally, after all the preparation we, got to our first event of the year.
Kelsall Hill is always a great event and I was particularly jealous of Nicki getting to ride the track, but it was almost as much fun watching. After a slightly tense but otherwise confident dressage – not helped by Corey spotting the XC start box just as Nicki went over to her arena – Nicki was just out of the top 10. She moved up the leaderboard though with a super double clear and only a few time faults thanks to some tight lines, to get their first point and their first placing – 7th!
A week later we went to Bradwall, which is one of most local events and which we'd entered in case others got cancelled. What a good job we did! The cancellation of the Saturday left our run in doubt, but luckily the ground dried enough, and even more luckily Nicki got the best of the going with an early time. A slightly tense dressage test put her midway after the first phase, but another double clear – one of only a few all day – saw her rise up the ranks to win another rosette for 5th. What an unbelievably good start to the year!
Then, it was time for the big one – Corey's international debut at Chatsworth CIC*. Mum took the week off work to help prepare everything, Cobs got washed and washed again, Nicki had another lesson with Paul, and I bought some champagne ready for the celebrations afterwards. I was hoping we'd be celebrating him completing, but boy was I wrong. Corey and Nicki both tried their absolute hardest in the dressage, which put them in 8th place overnight in a strong field. The course looked fab and well within their capabilities, but Corey has never competed in front of such a big crowd before. I was nervous just watching and as much as I want to ride at Chatsworth one day, the next morning we were joking that I'd have been sick about five times even before the show jumping!
Corey stood waiting to go into the arena with his eyes on stalks, looking at all the tradestands and crowds… yet as soon as Nicki turned to a fence he focused and tried so hard. My legs were like jelly but I needn't have worried – another clear round for just 2 time penalties. On to the cross country, which they both started with real confidence and speed. I sat waiting at the finish, trying to catch news via the commentary and only hearing about other riders… she came into view just in time for me to see her have a slight whoopsie at the second water, but she stayed in the plate and was heading for home. She sailed smoothly over the last combination, and across the finish line. Nicki said he'd not been as forward as usual, perhaps the crowds had overwhelmed him slightly, but he'd kept jumping and finished only 2 seconds over the optimum time. A double clear at his first international, and even more amazingly a rosette too! We could not have dreamed of such a result and I was so glad I'd brought champagne!!!
Now we need to work out what is next for Team Supercobs. I have been back riding for a few weeks but not jumping yet, since I didn't want to upset the partnership Nicki has built. I am now going to start popping fences and plan to take Corey out for a little play or two; some no pressure fun to chill out. However, Nicki's jokes that I wouldn't get the ride back may just be right after she's had such success!