Back to Eventing At Last!
---
There is something to be said for starting the eventing season in mid July – the weather is (mostly) glorious and Corey is looking fabulous, if a little bit too 'well'. I've managed to work off some of his spring fullness, thanks to upping the fitness regime and restricting the grass, and after nearly 11 months away from eventing I was seriously chomping at the bit. The only downside of starting so late is that I already feel the end of the season is looming and I'm keen to get out as much as possible before it is all over.
I have always been extra nervous before the first event of the year, feeling rusty and like I can't remember how to go cross country. Those nerves have definitely been a whole lot worse this year. For one thing it has been much longer since I last evented and for another I am very conscious that I'm now a Mum. It is not that I'm more worried about falling off and hurting myself though. I've been very aware of the dangers of eventing, perhaps more than most, since I broke my back in a schooling accident at the age of 19, so I can't say that I have been competing oblivious to these dangers until now. I think in fact it helps now that I'd already had to conquer my fears about the dangers when I returned to the sport after that injury. I think the bigger problem with being a Mum is that I somehow think I should feel differently and so expect to be more nervous. Then because I'm nervous, I worry about whether or not I'm a competent rider any more… What a vicious cycle!
I was however feeling as prepared for my first event (Stafford 100+) as I could be. I'd done a few dressage competitions, so the first phase wasn't going to be a problem. I'd won twice at riding club and then came 3rd at the riding club area qualifiers in the elementary. I was pleased with that test and it was a good result for my first qualifier at that level I felt (see video below). I'd been out showjumping a couple of times too, tackling some 1.05m and 1.10m tracks, and whilst I wasn't leaving every single pole up, I was pleased that the fences didn't look too ridiculously big after such a long time off. And I'd been cross country schooling a couple of times; once to test the water so to speak (before I shelled out for an entry fee… making sure I was at least reasonably likely to get out the start box!) and a second time that was more about putting to rest some demons from my dreams about corners and being incapable of riding to one.
And so we set off to Stafford, with an only slightly adjusted routine to incorporate Florence. I double checked I'd got all my kit, after realising at a previous competition I'd forgotten half of it in trying to get both baby and horse ready. I got Mum to check my calculations of when we needed to leave (and thank goodness I did – I was out by a whole hour; baby brain!) and added extra time to feed Floss on arrival. And I busied myself with all the little things like cleaning out stud holes and plaiting up, to remind me that I am experienced in all parts of this game.
The dressage went really well and I was very pleased with Corey. I had decided to take a risk in my lengthened strides and ask for a lot more, because I felt like the pressure was off slightly. He broke in his first trot but otherwise tried very hard and scored a very creditable 32.8 to lie in the top half of the section. The show jumping went quite well too, just one pole down and quite a fluid round, despite me deciding part way round that I would let Corey go cross country speed as a mental practice for myself for what was to come.
Then came the emotion, the nerves, the tears. (Well to be honest, the tears started before I'd even warmed up for the show jumping…). Was I still an eventer? Could I remember how to ride cross country? Did I even want to try? What if something terrible were to happen? How would Al feed Florence if I was injured? All these questions were surging through my head, making me feel very uncertain about even setting off. It didn't help that fence 6 – scary big upright rails before the water – was not just a rider frightener but actually causing a fair few problems and I knew I either had to ride it strong or pack up and go home.
This is when Team Supercobs kicked into gear and did what they do best. Mum reminded me that I have had these 'emotional outbursts' before and I've been told by a sports psychologist to let them happen and not worry about them. Together we agreed that retiring on the cross country was not a sign that I couldn't event fullstop, just that I wasn't necessarily ready yet, so if it was going wrong I had already got my back up plan in place. If I came down the hill to the water and couldn't make my determination overcome my fear, I was to pull up and call it a day, and that would be ok. I had another emotional outburst at Al, who gave me a hug, told me he understood and told me to get on my horse and enjoy it. And long story short that is exactly what I did.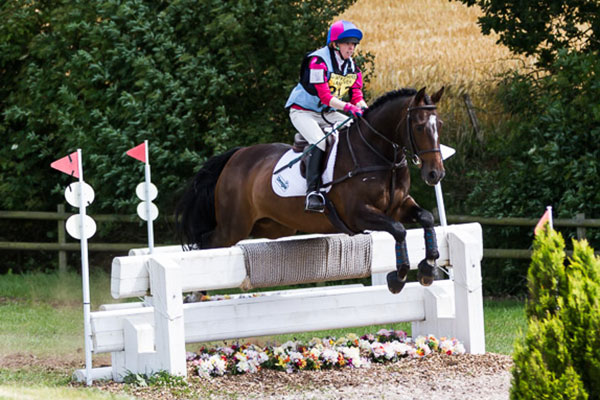 There were a few moments when we didn't get our stride or our line quite right and there were a few moments when it wasn't pretty, but there were also quite a lot of moments when it all came together perfectly and felt amazing. Corey flew through the combinations and turning lines with the consummate ease you'd expect for a horse of his experience. I rode with determination and only a little trepidation into the rails before the water – and then we jumped into the water itself so boldly that I promptly lost my knitting and had to steer over the step to skinny out on just the buckle of my reins. And boy did that feel good. It was that seat-of-my-pants moment that confirmed to me that not only am I still capable, but I still really enjoy it and I was back doing the sport I love so much. I was very conscious that the pace I was setting was likely too quick, given that I usually have to take a check after every fence to avoid "too fast" penalties, but I opted on this occasion to let him take me and enjoy himself; he wasn't rushing, just forwards and not wasting any time at each fence.
We crossed the finish line, and as I was patting him and pulling up I was already thinking about where we might go next, and how soon we might get back to novice. Never one to stray away from a challenge I have my eye on qualifying for the new novice championships at Gatcombe next year, and the journey there is only just beginning…