Looking for the positives by Brook Howells
---
Well time has flown by the last couple of months and I have to apologise that I've not done more recent updates despite having already been out eventing three times! It's been hard to find time to type, especially given that Art seems to think he should be allowed to join in with this 'hitting the computer' game… My year of maternity leave is now up however, so I have a new routine and potentially more opportunity to write once the children are in bed. My job is hard work, but I still have more energy after a day in the office than I do after a day fielding "Mummy, Mummy, Mummy"!
We started the eventing season with a novice run at Lincoln. This is the first time I've ever deliberately started a season at novice and I did briefly wonder at the wisdom of trekking halfway across the country (with a forecast for gales and downpours no less) when I could have had a 100 run much closer to home. Preparation was not ideal because we'd not managed to do any cross country schooling on grass but we'd had a fantastic training session with Maddy Moffett a few weeks before using Somerford's jumps on a surface, and Corey schools on grass most of the time in any case. Maddy had achieved the previously impossible of getting me to actually look up and beyond fences rather than looking for strides and we jumped some really technical combinations, so I went to Lincoln feeling like we could jump anything the course threw at us. I was very nearly not disappointed.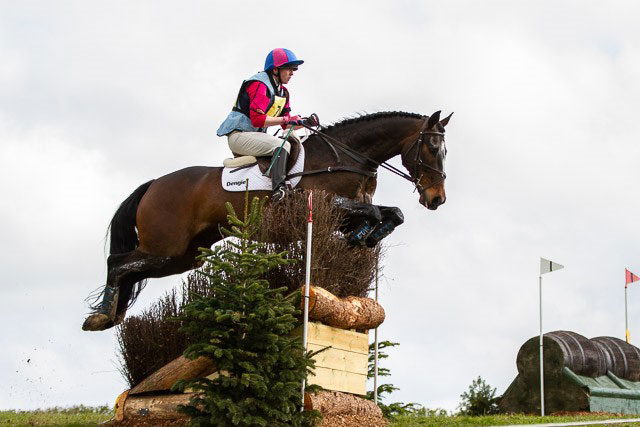 As we walked to the dressage warm up I told Corey that Lincoln was all about proving to ourselves that we were solid at novice and that Chatsworth international was no pipe dream. He was right with me throughout the dressage and I was really pleased that instead of just sitting there going "well isn't this lovely", I took advantage of his mood and asked for more. This tactic paid off and we were lying 3rd after dressage. The show jumping was up to height but 1.10m is just what we jump now and it doesn't faze us. I rode Corey exactly how I wanted (forwards but not fast, soft reins, looking beyond, letting him find his stride) and was rewarded with a clear. The cross country course was big and technical but I was really happy that I could smash it. Mum agreed – it was only afterwards that she confessed she thought it was massive and one of the toughest tracks I'd face at novice. We were rusty over fence 1 but immediately adjusted and found our partnership to jump round like it was a 100 track. After a few fences I started kicking for speed on the basis that I might actually get placed… then three fences from home we came unstuck at a turning combination to a brush corner. I rode it forwards, as planned, but as a result ended up on a dreadful line and Corey glanced off. I tried twice more and somehow just couldn't get my approach right or persuade him over it. Even so, I walked off the course with a sense of achievement and thrill because the rest of the track had gone so well. Going back to watch others jump the corner it was clear I'd misread the question and made the wrong plan, but we can learn from that. We were firing on nearly all cylinders and with a small tweak we could go and nail it at Chatsworth.
We went cross country schooling, jumped corner after corner, and ironed out a few creases; all moving in the right direction. Then I took Corey for a routine saddle check and faced the question of whether Corey needed a new jump saddle. His wasn't awful but wasn't perfect so could we do better, for his welfare and his performance? I borrowed a saddle for the weekend and on the Saturday jumped him in the field. He loved it and jumped much better than usual – decision made. However, it couldn't be that saddle because I felt insecure and unstable, and there was no way I'd go cross country in it. The next day I hacked in it in case I got used to it, then had another jump. I still hated it, and now so did Corey apparently. He was jumping so badly that I stopped the session for fear of him losing his confidence; I've learnt this Spring that after nearly 10 years of partnership I know Corey very well and I should trust my instinct about him. I took the saddle off and found it had been pinching him on both sides, so no wonder he was grumpy. We gave him an easy couple of days then jumped him in his old saddle to check he was feeling ok before our next run at Breckenbrough. Corey was fine, but because of that one bad jump practice my mojo had gone into hiding.
I walked the course for Breckenbrough on my own the night before and by fence 4 was sending Mum messages about how tough it was and that I didn't think I'd get round. I went early the next morning to walk it again with Al saying "stop being daft and get on with it", which did help a bit. He got tense before the dressage, and though I tried to make him use all that energy, it bubbled over for a sub-par score. I went into the show jumping happy, but having lost my canter into 3 and started to hook, I couldn't reset myself until Corey (very sensibly) refused to take off into a treble up the hill after I buried him in the bottom of it with a flat canter. We got our canter back as we circled but suffice to say I was already not having my best day. I thought we set off on the cross country well, but in hindsight I was going too steady and too gingerly – just because you're not going for the time does not necessarily mean you shouldn't be riding forwards. Despite this, Corey jumped almost everything in front of him with ease. Almost… There was a turn to a brush corner. After two run outs I held my hand up to retire, but then gave myself a talking to, apologised to the jump judges for confusing them, gave Corey an even sterner talking to, and jumped the fence (phew!) before going on to complete the course. I should have felt elated at the end, but I felt dejected and frustrated because I'd fretted the whole way round and it had felt harder than it should have done.
So, where to go from there? The next hack out with Mum was an opportunity for a long chat, full of soul searching and deep analysis. She didn't think the Breckenbrough track was that hard, so we had to think about why I got worried. I don't really know why my confidence dipped quite so far, and though it is a small comfort that we can get round a novice track even when my riding was distinctly off colour, I knew I needed to buck my ideas back up.
We got his existing jump saddle adjusted so it suits him better without making me feel unsafe and in fact when we took him to do a newcomers the next day I was struggling to contain him, because he was so excited to be jumping with more freedom! We had a fitness gallop and went back to basics, getting the feel for a more forwards canter rather than the 'pootle in the park' type lollop we had at Breckenbrough. We decided to enjoy Chatsworth with the pressure off and go for the novice as there will be other opportunities to ride in a tailcoat.
Happy with this decision we started preparing for Kelsall, but then we got the news that Chatsworth was balloting all the novice entries. I was about to swap into the 2* after all when I realised I wasn't FEI registered, so the dream was over for another year.
Still, we had a happy healthy horse, plenty more chance at great fun through the year, and ambitions to fulfill nonetheless. So we set off to Kelsall with the aim of riding forwards and positive. We weren't intimidated (much!) by following Oli Townend into the dressage arena and in fact were lying nearly top of the table after a great test. We show jumped with confidence and if I'd looked up over the last fence instead of going for a flyer I could easily have been home clear. Then we set off on the cross country on a mission – and it was a mission accomplished. There were a couple of fences that worried me, including a left handed brush corner, but I trusted that if I looked up as Maddie had taught me and kept my leg on he'd respond with bravery. I was right – he absolutely smashed that course and finished clear with just 2.8 time penalties to finish 8th! Once again we proved we may yet get a place at Gatcombe. So the mojo is back and whilst we are not going to Chatsworth, we have a lot to be thankful for.