Make Your Dreams Bigger Than Your Fears
---
It has been so long since I wrote a blog (apologies – baby+work+training = not much free time!) that I'm going to have to cram a lot into this one – my eventing season has now come to a close and there is a lot to reflect on. I have had several thoughts of titles for this blog, including "finishing is overrated", after elimination drama at Richmond. I've plumped for a phrase I keep coming back to, and which Ben Hobday used in tribute to the amazing Hannah Francis. What she achieved in such a short time has certainly inspired me to keep pushing for my own goals, no matter how hard they may sometimes seem.
So, after a brief sojourn to see family in Finland, we were straight back into eventing gear. We had planned out the second half of the year to be a run at Bold Heath followed by going back to the local events we'd tackled in the spring, giving us chance to get some solid confident runs under our belt. We quickly hit a slight stumbling block however when our transport went up in smoke on the way to camp/Chef d'Equipe at the BRC Championships. Luckily we were not towing a trailer at the time, but being stranded on the M40 with a 15 month old was bad enough! We were rescued by an amazingly generous local family and soon home safe, and then just as soon I'd lined up alternative transport for Corey to Bold; thank you to my good friend Jo Prestwich for helping me out with her little horsebox!
Bold is quite a local event to us and holds both good and bad memories for me. My first trip there (on Gaby, the not-so-enthusiastic mare I had before Corey) ended with three refusals in the show jumping but my last trip there was with Corey and gave me my qualification for grassroots championships at Badminton. On this occasion, it turned out to be mixed feelings. We did a really smart and fluent dressage test that put us in 2nd place and started the show jumping really confidently. Unfortunately I think my confidence turned into complacency and as I relaxed the canter got faster and flatter, and four poles fell. I really liked the look of the cross country – only one fence that was really challenging and a nice bounce to have a go at – although as I was getting Corey ready the nerves kicked in and I started questioning whether I was really up to the task of riding these bigger tracks. Once out the start box, I really enjoyed riding it and felt a noticeable difference in my determination and confidence. I got the line wrong out of a combination to a skinny and only later learnt that this hadn't penalised (not sure why not!) so as I rode to the bounce towards the end of the course, I decided I might as well give it a go since I thought I already had 20 penalties on my card. Corey was very taken aback by the second part being so close, slammed on the brakes and up his neck I went – and nearly down his neck on the other side! I stayed on, just, jumped it on the second time of asking and went on to complete. Although I was frustrated that I'd been so close to a clear, I was really pleased to finish confident and with a real sense of "I can ride a novice track!"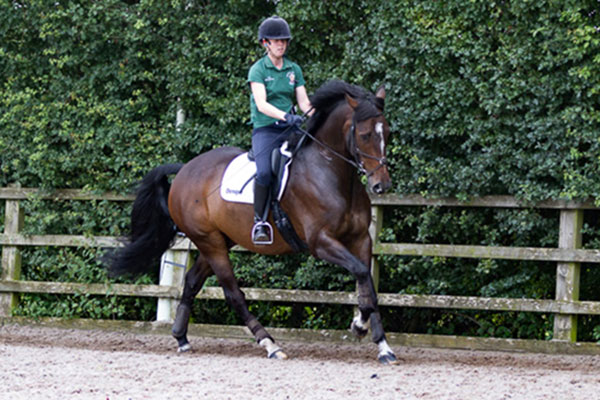 On to the next event – Llanymynech – with a quick trip the day before to a dressage lesson with Ruth Edge, organised by our riding club. It was a fantastic lesson that I thought moved my dressage on about 6 months in 60 minutes! We both worked really hard and Ruth gave us a huge amount to work on. Lots more leg and not so much hand was the message; and Ruth consistently related this back to my jumping and how better engagement on the flat would help me ride my fences cross country. Sadly, we didn't get to put this theory to the test at Llanymynech the next day. I slightly overcooked the warm up for the dressage so the actual test got a bit tense, but I still sneaked into the top 10. Again, the show jumping canter started to unravel slightly as I went round, but more worryingly I felt like Corey was having to make far too much effort to jump the fences. It was a very hot day so the fact he was sweating was not unduly worrying, but as we finished the show jumping he was out of breath and not recovering as quickly as I'd like. I watched the video of his jumping and this confirmed to me what I'd felt in the ring. I decided to withdraw him – it was clear to me that something wasn't right. In hindsight, I think he was suffering from muscle fatigue. The lesson with Ruth was like a really good gym workout and I know how much that can make me sore the next day. Corey has such a big heart that he would no doubt have tried for me on the cross country, but I couldn't ask him to when he was obviously aching and tired. Best to keep him well for another day.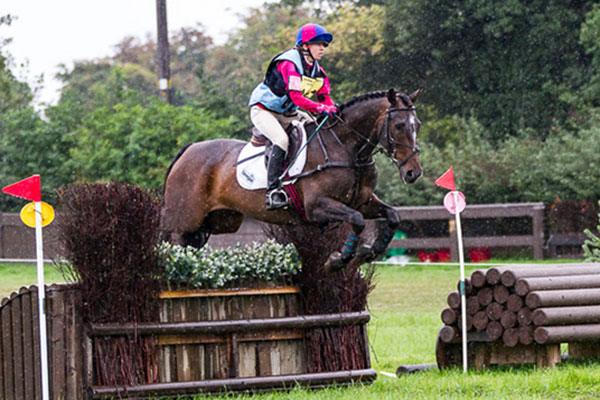 With Richmond only a week after Llanymynech, I gave him an easy week and clipped him too, to give him the best chance of comfort. Typically, it then poured with rain for the entire day at the event. I haven't been so wet in a very long time. Another solid dressage test (we're getting pretty consistent now) put us in 8th place and he warmed up so well for his show jumping that I felt really confident we were on for a clear. I knew I had to concentrate on keeping him in a calm rhythm and he was working outside like he would allow me to do that. We went in, discovered the arena surface had become quite holding in the rain, and promptly went through the top of both the first and second fences. I had to completely change my plans and my calm collected canter went out the window. I hunted round and completed with only one more pole down. I felt robbed – I felt like this was my opportunity to show that I can show jump well, and that lady luck was just laughing at me. Mum pointed out how being able to change tactic so quickly and avoid having every single fence down was good riding in itself and we agreed to just kick on through the rain to enjoy the cross country. We'd set quite low expectations for the day – aim 1 was to finish, aim 2 was to go clear cross country and aim 3 was to go double clear. Despite the show jumping being frustrating, Corey jumped round Richmond in the spring with just one circle, and that was entirely my fault, so with the course being nearly identical we were on course for meeting aims 1 and 2 still. He set off on a mission and was jumping brilliantly. The rain was making my reins slippy, and it was a real 'get on with it' feeling, proper cross country riding. At the first corner I got a good line, a good rhythm and what I thought was a good approach – he ran out. I was angry, but he jumped it on the second attempt so we kept going – a clear would have been nice but we were still on for a finish. But then at the second corner he ran out not once but twice. We were eliminated and my aim of just finishing was gone. I was less angry and more disappointed. As I walked back to the lorry park, I felt like Corey had let me down for the first time in our career together and it really hurt. I felt like it meant we would never make it as a partnership and my ambitions to go CCI* with him were completely unrealistic. Maybe I should just end the season there and regroup for next year. Maybe I should drop down to 100, even though he's jumping 93% (yes we worked it out!) of fences brilliantly. Maybe I should ask someone else to ride him and see if he could do better with a competent jockey on board…
The day after, feeling dejected and listless still, my friend rang to ask what had happened. I explained what Corey had done and my indecision of what to do next. I had pretty much decided that since I was entered for Kelsall, and since I enjoyed jumping that track so much in the spring, I would go and try it – even if I couldn't get over the blasted corner. Finishing courses is overrated anyway and it's the fun of jumping what you can get over that counts. She suggested a lesson with Neil Fox at Kelsall (rather than Somerford, because I know all their corners too well); it was one of the best bits of advice, and one of the best lessons I've ever had. Everything any teacher has ever told me, but rolled into one big pot and practiced over, and over, and over again. Corey felt like a different horse at the end – a better horse.
A week later, Neil walked the course with me at Kelsall and helped me figure out my game plan. It was going to be a good end to the season no matter what. The dressage felt beautiful, like Corey knew it was an important test and in fact he was lying joint 4th. We show jumped well and just rolled two poles. So what – yes a double clear to finish the year would have been amazing but do you know what? Corey is now jumping 1.10m tracks like they are his bread and butter, and that means more to me right now than keeping every pole up. And the way he felt on the cross country was worth it, every stride. He felt like he was tiring a little part way round, and in hindsight the lack of transport for a few weeks and therefore lack of opportunities to go to the gallops, has probably meant his fitness has dropped off a bit, but he tried and tried. We got through the technical section [nearly] foot perfect, went long at the corner we'd struggled at in the spring and jumped a huge triple brush like it was 2' high. We got out line wrong coming out of that skinny to a brush corner and glanced off it. I messed up my stride the second time too so I was nearly ending the year on yet another elimination, but I was determined and despite overhearing the commentator say it was difficult to come back to it a third time, I cleared the corner and went on to finish the rest of the course. Finishing isn't always everything but my word it felt good this time!
And with that, my eventing season is over for another year. My record for 2016 is one I will be glad to put behind me, but I have actually had a fabulous year. As a one-horse, amateur rider, with a part-time job and a full-time toddler, I feel like I have achieved a lot in going novice so many times. Corey is loving the tracks and although there is work to be done, I'm confident it will pay off. I have feared that he is not really a novice horse and we'll never make it to CCI*, but my dreams of what we can achieve are so much bigger and I'm going to follow them!