Sensible Knickers or Big Brave Pants?
---
The title of this blog comes from a tweet I wrote last week, after my first event – Askham Bryan – got cancelled and I was left with a bit of a dilemma on my hands.
The start of 2016 had been going fairly well to plan until the news that we couldn't compete at Askham and I'm gutted for all concerned. Our normally tough fields have really taken a battering this winter and looking at all the puddles lying on it this week, I'm not surprised that many places are struggling with the ground. Fingers crossed it clears up soon and we can all get out enjoying the great sport of eventing.
In preparation for the season starting we've been to a couple of dressage competitions, including 2 pre-season eventers dressage competitions and had good success, even winning the CCI1* test at one of them. We tackled our first intermediate test and were very pleased not to come last when we saw that half the other combinations were also doing a CCI*** test(!!). I'm really pleased with how Corey is coming out of the winter in terms of his flatwork. He's getting very little practice so we're having to do the majority of our schooling in the warm up or practicing lateral movements walking down the road, but on the whole he is keeping his head and trying hard. Some of his work has shown glimpses of a new level of self-carriage and impulsion too so I'm looking forward to what we can get when we can practice properly too.
My jumping confidence continues to improve and my nursery rhyme singing is taking me from strength to strength. We've not had a chance to get the practice corner fence up in the field due to the wet but we have managed to get to Somerford to play on their all weather xc a couple of times. Both times were quite frustrating in how much my mind was interfering rather than letting me sit quiet and allow Corey to do his job, but on the positive side we jumped some tough questions and Corey proved that he is really quite fit, which is a great feeling at the start of the season.
So, we entered Askham Bryan 100 and then put our names down for Lincoln novice. I'm very aware that whilst I might benefit from the nerve-calming ease of a run at 100, Corey is not particularly challenged at that level now and we don't feel we learn much doing those tracks. We need to go out and get experience at novice in order to move the boundaries of our comfort zone. I took advice from various people on what I was likely to find at Lincoln in terms of ground and course and decided to make the long journey over.
Then the weather gods intervened and Askham was abandoned and with that came the question – sensible knickers or big brave pants? Do I reroute to another 100 for my first run or do I dig deep and go straight in at novice? For about three days the big brave pants were winning; I was confident Corey would be fine and he is on such good form at the moment I did not think starting at novice was unreasonable, and I could always withdraw after the show jumping if the cross country looked too tough. But in the end the sensible knickers prevailed. I was a bit worried about whether I'd manage to get in all the preparation I would like – particularly as I've now finished maternity leave and am back at work, albeit part time. I realised that whilst Corey can probably start at novice quite happily, I cannot. It might have been alright, but in all likelihood it wouldn't be a great weekend and it is too long a drive home from Lincoln to be ruminating on whether I made the best decisions on the day, whatever they may be. It was noticeable how relieved I felt as soon as I'd emailed the secretary to withdraw. I was obviously quite stressed about it all! I've entered Stafford 100+ instead and am really looking forward to it. I want to challenge myself but at the end of the day I do this sport for fun and there is a limit to how much fun you can have when you fear you might be pushing your boundaries too far too soon.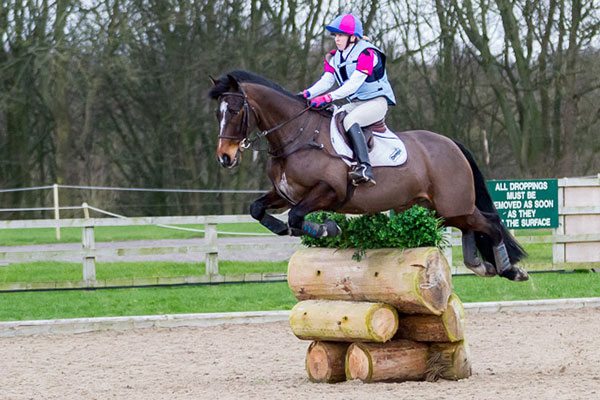 We have managed to jump on grass thanks to Somerford opening their cross country schooling field and Corey felt absolutely brilliant. I have the luxury of being able to run at Stafford before I decide on my next event, but I think as soon as I cross that finish line I'll be entering another novice… it all depends if I can trust the elastic on those big brave pants to hold firm!