Slow Progress is Still Progress
---
I thought we'd had a quieter time than usual with Corey over the last few weeks, but looking at the competitions we've done it's not been that quiet!
After Llanymynech we set off to Brand Hall, feeling fired up and ready to attack the course with grit. We did a good dressage that I felt was marked a little harshly, then I set off to have a look at the course. I planned to walk it properly later but wanted to just get a feel for it before I went show jumping. This turned out to be a massive mistake. The first half of the track was lovely but the second half was mostly shared with the CIC*, was very technical and had no alternatives. By the time I got back to the trailer I was quite upset and had convinced myself that there was little point in starting since I was going to get eliminated anyway. I'm pretty sure this affected my show jumping as I lost my rhythm and balance for 3 down. My friend Tyler Cassells (a professional, and on this occasion the rider rep) was next in the arena so I waited till he'd jumped and then asked his opinion on the course. Honestly, what I thought I wanted was for him to confirm my suspicion that it was just too big an ask, and that I should just go home. Ty knew better. Ignoring the stream of tears down my face (first of many emotional meltdowns that day), he talked me through how to ride every fence, told me to go walk it again and go get on with it. Walking it the second time, this time with Mum and with Ty's advice too, I came round to the decision that it was at least worth starting. Another pep talk from another friend (who shared empathy for "head battles" in sport, and knowledge of the course designer's thinking) and before I knew it I was out the start box and cantering to fence 1. Corey felt great, the grit was still there and I kicked on and attacked all the way round – result! Unfortunately, the lesson of the day was about getting straight to skinnies and to two fences Corey dropped his shoulder on the turn in, so although we completed, we still weren't clear. My record is beginning to look significantly troublesome and many would wonder why I don't go 100 again, but we know Corey is happy and confident, he is jumping 99% of the fences with ease and the questions we're struggling with won't occur at 100 so we don't think we would learn anything dropping down. And at some point soon we will get that clear!!
Then we had great fun taking Corey to the Cheshire County Show to do some show jumping on grass. The ground was pretty good given the preceding weather, but was quite sticky and Corey rolled a few poles in both the 1.10m and the 1.15m. He really enjoyed himself and reflecting back, this time last year we tackled the 1.05m at Cheshire but didn't even want to attempt the 1.10m, so we have made good progress. We made the most of being out for the day and took Floss for an explore too, watching the cattle winners parade, checking out the sheep and pigs and getting very excited about the pygmy goats. What a lovely way to spend a day!
A couple of weekends on the trot saw us in Wales – first for a mini break and to help out at the riding club area horse trials and then to take part in the area dressage qualifier. All week before the dressage we were watching the rain fall and wondering how it would run, but thanks to the great Welsh hills we arrived to find fabulous going. We were riding the elementary with the club team, and having a crack at the medium as an individual. The elementary went well, albeit with a few bits of tension and we finished 4th. I was a little disappointed by this as we were 3rd last year, but there were several 'proper' dressage horses warming up alongside us so I think I did well just to get in the ribbons! Something 'clicked' just in time for the medium and Corey gave his all. Apart from one moment of confusion coming out of medium canter, when he just halted, he did not put a foot wrong. I know some of his lateral work still has more to come and was not expecting a great placing so was thrilled to find out that I'd come 2nd. The winner was a very smart and strong dressage specialist, so I was especially pleased with my how my little eventer had performed.
This all lead up to us heading over to Buckminster for another go at novice. I have family in the next village to Buckminster, but we've only ever been once before, about 10 years ago with Danny and he was brewing a virus so trotted most of the way round! I was hoping for a nice straightforward track and I was not disappointed. We arrived on the Saturday afternoon and walked the course to find a lovely track that I was confident would be the first clear of the year. There was a bounce near the end that I decided to take the alternative at despite a great practice session on the Thursday night since I wasn't convinced I'd had enough practice to get my approach right, but otherwise I was taking on everything direct. I was so confident I didn't even need a gin to help me sleep! A week of downpours had taken it's toll and sadly the ground was not the best, despite absolutely brilliant efforts by the organisers. I ended up first to go in the dressage after all those in front withdrew and Corey struggled to pick his feet up as he squelched round. Still, he got round and we had a fair score of 36. The ground in the show jumping was better, though I was pleased to have had prior experience of sticky going at Cheshire; Corey was lacking a bit of spring but tried hard for three down and I was happy that we should have a go at the cross country. I completely lost my bottle in the warm up and nearly called it a day before I even started (maybe I should have had the gin then?!) but as the first couple of fences were only small I decided to get going and see if that helped me get in a rhythm. It did and we were off – the ground by the start was really deep and Corey was not enjoying himself, but by fence four it was good to soft and though I could feel it was hard work for him, Corey was taking me and jumping well. I can't say it was the smoothest of rounds and we were having to help each other out, but that is what cross country is about. Two from home we were still clear as I approached the corner. Now you'll all remember the issue I have with corners… so you'll be impressed to know that I have got over this issue enough to have no doubts that I should go for the corner instead of taking the alternative. It was an easy enough, straightforward corner…. However watching the video back, Corey was clearly tired and getting heavy legs and although it was a straightforward corner it was bigger than most of the rest of the course and as Mum put it, he went to the well and found it dry. He had nothing left to give and ducked out to the side. Gar! I had another go, thinking I might as well since I'd already picked up penalties, and he ducked out again. We took the alternative, jumped the last and finished – so close to a clear but again so far. I was frustrated but also pleased – it may be slow but it is definitely progress.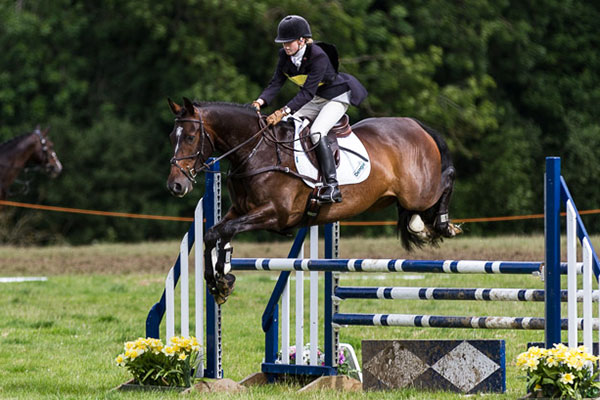 We are off on holiday to see family in Finland for a couple of weeks so Corey is having a little holiday himself but we will back with a vengeance in August. We are into the season of second rounds for the local events so I'm hopeful (if not desperate!) that in tackling courses I've already done once this year I might actually record some clear rounds before the year is out!