The final countdown by Brook Howells
---
The early season preparation has been achieved with relatively few hiccups or breaks despite some inclement weather, and between Mum and Nicki Corey is looking and feeling fantastic. I am so jealous of them both getting to riding him and am counting down the days til I can get back on. Admittedly Mum and I have differing expectations of when that will actually be, but a girl's gotta dream! I'm conscious that after I had Floss I was very unfit and so was Corey, so we got back into it together. It remains to be seen how I will cope with the frustration of having no fitness myself but an event-ready Cobs to get back on.
His winter woolies are off ready for the more serious work; I got local freelancer Emma Lawton to clip him as it occurred to me that aside from the safety risks, I can't bend enough in the middle any more to do anything except what is immediately in front of me. As a result, he looked instantly far smarter than I usually achieve! His connemara half shows through his mane, which sprouted over winter (so thick!) but is slowly getting tamed. I've had to delegate that job to Mum as well, since he isn't the keenest on having his mane done and he kept trying to squash me against the wall…
The best news is that he seems to have a good level of base fitness, so is coping well with his early canters and Nicki had fun taking him round the farm ride at Somerford a couple of weeks ago. He's had a few gridwork sessions at her yard, and has done his first show jumping competition and cross country practice.
The show jumping went relatively well; a bit of work to do on refining the brakes so he had one unlucky pole, but Nicki and I were both pleased with how he went for a first trip out. Nicki was jumping her 2 horses at the same time so Mum donned her hat and brave pants to walk him round to start his warm up. She's not been in a competition warm up arena on any horse for several years so was a bit nervous, but I think she's already hoping that Nicki needs the same help at future competitions!
A couple of days later she took him to Somerford to practice cross country technique on their all weather surface. What a dude that horse is. Everything she pointed him at, he just jumped – corners, skinnies, fish(!), coffins, drops into water…. He wasn't too silly or excited but equally was keen and taking her round. Once again the jealousy kicked in but I'm also really enjoying watching and seeing how well he can go with a good jockey on board.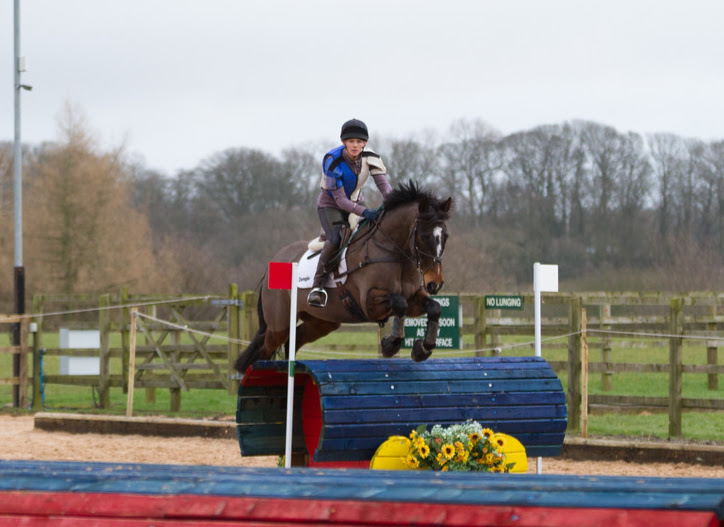 With that under our belts we put in our first entry – Lincoln novice in mid March. I've never done the Lincoln horse trials, but Nicki likes to start her year there so we've had it pencilled in since Christmas. It seems odd to think that we're now counting down the final couple of weeks preparation. We have a couple of riding club competitions to help tweak things in preparation and we'll just have to keep our fingers crossed that the delightful "Beast from the East" doesn't disrupt his training or the competition schedules too much.
Oh, and last but not least we're also counting down the last days until the baby arrives. We think we've got pretty much everything ready so we're just waiting for things to kick off. We seem to have a daily conversation with Floss about whether baby's birthday will be before hers, and reminding her that she might get a brother rather than the sister she is so certain of. Obviously we're mainly hoping for a healthy baby, but it is no secret at all that I'm also hoping for an early arrival. I'm finding the end of this pregnancy tough going, which is undoubtedly something to do with the toddler I'm hobbling after, and I am looking forward to feeling normal again. But I'm also still hoping I'll be able to watch Corey at Lincoln; however, given Floss was pretty much bang on time and due date is just before Lincoln I'm not holding my breath!!
All being well, my next blog will be my chance to introduce the newest member of Team Supercobs to you all – and of course to report back on how Corey kicked off his 2018.