Ups and Downs at Sheepgate
---
Well, it's been a very crazy and very wet few days at the British Under-25 Dressage Championships at Sheepgate.
Tiff was super, I was so pleased with him. We entered the FEI Pony Test Championship, which was run over two days. It was a massive class of 27, made up of predominantly riders from the Team GB Prime and Progress Pony Squads – we came 9th on day one and 10th on day two, which gave us 10th place in the overall Championship. I was delighted to get a personal best score of over 67% from one of the judges and to finish in such a high position against such talented riders and ponies. As always, it was a brilliant show at Sheepgate and we had fun despite the atrocious weather.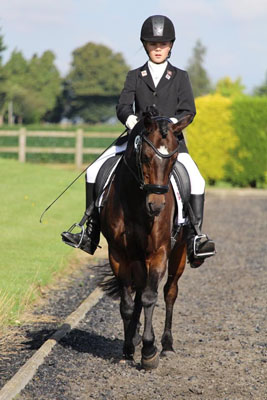 We had also qualified for the Medium Championship, but this did not go quite to plan as Tiff was tired and I forgot a movement in the test. I think this was because I let the pressure get to me a little – the judges included one of the Team GB pony selectors. However, it's all good experience and a good learning opportunity too.
Next weekend, I have been invited by the Pony Selectors to attend the Team GB Pony Viewing Day on both Tiff and the awesome young pony stallion Cyden Oostings Amigo, so it's going to be a busy week given I go back to school too. I will update you with how it goes…