What will be will be by Brook Howells
---
I felt really confident that we could show everyone just why I was going novice on Corey at Brand Hall. After last year, with a record that would probably make anyone who didn't know Corey question why we persevere, I was determined to set a new trend. I felt so close to achieving this and excited at the prospect. The dressage was more tense than usual because we were quite close to the cross country, but everyone was in the same boat and we got a very respectable score. I said to Mum that I wanted to feel I'd ridden well in the show jumping; not interfering, trusting and allowing…well, I came out in a completely awful mood because I'd got about 30% of it wrong and come out with 12 penalties. I ignored the 70% of it I'd ridden well and had a sulk.
The cross country course was technical but achievable and having completed this track last year, I was looking forward to having a go. Here's where life threw an extra challenge into the mix. The Wednesday prior to Brand I discovered that I was pregnant. This came as no surprise and was in fact very welcome news after a few months of trying. What was a surprise, given that I evented until I was about 13 weeks pregnant when I was carrying Floss, was that as I warmed up for the cross country I realised I couldn't do it. I felt the risk of coming off was very small, and the risk of any fall being serious enough to cause harm to the baby was even smaller. But it was a risk I wasn't sure I could take. A friend in the warm up gave me great advice; set off – see how you feel and if you're not riding forward pull up. There is no shame in retiring because you don't feel right, but pull up as soon as you have doubts. So I did just that – I jumped four fences and Corey felt MAGNIFICENT (capitalisation entirely justified). But as I approached the fifth I could tell I wasn't riding how I wanted or needed to, so I pulled up and walked home. I think if I hadn't started at all I'd have forever doubted myself, but this way I knew I'd made a good decision.
After that, all our plans changed. I have had my friend Nicki Toomer – who I have known since early days of pony club and who competed with me in France when we won the Riding Clubs World Cup – giving Corey a jump now and again, in anticipation that I would get pregnant and want someone else to jump him for me occasionally. Her novice eventer is off games for a while so it's a win-win for us both. I told her the good news and asked if she would ride Corey in the area qualifier for the riding club championships. I accepted that my season was over and started plotting 2018. I reassessed my goals and remembered that when I evented Danny many moons ago, the aim was always to cross the finish flags and have fun. He was a solid but average novice eventer, and because it was never likely we'd win any prizes, we didn't worry about the score. We just enjoyed ourselves and I realised I wanted to get back to that feeling. In 2018 the primary goal would be get round and have fun.
But the excitement was short lived. Just a couple of days after Brand, I lost the baby. It was such an early loss that had I not been hoping for pregnancy, I'd probably never have realised I ever was. It was not meant to be. I was quite upset, and worried how I'd explain the situation to people. However, as soon as Nicki suggested we tell people that I'd offered her the ride to keep her eye in over bigger fences, I felt a massive relief. I could watch him do the area qualifiers without the pressure of riding, and in the meantime bring forward my 2018 plan of just enjoying eventing.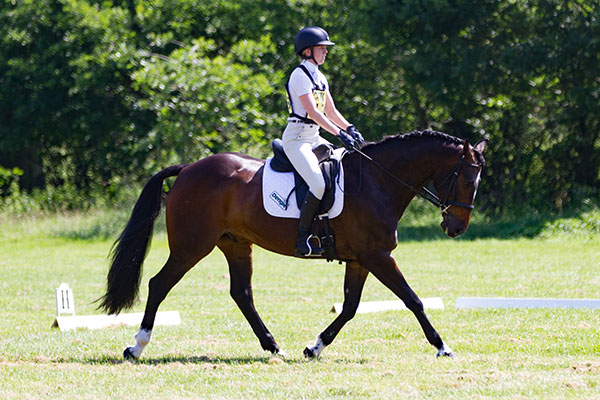 So with that perspective we headed to Catton 100. A sweltering hot day but Corey performed admirably. He did a solid dressage test, and rewarded my relaxed almost care-free attitude in the show jumping with a clear round. The course was a great fun track of woodland paths and we cruised round having a whale of a time. Three fences from home I checked my watch to see I had 45 seconds left, but with no concept of whether this was a lot or a little, I just cruised on. I steadied to the finish but still picked up a few penalties for going too fast – opps! Still, I couldn't complain with a 5th placing and chief-tail-brusher Mum was thrilled with the prize; a bottle of mane and tail conditioner.
We took the same attitude to Skipton novice. I spent the whole day focusing on the primary goal of having fun and crossing the finish. A lovely relaxed dressage test, marred a little by an error of course (perhaps I was too relaxed), was followed by an equally relaxed show jumping round for just 4 faults. I warmed up for the cross country with nerves but a confidence that none of the course was beyond us, and that at the very least we'd finish. Corey set off with his usual vigour but listened and let me keep him steady. We made a couple of errors (like adding a stride to a mahoosive hedge!) but he kept jumping and the further we went the smoother we went. By the final few combinations I was literally just pointing him between the flags and letting him do his thing. It felt absolutely amazing. Not only did I cross the finish line, I did it with a clean sheet. We washed him off and beamed at the thought that for the first time since Floss was born I'd got him round a novice track without penalties. Then the cherry on the cake – news over the tannoy that he was placed 6th; and realisation that he'd even got a point!! It was only later I realised that this was in fact a career best placing at novice too. I couldn't be more chuffed!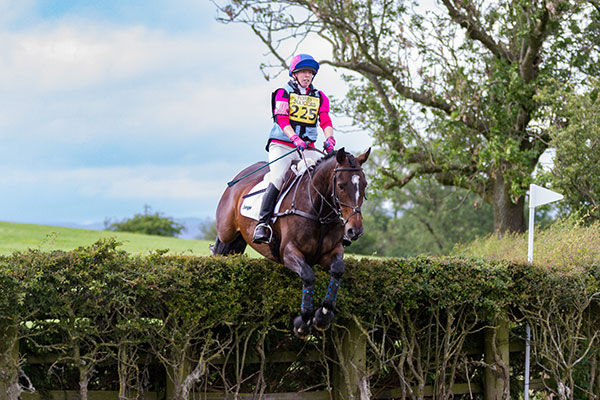 It is tempting to finish on that high note for the season, but the plan is very much undecided. The dreams of qualifying for Gatcombe and taking him to Blair are still very strong, but I feel like I have plenty of time to achieve them. Perhaps Skipton will be my last novice run of 2017, but equally with this new found relaxed enjoyment, I'm looking forward to more events, and even thinking about doing the tracks I love but previously didn't dare enter, just for the fun of it…