Where has the time gone?
---
Last week I was schooling in the field and started to feel a bit frustrated with how this year was panning out. Back in February/March I had visions of spending the summer really focused on my eventing and progressing as much as I did when I was a working pupil on an event yard 12 years ago. I was trotting round feeling like I'd somehow let the opportunity pass me by. Corey was feeling good but certainly not as fit and lean as he usually is in September, we'd only had two runs and the winter was fast approaching… On reflection though I had to concede that it's not really been so bad – and indeed that it's not yet over! I'm sure all the new/experienced Mums alike will be musing to themselves too at my naïveté before Floss was born. I'm bemused myself at where the time goes and still trying to work out how best to balance out all my commitments.
So, I wrote my last blog just before we went to Somerford, where he did a very smart dressage test and started the show jumping really well. The track had been jumping well all day, it was quite small for Corey who'd been out doing newcomers the week before and a clear felt very achievable. Unfortunately, somewhere after fence 1 I forgot to use my brakes and as the speed increased, so did the penalties. I weirdly felt like I neither knew what to do nor had the control to do it and I left the arena feeling really dejected. For about half an hour I sat by the trailer wondering whether I should even start the cross country. I realised for the first time how exhausted I was and questioned the sanity of trying to event whilst bringing up a little baby. I turned to my support team for their opinion. Mum has a strong principle that she will never tell me if I should go cross country or not (though I tend to work on the basis that she would object if she was really worried), whilst Al had very reasonable concerns about how I'd brood that evening (and for the rest of the year) if I withdrew. Floss had very little to say on the matter and Dad wisely chose to stay out of it. I knew that if I didn't run, there was no way I could go novice at Llanymynech the following week, and that probably meant I wouldn't be going novice this year. What a dilemma. I'm usually very decisive but on this occasion I was worried that I was too tired to think but in the end I agreed with Al – I would be completely miserable if I didn't at least try.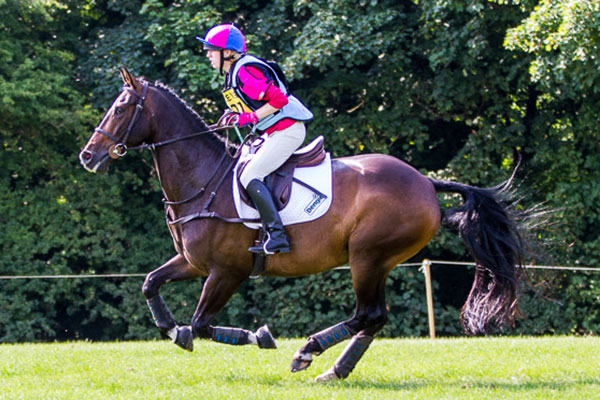 I got down to the collecting ring, satisfied myself that Corey was up for the task ahead with the briefest of warm ups then just stood by the start box, conserving all my energy as I was counted down… And as I felt the breeze cooling my face (well, strong wind actually given the pace Corey was setting!) I knew I'd made the right decision and immediately felt so much better. Corey cruised round without any concerns at all and feeling really quite fresh and as I crossed the finish line I was already thinking ahead to what was needed in the next week to get us to Llanymynech. The next day I watched one of my friends completing the CIC* and I remembered my dreams and ambitions. Eventing with a baby is possible, I just have to recognise that I need to take time to rest occasionally.
Full of inspiration and drive, Corey then remembered he was a horse and come the Monday morning we had the vet out to see him – two big legs. One very fat back leg (dermatitis, soon resolved) and one slightly swollen front leg. He was sound and happy but when on the Friday we still couldn't rule out damage to his ligament, we took the only sensible decision for the long term and withdrew from Llanymynech. I was gutted, especially when I saw how fantastic the course looked and how much we'd have enjoyed it. Still, it wasn't worth risking a more serious injury if anything was wrong. Only a few days later I got the all clear to start working him again gently and touch wood he's now back in full work and showing no ill effects. We're aiming now for Weston Park and Broadway, then we are going to take advantage of him having had such a light season by doing much more over the winter, including doing our first medium dressage test at the end of October (canter half-pass? Yeah, why not!!).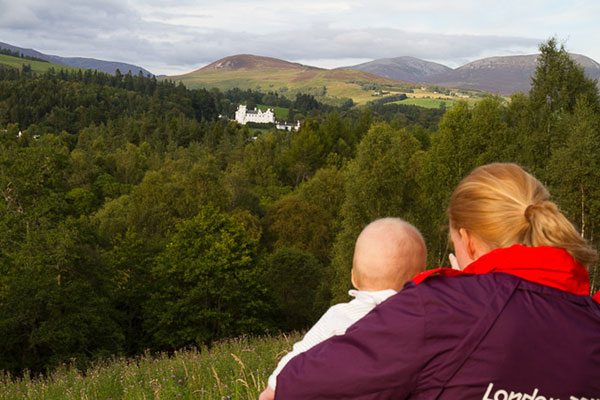 We also had a little holiday to watch the European Championships at Blair and this taught me several things. 1. A few days off, even on restricted rations, was really not what Corey's belly needed. 2. I really have to learn to hold my nerve in the show jumping – not a single one of those riders lost their bottle or resorted to speed like I do, so I know what I need to try and emulate. And 3. I really, REALLY want to ride at Blair. It will take a lot to get there (not least a trillion hours on the motorway), but when I bought Corey 5 years ago it was with the belief that he would be my 'Blair horse' and that ambition lives on.
The other news is that a slightly unexpected house move (the 5 year plan got accelerated somewhat by the arrival of Floss) means we now live only 10 minutes from the yard rather than an hour away, which is already making a huge difference to my energy and time. Plus Dengie have been really helpful in advising me on how best to keep Corey fuelled for performance whilst trimming down his waist – I highly recommend talking to their nutritionists and I hope in my next blog I can share some impressive before and after pictures
We may not have achieved as much this summer as I expected but we have a lot to aim for and I'm really looking forward to cracking on with everything. I hope you'll continue to enjoy reading my blog over the winter as I finish off the eventing season and start my preparations early for 2016.