Dengie balancers
---
How do Dengie balancers work?
The idea behind Dengie balancers is that fibre feeds such as Alfa-A Original and Hi-Fi Lite provide most of the energy and protein a horse needs, and the balancers top-up on nutrients that may be lacking from a fibre based diet. Dengie balancers have a high specification of essential nutrients, such as vitamins and minerals, that help to keep horses healthy and in excellent condition.
What's in Dengie balancers?
Both Performance+ and Leisure Balancers are based on the same key ingredients, which are as follows:
Alfalfa – providing natural vitamins and minerals that are easy for the horse to absorb.
Linseed – an excellent source of omega-3 essential fatty acids.
Herbs – rosemary and thyme are included for their antioxidant properties and high palatability.
Chelated minerals – all the trace minerals, copper, zinc and manganese, are chelated. Some companies include only a proportion of the total mineral as a chelate.
What's not in Dengie balancers?
They do not include molasses, making them ideal for horses and ponies that require a low-sugar diet.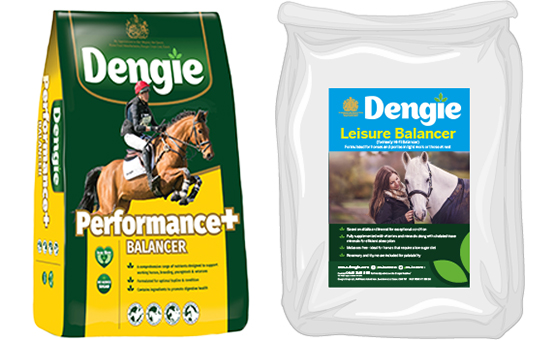 The Alfa-A range of Fibre Feeds is intended for horses with increased nutritional requirements, whether for work, breeding or weight gain.  Dengie Performance+ Balancer is formulated with this in mind and contains some extra ingredients and nutrients that should help to keep the horse healthy. It includes the following:
A full range of B vitamins, including biotin, to counteract the detrimental effects that 'stress' might have on the horse's digestive system.
FOS prebiotic to help keep the gut healthy. Research suggests that they could also be beneficial in reducing the risk of gastric ulcers.
Glucosamine to counteract the effects of everyday wear and tear on joints.
How much of the Dengie balancer do I feed?
The feeding rate for both balancers is the same, at 100g per 100kg body weight.
Can I feed it alongside other feeds?
The simple answer is yes! If you are feeding less than the recommended quantities of a mix or cube, or you use straights, either Dengie balancer can be used to top up on essential nutrients. You might not need to use the full amount if you are using feeds that contain vitamins and minerals, so check with a nutritionist as to how much you need to use.
If my horse is at grass and I'm not using much Hi-Fi or Alfa-A, can I still use the balancer?
Yes, either balancer would be suitable for horses and ponies at grass when you just want to top up on vitamins and minerals that might not be provided at the right levels by grazing. In spring and summer, it is likely that the grass will be providing plenty of protein and energy to meet your horse or pony's requirements.
Does it matter how much Alfa-A or Hi-Fi I use alongside the balancer?
A key benefit of the balancers is that, as long as they are fed at the correct level, the amount of Alfa-A or Hi-Fi can be adjusted according to the horse's energy requirements. This means that you have the flexibility to adjust the ration without worrying about losing out on vitamins and minerals.
Where can I buy Dengie balancers?
Any Dengie stockist can order the balancers for you if they haven't already got them in stock. For the ultimate in convenience, you can also order online and have them delivered to your door.