Bracken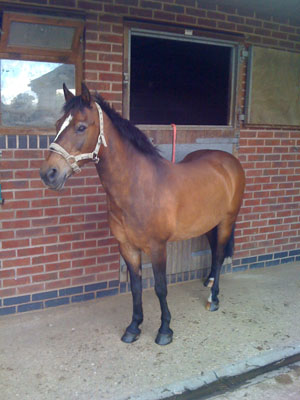 "Bracken is a 13hh Exmoor X who is in his late 20's and retired (he does go on the odd hack occasionally though!). Not only is he getting on, but he has previously suffered from laminitis and was diagnosed with Cushings Disease two years ago.
"Living away at university meant that Bracken was left in the care of my mum (who is brilliant at mucking out but not so keen on riding!) and I decided that I needed a feed that was easy for her to provide, without having to worry about extra supplements.
"I tried similar products, but chose Dengie Healthy Hooves as it was low energy, low starch and contained optimum levels of Biotin to promote quality hoof horn. Bracken loves the pellets (I'm convinced he thinks he's being fed pony nuts!) and it is great to know that three scoops a day can provide him with a well-balanced diet all year round.
"As you can see from the pictures, he doesn't look like an old laminitic pony with Cushings and I'm certain this is down to careful management and the brilliant Healthy Hooves.Thank you Dengie for such an easy, quality product- I wouldn't buy anything else!"