Forage Analysis
Conserved forage is the foundation to a horse's diet when they are stabled or at times when grazing is sparse. A 500kg horse can consume in the region of 10-12.5kg of dry matter in 24 hours when stabled. As fed, this is 11.8kg-14.4kg of hay (assuming 85% dry matter), or 15.4-19.2kg of haylage (assuming 65% dry matter) which demonstrates the importance of knowing the nutritional value of the forage when it makes up such a large proportion of the diet.
For leisure horses and those that hold weight with ease, a later cut, higher fibre, lower calorie forage is most appropriate whereas for performance horses and those that struggle to maintain weight, an earlier cut, more digestible, higher calorie forage is usually more desirable.
The nutritional profile of the forage is even more important for those that are prone to laminitis. We recommend using techniques known as "wet chemistry" which, as the name implies, uses liquid solvents and other chemicals to determine the sugar and starch values in a forage, as they tend to be the most accurate forms of analysis. The alternative is a machine process that uses infra-red to determine nutrient levels which is usually referred to as NIR. This is a cost-effective analysis method for nutrients such as protein and oil.
Having a forage analysed can also inform us about how much to feed. Many people are confused by the differences between hay and haylage. As a true haylage contains more moisture than hay, you need to feed more haylage in order to provide sufficient fibre in the ration. Too little fibre can result in loose droppings. There are also many drier haylages that have a dry matter much closer to hay – we tend to refer to them as wrapped hay as they don't contain enough moisture to properly ferment in the way a true haylage would.
To illustrate the importance of knowing the dry matter of a forage the following table shows the different quantities required of each forage to provide 10kgs of dry matter:
| | | |
| --- | --- | --- |
| Forage | Dry Matter % | Kgs required to provide 10kgs of dry matter |
| Hay | 85 | 11.75 |
| Wrapped Hay | 80 | 12.5 |
| True Haylage | 65 | 15.5 |
Please note that we don't offer a fresh grass analysis service. In our experience, unless the grass can be frozen at the time of sampling, the deterioration whilst it is transported to the lab means that the results are not very accurate.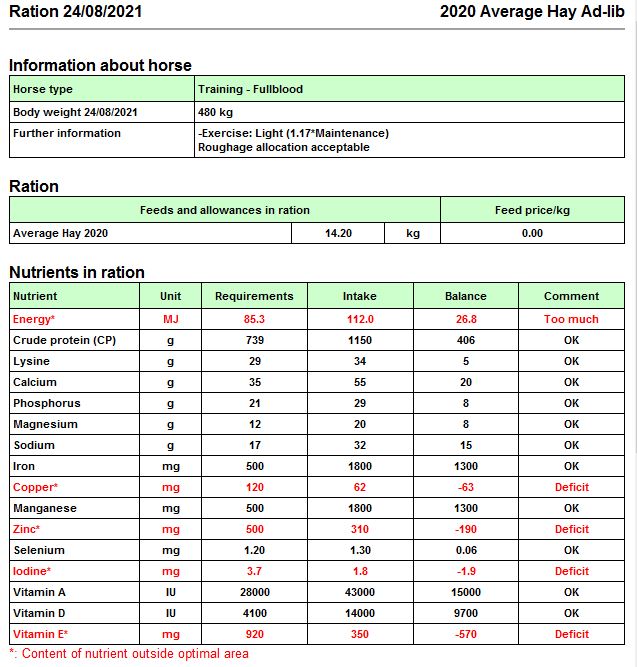 Special Offer – Save £25 when you purchase the full Wet Chemistry Analysis set (Basic, WSC and Starch) with Mineral Analysis – discount automatically applied at checkout