Our Partners
We are proud to be working with the following charities to help conserve and protect not just the British countryside, but also the Earth's rainforest communities. Find out more about our partners, their great work and why Dengie chooses to support them.
Essex Wildlife Trust

The county's leading conservation charity, committed to protecting wildlife and inspiring a lifelong love of nature. With our main production site being situated in the heart of Essex and our inherent relationship with the land we understand the importance of sustainable farming. It is why many of our farmers choose to grow the alfalfa itself as they recognise the benefits this incredible plant offers to the soil, wildlife and wider environment. By supporting Essex Wildlife Trust, we are in turn supporting many of their projects which include a Barn owl conservation project, purchasing land to provide wildlife corridors and introducing Black Honey bees and Polecats back to the area.
Click here to learn more about Essex Wildlife Trust and their great work.
Nature's SAFE

Nature's SAFE, one of the world's first charitable living biobanks, is on a mission to Save Animals From Extinction. Human activities have caused one million species to be threatened with extinction. As animal populations decline, a point is reached when the genetic diversity essential for species survival is lost. Nature's SAFE is securing the future of animal biodiversity by using advanced cryopreservation technologies to store cells and tissues from threatened wildlife species and working with collaborators to develop next-generation genetic rescue approaches using assisted reproductive technologies. This acts as an insurance policy to prevent and reverse extinction.
Click here to learn more about Nature's SAFE and their great work.
Green Tractor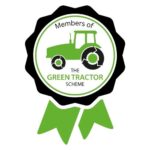 The Green Tractor Scheme is an ever-expanding group of environmentally focused, forward-thinking businesses that are positively affecting UK agriculture; by lobbying for and inspiring innovation within farm plastic recycling. It is an industry-led solution, championing the recycling of farm plastic.
Operating a network of independent waste plastic collectors and collection points throughout the UK, the scheme provides a solution for farmers to deal with their plastic waste correctly.
Click here to learn more about the Green Tractor Scheme and their great work.
World Land Trust – Carbon Balanced Paper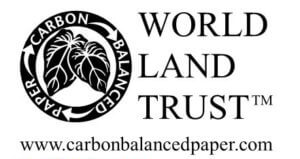 The Carbon Balanced Programme by World Land Trust helps businesses to reduce their carbon impacts. Paper is now regarded as one of the world's great sustainable products. It's biodegradable, recyclable and made from a renewable raw material.
When sourcing paper for our printed communications we actively source carbon balanced paper to help reduce our carbon footprint and impacts on climate change.
Click here to learn more about World Land Trust and their great work with their Carbon Balanced Programme.