100% Natural Ingredients
Feed plays a huge role in the lives of our horses and pets. Increasingly, owners are concerned about where ingredients come from and how healthy the feed really is for their animals. Poor quality feed can affect performance, health and wellbeing. The Mintel survey of UK Pet Food in 2015 identified that a third of cat and dog owners are concerned about perceived healthiness of pet food and 66% of pet owners say they treat their pet with as much care as they would a child.
With this in mind, we have launched our 100% Natural Logo to help communicate the provenance of the raw materials we use and the control we have over how they are handled and processed.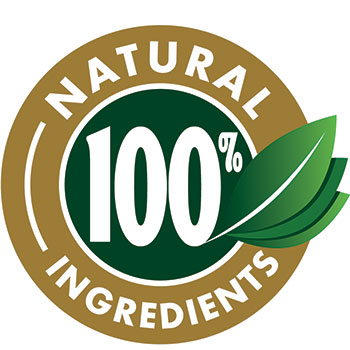 The Dengie 100% Natural Logo demonstrates our natural credentials and guarantees that every ingredient is supplied by nature with minimal processing to retain as much natural goodness as possible. At Dengie we grow as many of our ingredients as possible ourselves and source as locally as we can to keep our "feed miles" down and support UK farmers. The 5,000 acres of alfalfa and 1,000 acres of grass we grow are within a twenty mile radius of our production sites and carefully traced through the production process. The alfalfa in every bag of Dengie can be traced back to the field it was grown in.
Working With Nature
Alfalfa is a member of the pea and bean family and has deep roots that enable it to access water and minerals deep in the soil. This makes it a very nutritious crop as well as being beneficial for soil structure. Alfalfa is able to take nitrogen from the atmosphere and convert it into its own tissue and put some back into the soil. This means that no additional fertilisers are needed and crops that follow in the field require less fertiliser too. Alfalfa is left in the ground for three years which reduces the tillage of the land which research suggests is beneficial for carbon capture.
Our British grown grass from the meadow fields of Lincolnshire is 100% natural and is free from pesticide residues. The meadows are harvested between the months of May and October and dried to produce a consistent, clean source of highly digestible fibre. No GM raw materials are used in our fields, making them suitable for use on organic holdings. Since 2013 we have changed to using UK grown rape seed oil rather than soya oil from Brazil. This allows us to maintain our non GM status and reduce the feed miles of the oil we use.
Pioneering Technology
Dengie pioneered the use of high temperature drying techniques in the UK to conserve the nutritional quality of fibre for horses. This drying process – unlike traditional sun-drying techniques used to make hay – allows crops to be harvested much earlier, making them more digestible and higher in energy and natural nutrients. This means the end product is consistently clean with very low levels of dust and mould, making it ideal for the performance horse or those with respiratory problems.
So keep your eye out for the 100% Natural Logo and be safe in the knowledge that you are doing the best for your horse's health and wellbeing.
The 100% Natural Logo appears on Alfa-A Oil, Alfa-A Molasses Free, Hi-Fi Molasses Free, Alfa-Beet, Alfalfa Pellets, Meadow Grass with Herbs and Grass Pellets.