Shoes, Check! Teeth, Check! All Set!
---
Skipper has been with us a few weeks now and has had the full spa treatment! New shoes, wormed, teeth done (by the excellent Emson Equine) and tomorrow he is being treated by Andrea my physio. It's just a routine check, as I like to get the horses looked at a few times a year to make sure they are on top form! When Skipper had his teeth checked, Melissa found some gaps between the teeth. Aapparently it's normal for his age and she suggested that I feed him Dengie Alfa-Beet and Alfalfa Pellets, rather than Healthy Tummy as it was getting stuck in his gaps! Once his teeth are fully developed he can go back onto the Healthy Tummy! Skipper thinks the Alfa-Beet is great, especially as it goes all over his face and then he gets to rub it all over me!!! He has been out for a jumping lesson with Susie Gibson and a dressage lesson with Gwyneth Lewis, he was well behaved at both lessons and they think he's a star for the future too!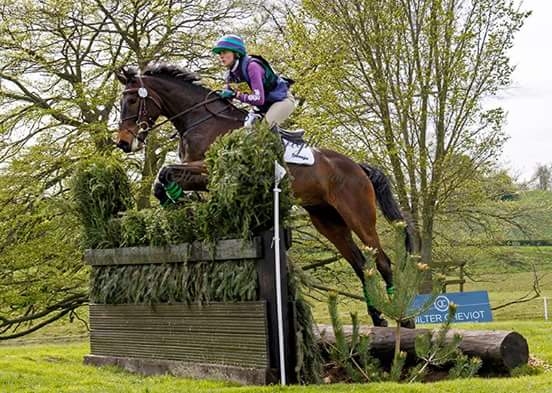 Sparkle didn't have the best time at Little Downham in the Advanced. He did a lovely test and was in the mix after that phase. The show jumping was up to height and poles were flying everywhere! He had 16 faults which wasn't great, but for the section it wasn't actually too bad! On the XC he never really got going, he spooked at the 2nd jump and jumped it huge, then scrambled all over fence 4. At this point I thought the jumps were too big for him not to be jumping well over, so I pulled him up! I always think it's better to wish you had carried on, rather than let an accident happen and wish you hadn't carried on! Even though it was disappointing there's always another day! I had Andrea out to have a look at Sparkle when I got home, he was sore in his poll and pelvis again so she fixed it and is treating him again tomorrow just to make sure he's ok for Hopetoun CCI** next week!
Bob was out at Richmond a few weeks ago doing some more advanced tests in the howling wind and rain! He was really tense in the first test, but we managed to get some good marks in parts and he was placed 3rd. The second test was much better and he pulled off some lovely tempi changes, hopefully they will be as good next time out!
I have Jo from Dengie coming out to see me early in July to assess the horses weight and diet, making sure they are all receiving the correct nutrients and energy they require for their workload! Once again I want to say a massive thank you to Dengie for all the help and support. It goes without saying that my horses all love their feed!!