The Dengie Champs and going BE
---
Last time I blogged I was preparing for The Pony Club Dengie Winter Championships with Felix going to do the Intermediate Dressage. To be honest we really wanted to get to the Novice Championships as that is the level we are happy and confident at. The Intermediate test was always going to be a challenge for us, but we gave it our best shot!! I was so excited to be going to Addington Equestrian for the Championships and this time we were going to stay there the night before, which made it even more exciting.
It was quite a long journey to Addington, but Felix travelled well, arriving relaxed and happy. Mum took him out for a leg stretch and some grass whilst I got his stable ready. I then took him for a quick ride and to have a look at the arenas before giving him his tea and putting him to bed. I woke up really early the next morning as I was so excited. Fortunately Felix had managed to keep himself pretty clean over night so all he needed was a leg and tail wash and to be plaited up, then he was ready to go. I went to watch a few of the the other competitors in the Intermediate class before it was my turn…they were amazing and suddenly I felt really nervous!! The other competitors all seemed much older and riding big dressage type horses – Felix and I seemed really small and ordinary in comparison, I'd never felt this nervous before!! Felix warmed up really nicely and went in and did an obedient test, but it wasn't our best and I was a bit disappointed. It was a great experience and now I know what to aim for next year.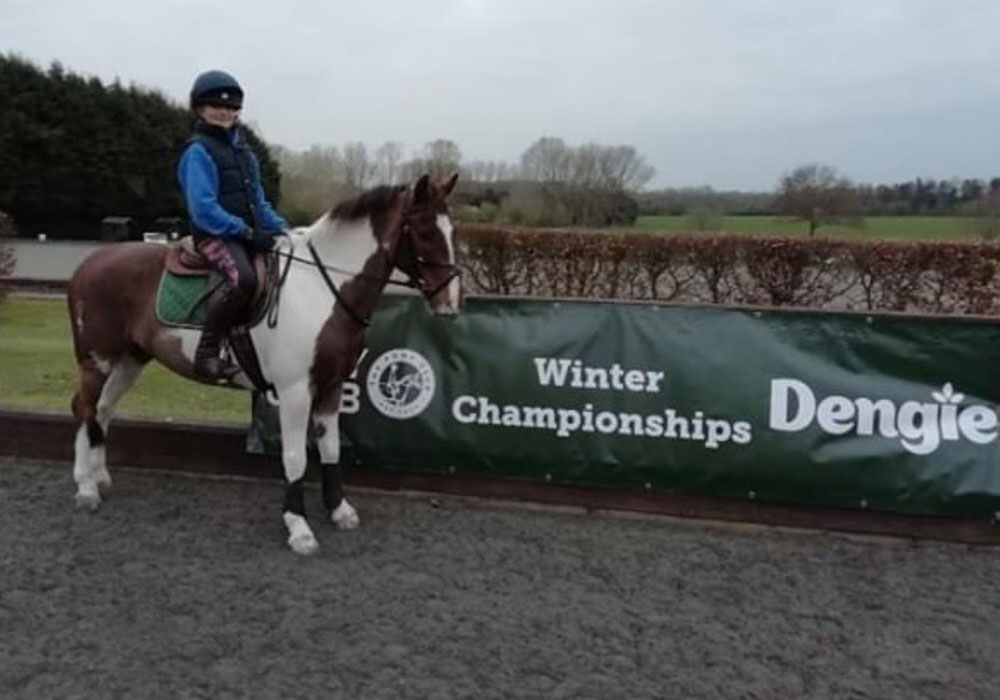 With The Pony Club Dengie Winter Championships completed for this year it was time to focus on the eventing season ahead. This was going to be my first season doing some BE events as I am now old enough. My first event was at Port Eliot in Cornwall. We had been warned that the course was very hilly so I had been doing my canter work in a field on a hill. Mum had measured out a distance and I had been practicing going at the right speed as Felix tends to be a bit slow if he can!! The day of the event was really windy and we did wonder if it might be cancelled, but it wasn't so off we went. Felix did a lovely dressage test for 28.5, a clear SJ and was clear XC with 9 times penalties (Dad thought we would get at least 15 time penalties as the course was so hilly!!) so we finished 8th in our first BE competition!! I was so pleased with Felix!
Our next BE event was Millfield. Felix did another nice dressage test, had one SJ down and did a lovely clear XC and we finished just outside the top 10 in 13th. We then went to Pontispool, it was a bit of a stressful day as we broke down on the way there and I wasn't sure we were going to make it, but we got there just in time for my dressage test, phew!! Felix was as consistent as ever in his dressage and scored 32 which put us in 4th place. He did a lovely clear SJ round and was clear XC, but the ground was really hard so I didn't push him and we got 9 time penalties which dropped us down to 11th place, but I was still super pleased with him! Now Felix is concentrating on The Pony Club Area Competitions. I am hoping that we will be picked for the Novice dressage team and the 80cm Eventing team – fingers crossed!!
Chico isn't quite as reliable as Felix! He is either really good or really bad, but we have been having more good days than bad days! Our first 'practice' competition was a combined training where he did a tense but accurate dressage test and a nice clear SJ round, so we felt ready to go out and do a little one day event. We went to a small Pony Club One Day Event (ODE) where Chico did an amazing test and scored 24 with some 9's and a 10! We had one fence down in the SJ because he was going a bit quick and then had a stop on the XC, but overall he behaved really well and didn't have any tantrums which was really good. Thinking we were on a roll of good behaviour we went to another one day event, but Chico had other ideas. He did a nice dressage test, but after jumping 3 fences of the SJ course he decided he had had enough and had a tantrum in the corner of the arena so we had to retire. Back to Square One!! Since then we have been working on how to deal with his tantrums and riding him differently between fences. He is very very strong and forward going, but doesn't like to be told how to get to a fence and if he thinks he isn't being allowed to do it his way he gets angry!! Anyway, in between the one day events he has been out and done some BD competitions and has managed to qualify for an Area Festival at Prelim level so it's not all bad!!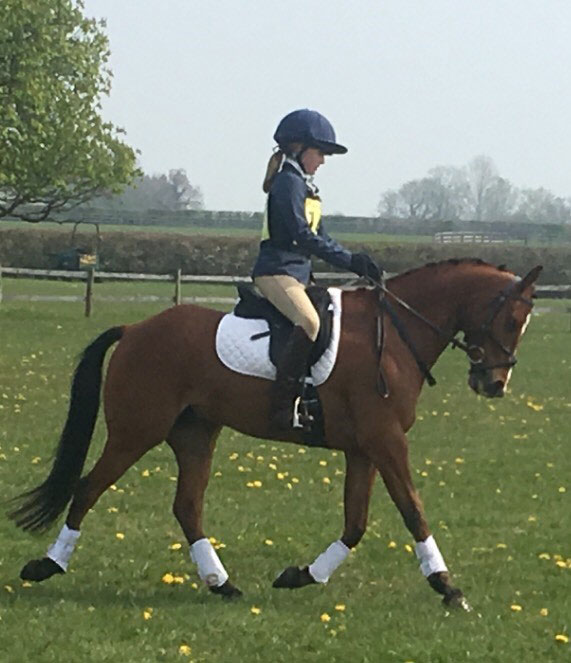 Smartie has just been hacking and schooling, he is only just 5-years-old so there is no rush for him to go out competing yet. His canter is still quite unbalanced but it is improving all the time. He is quite an anxious pony so we want to build his confidence and trust by keeping things simple and making sure all his experiences are good and happy ones. I'm hoping that I will get him to a dressage competition in the next few weeks to do a walk and trot test.
So that's all for now…..hopefully next time I blog Felix will have been to the Pony Club Area competitions, Smartie will have had an outing to a dressage competition and Chico will be back in the good books.