A Guide to Managing Replacement Hay and Haylage For Horses
---
We all know the importance of feeding forage, as it should make up the majority of your horse's diet. However, there are some situations in which hay and haylage are no longer ideal for your horse's ration. Our quick guide gives a breakdown on the Dengie products that can be used to replace or supplement the usual hay or haylage rations.
Forage Replacers For Fussy Horses
Hi Fi Senior – Suitable For A Wide Range Of Horses and Ponies, Not Just Veterans!
Combining high-temperature dried grasses and alfalfa, Hi-Fi Senior has been formulated to be soft and easy to chew. As both the grasses and alfalfa have been high temperature dried, this is a very 'clean' forage source making it especially beneficial for performance horses or those that have respiratory problems. The energy level of this feed is similar to high quality horse hay, which is suitable for poor doers to gain weight. When using as a horse hay replacer, use the same weight of Hi Fi Senior as you would of hay or feed ad lib.
Hi-Fi Senior is also very palatable so is ideal for horses and ponies that can be just that bit fussy! This is ideal to be used instead of horse hay or haylage as:
A total forage replacer
For those who require something soft and easy to chew, for example, individuals with bad dentition
Soft grass to tempt fussy eaters
Digestible fibre to help to promote good gut health
Hi-Fi Molasses Free – Low Sugar & Starch Partial Replacement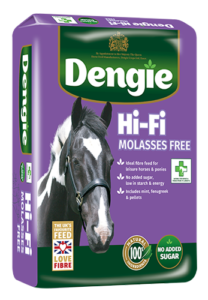 A tasty blend of nutritious chopped and pelleted alfalfa with high-quality soft straw. The inclusion of mint and fenugreek makes this a tasty option for those that are fussy. Hi-Fi Molasses Free contains no added sugar and provides only 2% sugar which is naturally occurring in the forage. This is suitable to be used as a partial replacement for hay or haylage for horses and is an ideal way to change the diet of those prone to laminitis. When using Hi Fi Molasses Free to replace hay or haylage, measure on a weight for weight basis. Key facts about Hi-Fi Molasses Free:
Molasses & preservative free
Partial forage replacer
Naturally low in sugar and starch
Horse Hay and Haylage Replacers For Good Do-ers
Hi-Fi Lite – The Perfect Low-Calorie Forage Replacer

Hi-Fi Lite combines alfalfa and high-quality soft straw with a light molasses coating. It contains, on average, only 7% sugar, which is less than what you would find in standard horse hay. As Hi-Fi Lite is so low in sugar it is particularly suitable for horses and ponies that require a low sugar ration and those prone to laminitis. It can be used as a low  calorie alternative for hay and haylage for horses. Hi Fi Lite can be used as:
Alfalfa Free Hay Or Haylage Replacer For Horses

Lincolnshire's finest, soft and sweet meadow grasses are dried, chopped and lightly dressed with rapeseed oil. The mixture is topped with a unique blend of herbs including liquorice root, fennel, mint, chamomile and aniseed to tempt the fussiest of eaters. Meadow Grass can be used as a partial alternative for hay and haylage for horses. Key facts about Meadow Grass with Herbs
Partial forage replacer
Free from alfalfa, molasses & preservatives; 100% natural
Provides additional calories for poor doers
Should be used alongside Dengie Balancers to ensure full nutrients are received
Pure Grass – nothing else added
A naturally nutritious 100% chopped grass feed with absolutely nothing else added. Made from a blend of British grown grasses including Fescue, Rye and Meadow Grass, Dengie Pure Grass is soft, easy to chew and highly palatable. Suitable to use a complete or partial hay replacer or extender to provide more enrichment in the stable as well bulking out your horse's bucket feed. Key facts about Pure Grass:
Harvested early to ensure highly digestible forage
Free from artificial flavours, preservatives, alfalfa, molasses, straw and coatings
Suitable for horses, sheep, cattle, goats and alpacas
How Do I Replace Hay and Haylage For Horses?
To feed a Dengie forage replacer you would simply replace hay or haylage for horses on a weight for weight basis. For example, if you usually feed 5kg of horse hay you can replace it with 5kg of one of the Dengie forage replacer products most suited to your horse.
As a rough guide, 1 section of hay from a 20kg bale would weigh approximately 2kg. To replace this, you would need to feed approximately 5-7 large round scoops.
Unlike horse hay, the Dengie hay replacer products cannot be fed in a hay or haylage net. We would recommend leaving the desired quantity in a large bucket in the corner of the stable for your horse to munch on as required. If you find that your horse initially eats this too quickly then we would suggest using a large football or some very large smooth pebbles on top of the feed to help slow them down.
For further information about feeding Dengie forage replacers for horses, please contact the Dengie Feedline 01621 841188 or send us an e-mail.