British Dressage Youth Pony Prime
---
The British Dressage Pony Prime and Progress Training Sessions at Olney Equestrian Centre took place on a chilly and damp weekend prior to Christmas.
Parents, supporters and young riders had training sessions with Dan Sherriff and Clive Halsall alongside meetings with selectors, goal setting with Jill Day plus pilates and an equine nutritional assessment from Dengie.
We caught up with Progress Squad rider Olivia Langley and Albert following her lesson with Dan. "Dan got me working on Albert's trot and canter having more suspension and air time whilst keeping him round in his frame. Compressing the trot to working a little bit more forward and then back within the pace, using half-halts to control the power. I really love training with Dan and Clive, being on Progress is a great opportunity to learn and improve your riding; hopefully I'll be able to do it again next year. For 2018 I'd like to be able to go out and compete Albert a bit more, improve my scores for the FEI Team test and learn the individual test as well with the ultimate aim to be selected for the Prime Squad."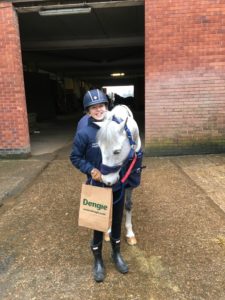 Dengie Performance Horse Nutritionist, Claire Akers, MSc, carried out diet assessments for all of the ponies. "When training and competing at this level it's important that our four-legged athletes are getting a balance diet and the right nutrients to help keep them healthy and performing at their very best. When I weighed Albert back in October he weighed 337kg and was carrying a little too much weight. Albert is a very good doer so to help him lose weight we needed to reduce the calories he is receiving whilst meeting his nutrient requirements. I recommended weighing his hay, restricting his grass and a change to his diet, Dengie Alfa-A Lite with a vitamin and mineral supplement. Olivia, Dad Andy, in conjunction with their yard manager, have done a great job. He now weighs 327kg and has lost 3% of his bodyweight, his condition score has also improved – they still have a little way to go with his weight loss but this is definitely a step in the right direction".
Olivia said, "Albert is definitely a little slimmer – it's been tricky as he just loves food! I knew he would love the minty Alfa-A Lite, as he has lost weight his energy has improved for training and competing. It'll be interesting to see how much he weighs at the Progess Camp in March."