Cool, Condition & Shine – Same Great Feed, Fresh New Packaging
---
We are delighted to announce our highly popular Cool, Condition & Shine feed is the latest product in the range to have a packaging makeover. Cool, Condition & Shine will still be easily recognisable in its distinctive purple bag but will now feature 'Incognito', an 8-year-old, 16.2 Warmblood. Incognito was bought as an unbacked 3-year-old has been backed and produced by event rider Alicia Wilkinson. He and Alicia are out competing at Novice eventing and also enjoy team chasing and beach rides, all of which he does on an entirely fibre based diet!
Dengie Cool, Condition & Shine is still the same great product, a high-fibre fusion of soft chopped and pelleted fibres, with a high oil content to promote condition without excitability. The blend of chopped grass and soft straw with added grass and alfalfa pellets makes Cool, Condition & Shine high in fibre, supporting digestive health. The high oil content helps to build and maintain condition, provide slow-release energy and also helps to promote healthy skin and coat shine. Fussy eaters will find Cool, Condition & Shine highly palatable with the spearmint oil and light molasses coating.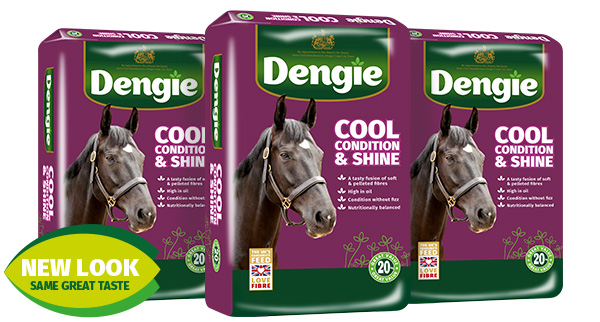 Dengie Cool, Condition & Shine contains a broad spectrum of vitamins and minerals to provide a nutritionally balanced diet for a horse or pony when fed at the recommended quantity of 500g per 100kg bodyweight per day. Alternatively, it can be used as a chaff to bulk out balancers, supplements, mixes and cubes to increase chew time. It can be fed dry or dampened.
Look out for the new Cool, Condition & Shine packaging which will start appearing in stores from Mid November 2021.