Dengie presents RoboCob at Royal Windsor
---
Team Dengie will be encouraging visitors to this year's Royal Windsor Horse Show 11th-15 May, to Take up the Reins and #GetHorsey with the campaign's mechanical horse RoboCob. RoboCob will give everyone the chance to experience what it feels like to be in the saddle, at a walk, trot or canter.
The campaign, Take Up the Reins was devised by the British Equestrian Trade Association (BETA) and supported by Hoof, the British Equestrian Federation (BEF) and is designed to encourage more people into the sport. It aims to get people of all ages and backgrounds connecting with horses by riding, volunteering to help out at their local equine charities or attending equestrian events to show their support.
Currently on an awareness-raising tour of Britain, RoboCob will feature on the Dengie trade stand which is situated at no 17 in the Royal Warrant Holders Association Pavilion. In addition to providing this simulated riding experience, our team of nutritionists will be promoting the importance of a fibre diet for equine health and wellbeing. We will also be launching the Dengie Fit Club – an initiative that gives advice and support to owners who want to ensure their horse is of a healthy weight. With over 23% of horses being classed as overweight in an independent study carried out last year, Dengie aim to educate horse owners about the links between obesity and disease.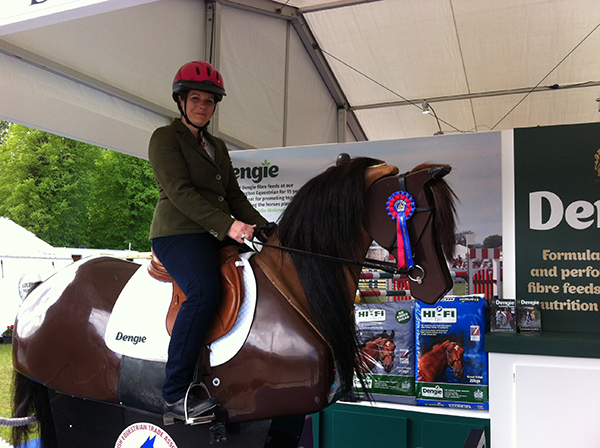 RoboCob riding sessions will take place each day from 11am to 12.30pm and 2pm to 4pm and visitors to the Dengie stand who try RoboCob will receive a goody bag (subject to availability while stocks last).
For further information, visit takeupthereins.co.uk