Healthy Tummy Approved by BETA
---
At a seminar hosted by Dengie earlier this year, leading veterinary expert Professor Celia Marr from the world famous Rossdales Equine Hospital and Diagnostic Centre in Newmarket, gave an update on Equine Gastric Ulcer Syndrome (EGUS).
Recent research suggests that once horses begin training their likelihood of developing gastric ulcers increases. 17-58% of competition and show horses in competitive work have ulcers and the most surprising results were that pleasure horses – 37-59% suffer from EGUS.
While there are many possible causes, high concentrate diets and intense exercise have been identified as the trigger in many equines.
Feeding more fibre and reducing reliance on cereal based feeds can be beneficial and advice is that starch intake should be less than 2g per KG of bodyweight per day to reduce the risk of ulcers.
The new BETA approval mark for equines prone to EGUS created in conjunction with the VMD and launched earlier this year has been created to help owners identify feeds that are suitable for horses or ponies prone to EGUS.

Dengie Healthy Tummy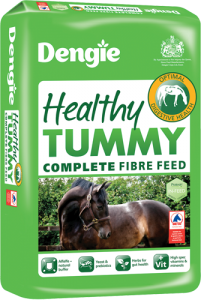 is a nutritionally-balanced  fibre feed containing ADM Protexin In-Feed formula which helps to maintain optimum levels of acidity within the gut.
Suitable for horses in light to moderate work when fed at the recommended quantity this alfalfa based feed has natural buffering capabilities to keep the gut healthy. Healthy Tummy now has the approval to use the distinctive BETA approval mark for equines prone to EGUS  logo on its packaging.  For horses in hard competition work Dengie Healthy Tummy can be fed alongside traditional mixes and cubes or can be combined with Dengie Alfa-A Oil or Dengie Alfa-Beet.
So if your horse or pony is likely to be a candidate for EGUS then consider the merits of a totally natural, locally produced, Dengie alfalfa diet. And as with all equine health issues, Dengie recommend that you consult your vet if you think your horse could be suffering from EGUS.