The 'Dengies' Delight Again
---
The 2018 Pony Club Winter Show Jumping and Dressage Championships, generously sponsored by Dengie Horse Feeds Ltd, returned to Addington Manor Equestrian Centre, Buckinghamshire, on 14-15 April 2018
A total of 266 Members took part in the Championships following qualification at Prelim Rounds and Area Qualifiers, and a further 28 entered the Dressage to Music classes which ran alongside.
Day one welcomed some much-needed sun for competitors taking part in the Dengie Winter League Dressage, Dressage to Music and Open Grand Prix Show Jumping.
• Lydia Ward (16) from the North Cotswold Hunt took the top spot in the Novice Dressage riding Heathcliff III with a score of 76.35%. Lydia, who bought Heathcliffe III just last November, said: "The win is totally unexpected. Our very first competition was the Dengie qualifiers, and since then he's got better and better."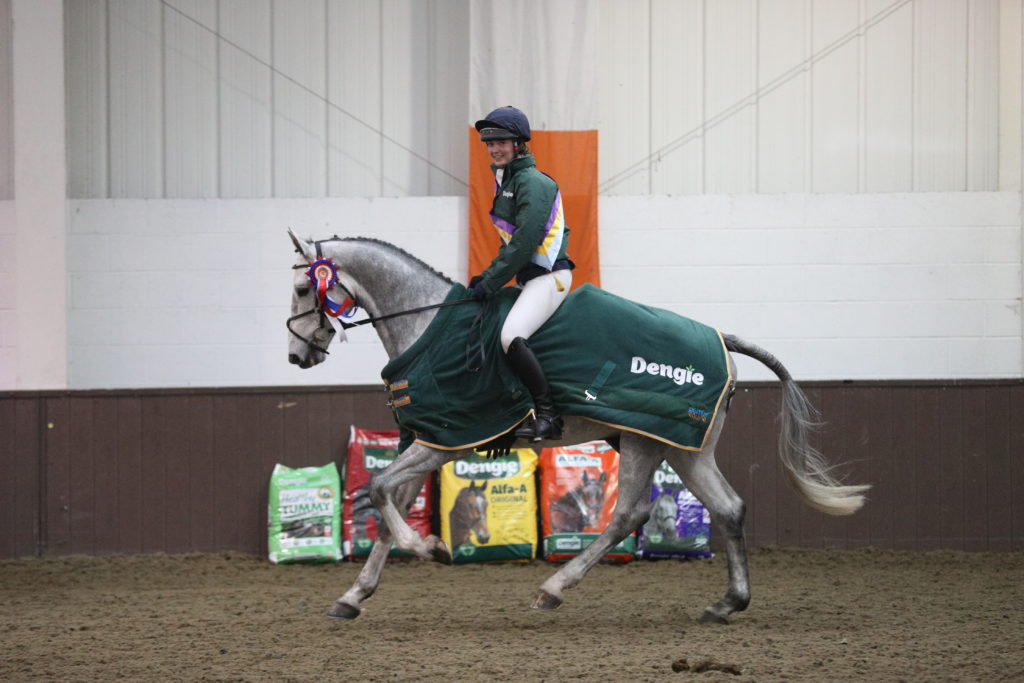 • At Intermediate level, twenty year old Evie Hardwick rode Roxlan Jasper to success with a score of 71.37% for the Bramham Moor Hunt Branch. Evie, who also enjoys coaching younger Members in her Branch, said: "I knew he'd do a nice test, but to win is such a surprise!" Evie has owned Roxlan Jasper, who is six this year, for just over a year. She continued: "I plan to try Eventing next, and see what he enjoys doing most."
• The Open Winter League Dressage saw some very close finishes, with just 0.07% separating 1st and 2nd places, and 0.07% also separating 2nd and 3rd places, but it was Florence Human (16, Polden Hills) whose beautiful performance with Fulgencio scored 71.54% to clinch the win. Florence and Fulgencio, aka Dylan, had a second sensational victory in the Open Dressage to Music, securing the top spot with a score of 75.89%.
Florence, who has a dog and two other horses named after characters from the Magic Roundabout, said: "Dylan turned seven yesterday and this is his first ever Dengie Championships, so to win is amazing! I didn't expect to even get into the ride-off." Florence hopes she and Dylan can continue to work their way up the Dressage levels.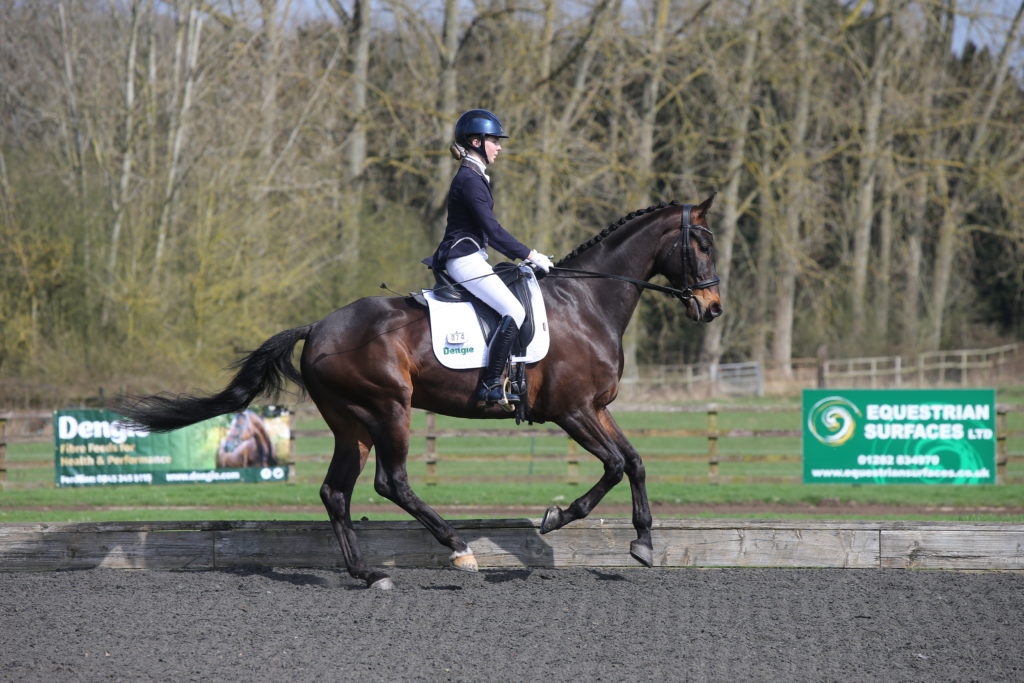 • Cheshire Hunt North's Emily Entwistle (14) rode Arch Rival to win the Novice Dressage to Music on a score of 69.38%, narrowly pipping Iona Stokes (10, Beaufort Hunt) and Bubbles and Ellie Tomkinson (14, East Cheshire) and Eglwysfach Rosebud who took joint 2nd with 69.06%.
• Meynell Hunt's Holly Clarke was delighted to do one better this year in the Intermediate Individual Dressage to Music, finishing 1st with Red Dandy on a score of 78.06%. Last year Holly took the runner-up spot riding Newoak Truffel.
• In the Pairs Dressage to Music, Evangeline Taylor and Olivia Wilkes rode Penanns Goldeneye and SFS Annette respectively for the North Staffordshire Hunt Branch, winning with a score of 67.81%.
• The standard was high in the Open Grand Prix, but Paul Thompson's testing course asked all the right questions and after two rounds just 11 riders went through to the jump-off.
Victory went to an ecstatic Grace Wallace (17) and Eau Claire V riding for the Cheshire Hunt South Branch. The combination also took the runner up spot in the Warm Up class.
Grace said: "Eau Claire V is nine years old now, and I've had her for just over a year. She is quite quirky! She can be a nightmare at times but she loves an atmosphere; we have previously competed in amateur classes at Bolesworth International and Liverpool International."
Grace, who hopes to step up to 1.30m next, last competed at the Dengie Winter Championships in 2014. She returned this time around with Eau Claire V and Ilena VD Bischop, who came 5th in the Open Grand Prix having been withdrawn from the Warm Up class because she lost a shoe.
More Show Jumping was on the cards for day two, with the Debut and Winter League Series Championships.
• Debut saw an increase in competitors since its introduction last year, with 65 riders tackling courses of 80cm in height. Charlotte Hosking (14) and Macsimus took the win for the Axe Vale Branch, making the four hour drive from home worthwhile.
Charlotte said: "I'm proud and really happy! This is our first Dengie Championships, so to win is amazing!" Charlotte has owned Macsimus for two years and they also take part in Eventing.
• Victoria Barrow (16) took the top spot in the Winter League Series Show Jumping Championships riding Filo Blueprint (aka Gadget) for the Bisley and Sandown Chase Branch. A very happy Victoria said: "This is our first Dengie Championships, so I was happy just to have qualified. I knew Gadget was capable, but it's so difficult to win. I hoped for the best, but expected someone to be faster." Gadget was sold after qualification, but his owners kindly allowed Victoria to ride him at the Championships. Victoria now has a horse on loan over the summer and is helping her sister with her youngsters.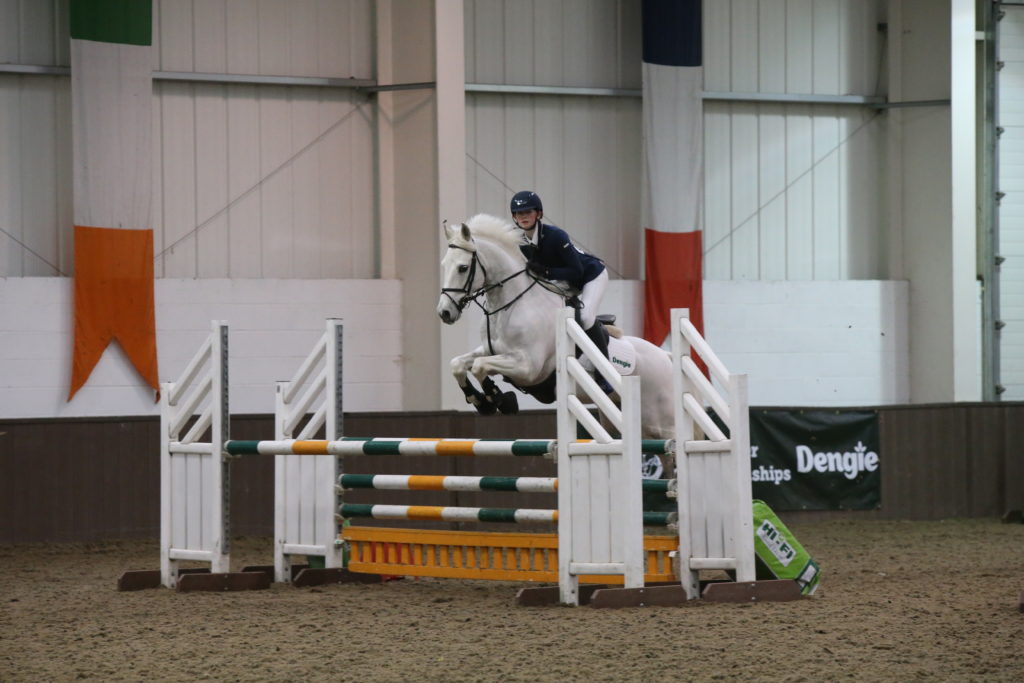 • It was a good day for Elysia Heagren-Bond from the Garth Hunt Branch, who was presented with the Horsemanship Award for both the Debut, in which she finished 4th, and the Winter League class, where she took the runner up spot. The Debut was judged by Amanda Kent and the Winter League by Pauline Ricketts. Elysia also picked up the award for the Highest Placed Rider under 12 years of age.
Lisa Wilson, Marketing Manager for Dengie, said: "The Dengie Winter Championships continue to go from strength to strength. Dengie has supported the event for over twenty years; the standard of riding, competition and camaraderie was fantastic to watch and just gets better and better. Well done to the partnerships who qualified and congratulations to all of those that were crowned champions and came away in the ribbons!"