A healthy tummy = a healthy and happy horse!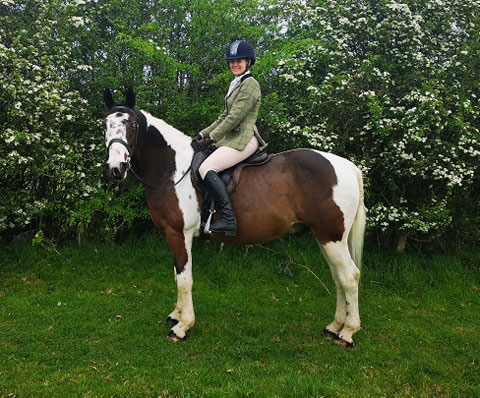 Not long after Gemma Gilbert bought Conner, back in 2016, she spoke to Claire Ward from Dengie for some advice. Conner was suffering with faecal water issues that were particularly bad after being on fresh grass or if he was stabled. Gemma also believed that Conner had ulcers from the stressful upbringing he had before she bought him.
Claire suggested that Gemma tried Conner on Dengie Healthy Tummy which she says made a huge difference. "There has been such an improvement in the consistency of his poos meaning his back legs stay a lot cleaner too! He also isn't grumpy before dinner time like he was before. I have used Healthy Tummy for four years now and wouldn't use anything else for my boy".
Conner is now loving his jumping and is competing at low level eventing. Gemma and Conner have represented their local club, Taunton District, at regional level as well as at two National Championships. In 2018 their team came 9th in the Country at the NAF 5* British Riding Club National Championships.
Conner currently lives out 24/7 in the summer. He has a daily feed of 3 scoops of Healthy Tummy as well as a balancer to top up on vitamins and minerals when he doesn't need the Healthy Tummy at the full recommended rate.