Ace
Ace, owned by Matt Ilston, was in light work, doing a mixture of schooling and hacking 3-4 times a week and successfully competing at unaffiliated dressage. Ace was turned out for six hours each day on really good grazing and was receiving ad-lib haylage. He was carrying a little too much weight, resulting in him being a little lazy, with Matt wanting a little bit more sparkle!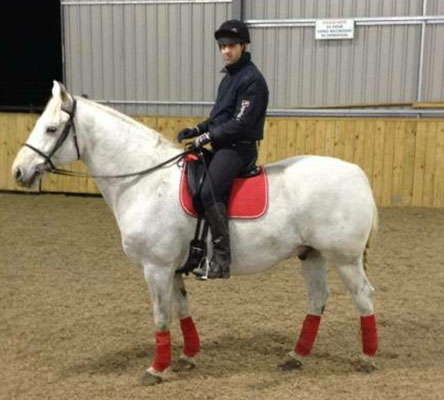 Recommend Diet
Feed – 1.5 scoops of Hi-Fi Lite and a balancer, split over two feeds a day
Forage – swap from haylage to hay, feeding in a small-holed haynet so that the ration (14kg) would last a little longer
Grazing – Fit a grazing muzzle whilst turned out
Ace did gain a little weight during the spring, due to the lush grass but Matt, along with guidance from Dengie's Performance Horse Nutritionist, Claire Akers M.Sc (Dist), kept to his diet with great results, steadily losing 60kg!
"Ace's weight loss programme was tough at times, but I kept at it and had great support from Claire and friends on the yard. The hard work was well worth it in the end – the new, slimmer Ace has his mojo back and I'm looking forward to competing this season and hopefully getting in the ribbons!" Matt Illston