Dressage Para Equine-Athlete Weight Loss Programme
Remi's Background
Remi is a para dressage horse who is on the World Class Para Programme and was long listed for Tokyo 2020 along with rider Amanda Shirtcliffe. Remi has always been a chunky horse and was diagnosed with Equine Metabolic Syndrome (EMS) last year. Unfortunately, Metformin, the veterinary medicine which is often used to manage EMS, isn't allowed under FEI competition rules so his condition had to be managed through dietary changes and weight loss strategies.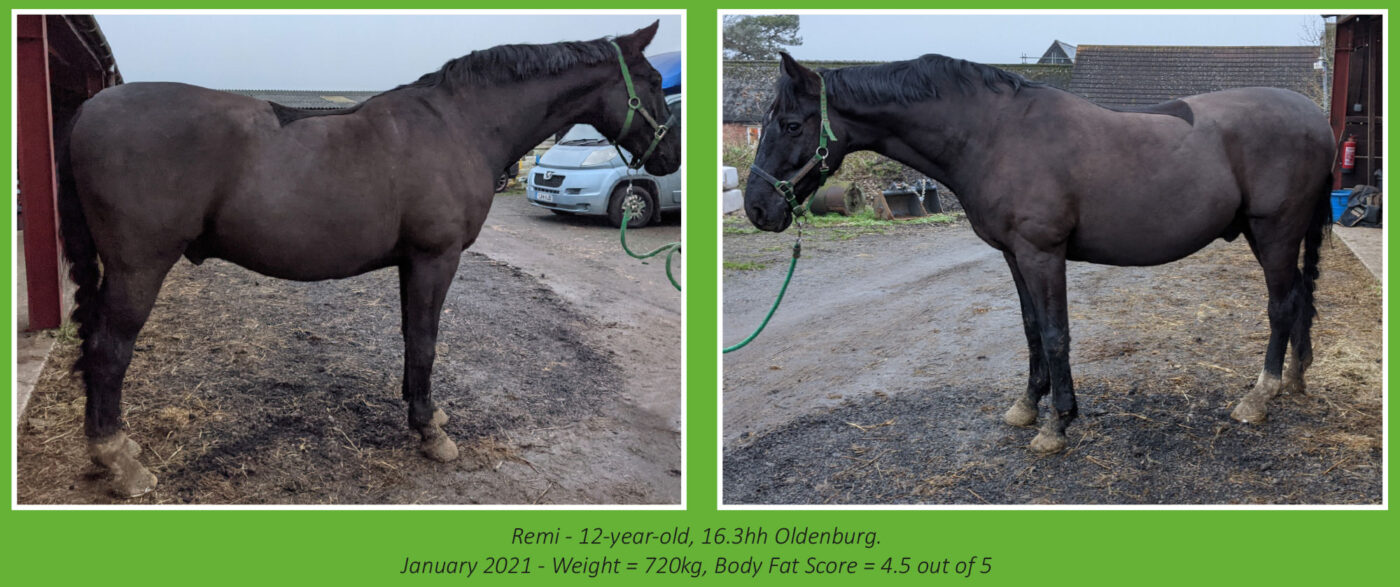 Remi's Weight Loss Journey
Elevated insulin levels are associated with EMS which predisposes horses to laminitis and so a low sugar and low calorie diet was needed for Remi. Despite being a good doer, Remi can be very fussy and won't eat any of the most suitable feeds available. The challenge for Dengie's Performance Horse nutritionist Claire Akers MSc, was therefore to find something that was safe to use that Remi could be tempted to eat.
Claire selected Alfa-A Original with a performance balancer. Although Alfa-A Original has a molasses coating, when used in moderation as part of a carefully managed total diet, it proved to be a successful way to manage Remi – and he loved it!
The Effort Paid Off
As part of the diet planning process, Claire advised Amanda to limit Remi's grazing even more and analysed Remi's hay. As this proved to be very high in water soluble carbohydrate (WSC) at 36.8%, an alternative, lower WSC option forage at 17.6% was sourced.
All of the effort has paid off as Remi has lost weight as you can see in the photos and graph below. In addition, his insulin levels have dropped 300µIU/ml to 91µIU/ml which, whilst still higher than ideal, shows that the weight loss is helping the metabolic issues that predispose Remi to laminitis. This also demonstrates the importance of looking at the whole diet if you really want to make a difference.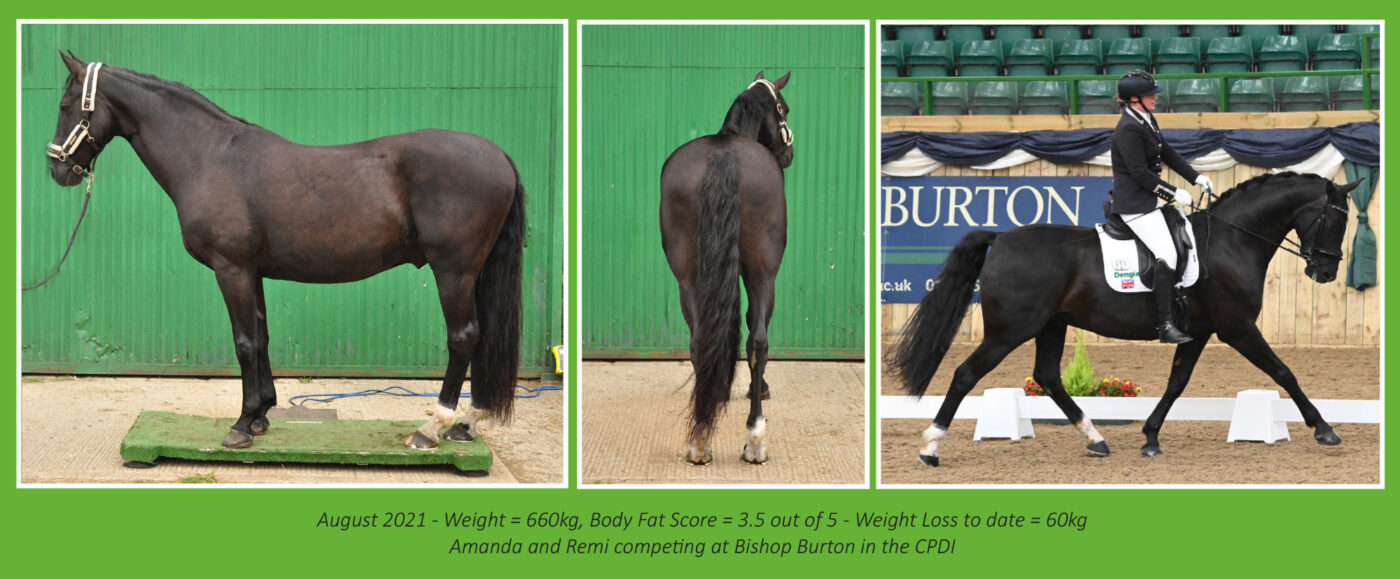 "Since working with Dengie, the biggest improvement I've noticed is that Remi has lost a considerable amount of weight, but without losing performance. He now has plenty of energy to sustain his efforts at a week-long competition" says Amanda. "The Performance+ Balance is super easy to feed. The pellets are added to his chopped alfalfa and contain all the essential vitamins and minerals he requires to support his nutritional needs. From Remi's point of view, he's very happy with his feed and gobbles the lot up without hesitation!"