All Systems Go
---
Happy New Year to you all! I'm very excited to be able to tell you that I have finally had the all clear to ride again after my hand surgery. It's so exciting that I'm even finding the boring road work fun!
All the horses were very happy to finally come in to nice beds, having spent most of the winter rugged up and out in the rain! I think Stan slept for three days and Skipper was so excited that he had to wear a party hat made of haylage!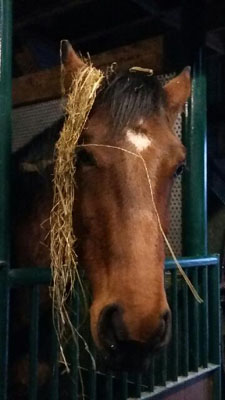 I will spend the next few weeks doing road work, just in walk to get their legs hardened again after three months off and then gradually build up to trot work. After a month or so, they will slowly begin to do some light schooling.
Despite being very fluffy, all the horses have wintered well and are happily tucking into their Dengie Healthy Tummy, Alfa-Beet and vitamins and minerals supplement. I have also started back at the gym to try and get back to full fitness in time for the season!
I have kept myself busy over the last three months with the odd holiday and lots of teaching – I have also been completing my UKCC Level 3 exam and portfolio!
Hope you are all looking forward to the season starting soon,