End of the 2020 Event Season
---
The last time I blogged the event season had finally started and although I had been balloted from the first few events I had entered both ponies managed a run at Launceston and Bracken had also had a run at Dauntsey.
Our next event was the BE80 at Moreton with Smartie. It was a swelteringly hot day and our times were in the afternoon during the heat of the day! I much prefer morning times as I like to get up and get going! Anyway, Smartie did a much improved dressage test to score 27 (I think he felt it was just too hot to throw in any extra moves!!), a lovely clear show-jumping round and then he flew round the cross-country although we did pick up a few time penalties for going too fast (whoops!!) to finish in 7th place. He felt so happy and confident at this level that we decided he was now ready to step up and do a 90.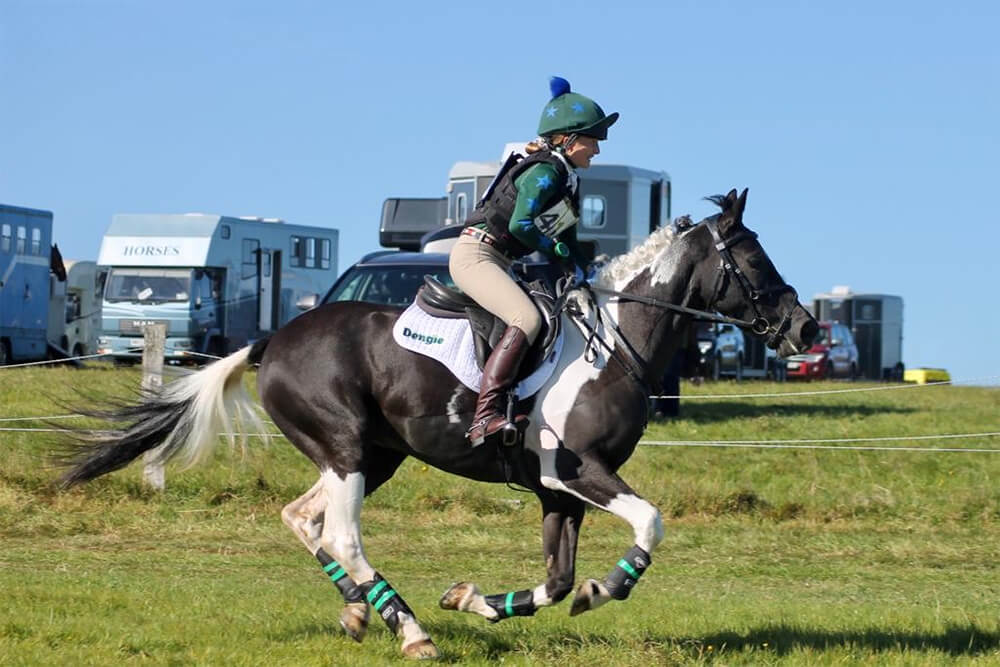 My next event was at West Wilts with both ponies this time. Bracken was doing the Open U18 BE90 and Smartie was doing his first 90. The weather could not have been more different from Moreton, it was wet, windy and cold!! Bracken was one of the first to go in the U18 section and she did a good dressage test, followed by clear rounds in the show-jumping and cross-country. She didn't seem to be bothered by the awful weather and made the XC feel easy, confirming our thoughts that she was ready to step up to 100 level. By the time Smartie came to do his dressage test the weather had got worse (if that was possible!?) and the ground had become quite muddy and slippery. He did a good dressage test, a clear round in the show-jumping and then flew round a very muddy cross-country course to finish clear and inside the time despite losing a shoe, to finish 9th! I was so happy with him for his first attempt at 90 level and in such difficult conditions.
So then it was back to Launceston again for mine and Brackens first go at BE100!! I was quite nervous but knew that Bracks was ready for it. We didn't do the best dressage test, but my focus was on the jumping! The show-jumping course was big and quite spooky and Bracks went a bit green at the start so I really had to pick her up and ride her. She responded well and ended up jumping a lovely clear round. Then it was onto the XC which looked huge, and the ground had got quite deep and muddy in places causing a fair few problems. I was really nervous but once we were out of the start box and over the first few fences I knew that Bracks was up for it and I started to really enjoy it. I was so pleased to go clear with just some time faults, Bracks had given me such a fantastic ride round a course which was the biggest and toughest either of us had ever done!
Next up was our local event at Pontispool. Smartie was doing the 90 and Bracks in the 100. Both ponies performed well with Bracken doing a double clear and Smartie just had a pole in the show-jumping, but both finished in the top 20 in their sections. Smartie then had 2 more runs at Bricky and Bovington before the end of the season. He has been growing in confidence with every event and at Bricky he did a lovely dressage test for 28 and despite having a pole down in the show-jumping he flew round a long and tricky cross-country to finish clear and inside the time for 5th place! We then went to Bovington the following weekend where he ended the season with a fab double clear and another top 10 placing!!
Bracken was due to have her last run of the season at Calmsden but she picked up a slight injury after Pontispool so we decided not to run her again as she had done 2 great runs at her first 100 events. I am so excited for next season with Bracken when hopefully we will step up to Novice level and do some Pony Trials. We will be working hard on our dressage over the winter months as that is our weakest phase – Bracks won't be too pleased to hear that, dressage isn't her favourite phase!
Smartie finished the season off with a couple of days intensive training at a Pony Trials camp. It was a very wet few days but I really enjoyed it and we had some great instruction as well as making some new friends. It was a great learning experience for Smartie too and he was a super boy throughout.
So now the ponies are on a break from work. They all get turned out for 3 or 4 weeks which means I have a break from mucking-out and it's an opportunity to re-paint the stables and give the yard a good clean and tidy, but I do miss riding them!
Although it hasn't been a normal event season I am so grateful that I did get the opportunity to do some competitions and I couldn't be happier with the ponies. Both of them stepped up a level and performed really well giving me great confidence for next season. They have looked and felt fantastic thanks to their Dengie diets and I am so grateful to Dengie Horse Feeds for all their support. Roll on next season (hopefully coronavirus free!!)!!