Maisie's Eventing Season
---
The start of the season saw a bit of a change with both Bracken and Smartie going to new homes. It was really sad to say goodbye to them, but lovely to see them having fun with their new riders.
Through the spring and summer I have gained more experience eventing at Novice level and doing Pony Trials on Petal and Oli.  They have both been superstars and have tried so hard for me. A definite highlight has to be a double clear at Bicton Pony Trial on Petal back in the spring and two top 10 finishes on them both at Moreton in the Open Novice in July. These results then meant we were invited to go up to Blair Castle International in Scotland as part of the England Team for the Home Pony International at the end of August! We had the best time from start to finish, it was amazing to be able to ride at such a prestigious event and in such an atmospheric main arena, I loved it! Oli did a smart test to leave him in the top 15/100 after dressage, an unfortunate rail show jumping, but then a super clear XC inside the time meant we finished 9th individually out of 100 starters! Petal did a rather wild test, she thought entertaining the crowd was more important than behaving herself, so this left us quite far down after dressage, however two super jumping rounds, just rubbing a pole show jumping, but a quick clear inside the time XC moved her up to finish in the top 25! Although she was naughty in the dressage, I can't fault her performance in the jumping phases, she made it feel so easy and gave me a great time!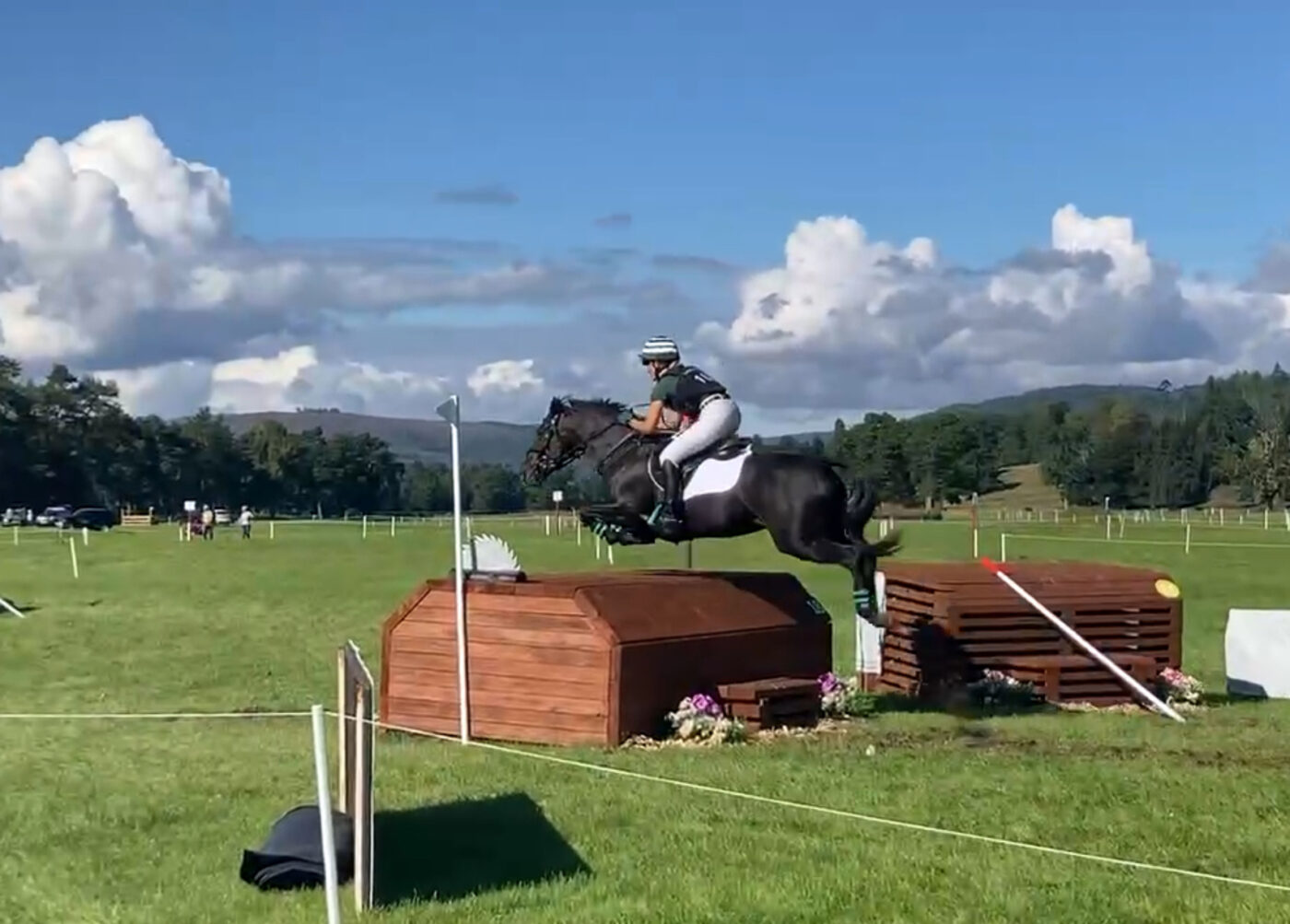 Another highlight of the summer was going to the Pony Club Championships to compete in the Intermediate Team Dressage competition with Oli.  Our team did really well and came 2nd over all. I was placed 2nd individually in my section which meant Oli and I went through to the ride-off where the top 2 in each of the 4 sections rode through the test again with 3 judges. We were first to go in the ride-off and Oli was an absolute superstar, he did another fantastic test to score 72%! I was so pleased with him but felt fairly sure our score would be beaten as there were some very good horses and riders to follow us. Amazingly our score stayed at the top and we were the Intermediate Dressage Champions! It was a great feeling to stand on top of the podium at the prize giving, but the highlight was being interviewed by Horse & Hound!!
The week after Blair the ponies enjoyed a quiet time while we went up to Burghley Horse Trials for the week.  I had a great time watching all the top riders and it made me even more motivated and determined to get there one day! It was also lovely to catch up with the Dengie Team on their stand.
Since being back from Blair and Burghley I have gone back to school, however we have welcomed a very exciting new member to our team….Chance! She is a very exciting mare for me to event next year for my last year in ponies, she's incredibly talented and I love her so much already, fingers crossed for a good season next year! Chance had done quite a lot of travelling before coming to our yard, so we thought she would benefit from being fed on the Dengie Healthy Tummy and although we haven't had her long, her shape and condition is already improving since being on a Dengie diet!
Petal has started her winter holiday already as after a busy season she will benefit from a longer holiday.  Oli is back in work after his short break after Blair and is now gearing up ready for his last few events of the season. I am aiming to  get a few runs in before the end of the season on Chance to get some of the MERS that I need to do the Pony Trials next season, then both Oli and Chance will join Petal for a winter break!
During the Eventing season both Petal and Oil have been fed on Dengie Alfa-A Original with a performance balancer.  They have both looked and felt amazing throughout the season and certainly had plenty of energy to tackle the hills at Blair! When the weather was really hot and dry I also gave them a bowl of soaked Dengie Grass Pellets during the day which helped to replace the grass that they weren't getting from the fields and also helped to keep them hydrated.
I want to say a huge thank you to Dengie for all their support this season, and for keeping the ponies in tip-top shape so that they can perform at their best and feel amazing, which they definitely do!