New Arrivals
---
It's been crazy busy over the past month, I'm not quite sure where the time has gone!
Googie (Gazelle Dwerse Hagen) has had another two runs. She did another U21 Intermediate at Hambledon going double clear and finishing 4th and we did our first ever Advanced at Withington, which was amazing. The dressage test for the advanced had flying changes, canter half pass and extended trot! She scored 43 which was a little disappointing but most people in our section were preparing for Rio, so we weren't too worried. The show jumping was up to height in a very tiny arena. Googie jumped really well but unfortunately had 3 poles down. The cross country was a real test but Googie loves her cross country now, so I knew if I rode her well she was more than capable. I went over to the start box and watched a horse come through the water four from home and it fell! The horse was down and the screens went up. I was then sent back to the warm up for 10 minutes while the horse got back up on its feet. That didn't make me feel too relaxed!! It was then time for us to set off and Googie flew round and ate up the entire course. When I came through the finish line I practically cried I was so happy. The horse behind me then fell too, so the course really caused its fair share of trouble.
The weekend just gone we were competing at Houghton Hall Young Rider Championship 2* three day event. We did a super dressage test, Googie felt the best she has ever been but still has scope for improvement. I was so nervous before cross country because it is so easy to make a mistake. I needn't have worried, she whizzed round the course making nothing of it. We were the fastest Brit all day, which is an improvement as I am always a bit of a slow coach! The next day Googie was still full of energy for the showjumping and did a beautiful round just tipping the last fence, so we finished in 13th place. It was a shame having a pole down but it was the one mistake she made all weekend, so I can't complain. Dengie Performance Horse Nutritionist Claire Akers came by, it was lovely to see her and catch up plus the extra pair of hands were very much appreciated when helping to cool Googie down after the cross country.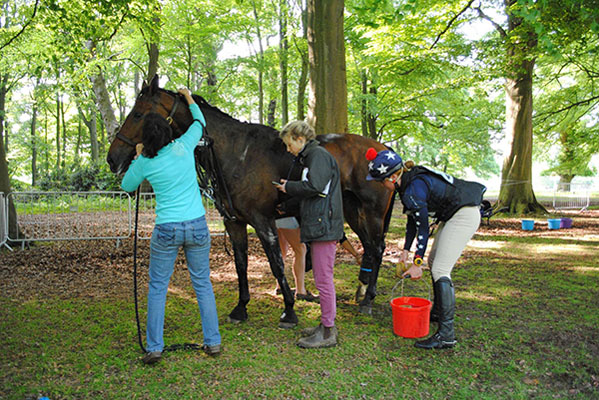 Pooh (Perfect Timing II) has done three more Novices with a super clear cross country at each Belton Park, Whitfield and Rockingham Castle. She is a little star, and gives me an amazing feeling to ride. At Belton she just rolled a pole, but at Whitfield she had 4 poles! It was very hilly and really boggy so I can imagine how difficult it was for her. I quickly forgave her, and at Rockingham she just touched a pole. Pooh's next events are at Berkshire College of Agriculture then we are off to Stratford Hills – both Novice.
I also have a horse in to event and sell at the moment called Joey (Shannondale Ensign). He was named Joey after War Horse as he is the spitting image of the horse they used in the film. He did an unaffiliated 3'4 event at Isleham going double clear to finish 2nd and he also did Rockingham Novice double clear to finish 7th. I am also taking him to Berkshire College of Agriculture for another Novice, then possibly Stratford Hills Intermediate Novice. At 10-years-old he is an exciting horse for the future, so we need to find him a nice new home.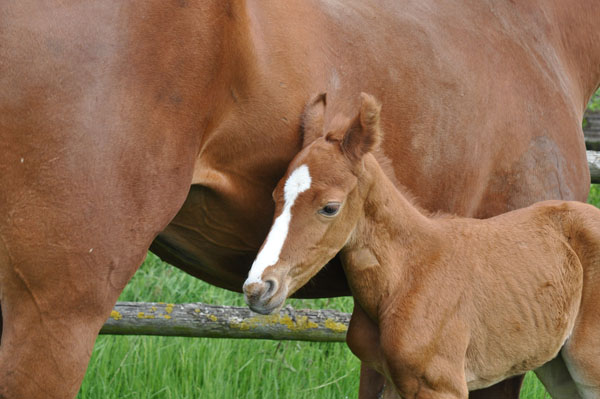 I'm delighted to say that Diva finally delivered and we now have a little foal at the yard! He is a beautiful chestnut colt with two white stockings, just like his sire Chilli Morning. We have called him Pogo. He is so gorgeous and has already been weighed by Dengie's nutritionist Claire Akers. At 3-days-old Pogo weighed just 53kg. Claire is going to monitor his weight as he grows and develops over the coming months. His next weigh-in session is this Friday, so it will be interesting to see how much growing he has done in two weeks. Diva is loving being a mummy, she is so kind and calm when we want to cuddle her baby.
We have also been doing some pure showjumping and dressage which is always a great way to practice for our competitions. I will keep you posted on our next event with Pooh and Joey and the weight of baby Pogo.