Out of Lockdown and Off to Event!
---
Training Bursary Blog: Sarah-Jane Brown Part 6
It has been a difficult year for so many people who have been deeply affected by the COVID pandemic. Job wise as an Environmental Health professional I have been heavily involved ensuring businesses are compliant with COVID regulations by helping and supporting them to get it right, as well as taking appropriate enforcement action for those that blatantly ignore the rules. I am now a webinar expert having co-written and delivered 50 in the last year around COVID topics.
Horse wise we did virtually nothing last year, the highlight was our Dengie training day in January and then we never got to BE event. We did a little show jumping and dressage, but nothing that significant. Sadly my little pocket rocket Ellie developed a bone cyst in her pedal bone, which later in the year required an operation. This was not immediately successful and as I write this she is being dropped off to stud and we will see how she is in 18months. Certainly the way she is moving round the field is encouraging.
I only have Fliss up and riding currently, although I hope to have my 5-year-old homebred back in work soon. Poor Fliss feels therefore she is overworked, saying that she is looking rather well and certainly thriving on her Dengie diet.
In April it was great to finally get out and we started with some dressage. She has improved hugely over the winter and I was looking forward to showing this off. We went to Bicton Arena where the competition was fierce and sadly brought up the rear in one class and were lower middling in the other. Aren't horses great levellers? She went just a bit tight and tense on me and was sure there was some jumping somewhere! Two days later we were out again at Tall Trees and a much improved performance gave us a double dressage win!
We jumped at Pendarves for a BS show and had double clears and placings in the 1.10 and 1.15. Then the following week after missing the entire 2020 season we finally got out eventing. With the firm ground I was pleased we had chosen Bicton who make such great efforts to get the ground as good as possible for the competitors. We dropped down to BE100 open and this time she did a nice test for a 30. Show jumping wasn't an issue and we were clear, although a big spook at 2 could have been costly. Cross country was a decent test for the level and ideal for us before we stepped back up to Novice. She flew round for 0.4 of penalty to finish 6th so a really good start.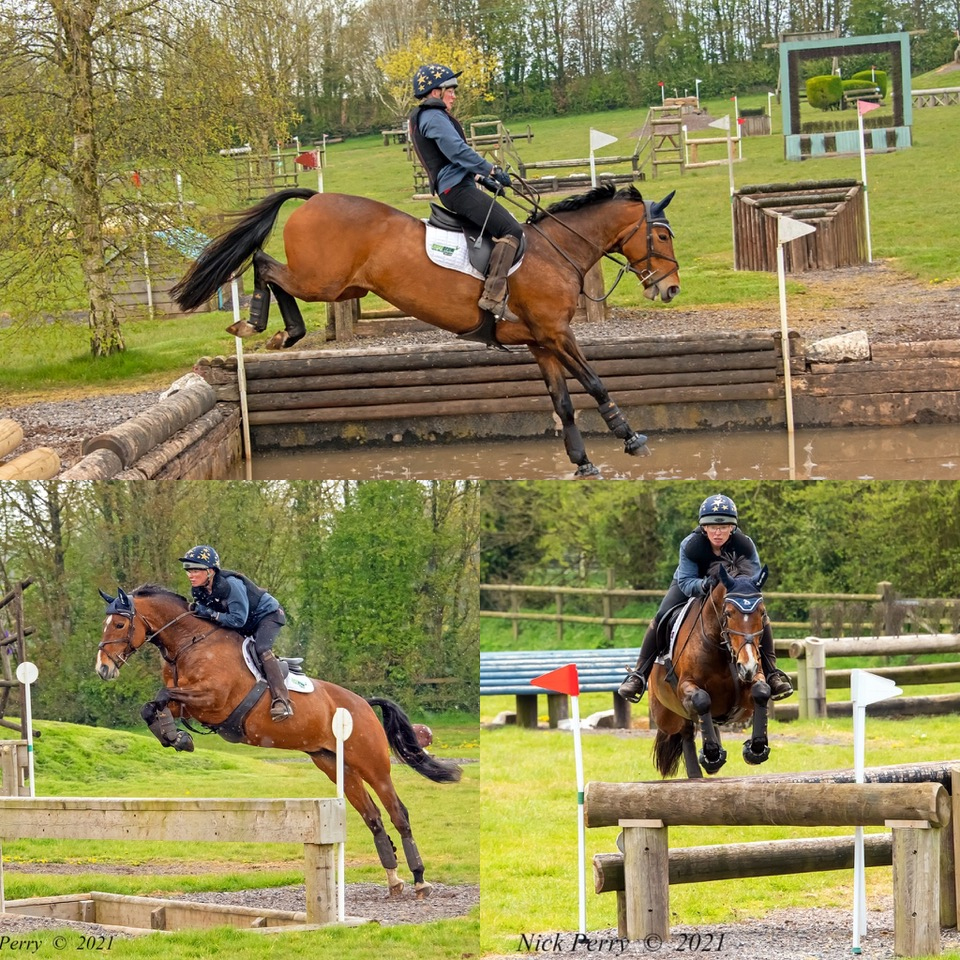 Aston was the first Novice since 2019, the day before we had a quick tune up with Owen Moore and arrived at Aston raring to go. I walked the course and it was actually less technical than the 100 at Bicton, although asked some questions, particularly the big jump in the water.
Dressage was on the surface and I thought her test was nice enough and was disappointed to be well down with a mark of 35.3. Watching the test back it was deserved, she just dropped behind the bridle making her very tight in front and her paces were a bit choppy in consequence. I know we can work on this I just have to find the key to relax her and let her lengthen her frame.
Show jumping was unusually for Aston on grass, the ring was quite undulating with the going a bit sticky. Even though Fliss is such a good show jumper, I was a bit worried about this phase as some were having cricket scores with the going and she hasn't jumped in ground quite like it. I shouldn't have worried she coped fine and jumped a super clear round.
Cross country I was determined to implement some of the gems I picked up from Sarah Thorne at Rosamund Green a few weeks ago and really went out to get her in front my leg and taking on the fences and moving away. Yes I still added the odd stride where maybe I didn't need to, but it was far better and Fliss loved the more forward way of going. This perhaps showed with her coming back inside the time to add nothing to her dressage score. You will see her on the video going through the first water, the second she jumped in well and just slightly stumbled on landing, but picked up and jumped the brush well out. She gave me a super ride from start to finish.
We finished on our dressage score for 8th place.
Fliss now has an unbelievable record, which I am careful not to get too hung up about, she has done 10 BE in total including 5 novices and been double clear in every one. Whether or not we extend the streak, to do the first 10 double clear is some feat!
It's so exciting to be able to finally plan, and I'm hoping that we can go to Hartpury 2 star this year eventing, as well as mix in some show jumping. I'm also looking forward to having Kensa to work with and hope she has some of her mothers talent (Sarnita took me to Advanced).