Wedding Bells are Ringing
---
I hope you all had a good Christmas! We had a quiet one in terms of horses because I got married on New Years Eve, so we spent the lead up to it planning and making things! The horses were still ticked over either a little bit of schooling, lunge or hack depending on the weather!
The wedding day itself was amazing – the perfect frosty winter day. Sadly we couldn't include the horses in the celebrations but we had an amazing surprise guard of honour from some of the Zetland Hunt Pony Club children (who I teach)! The evening ended with a fab fireworks display to bring in the New Year!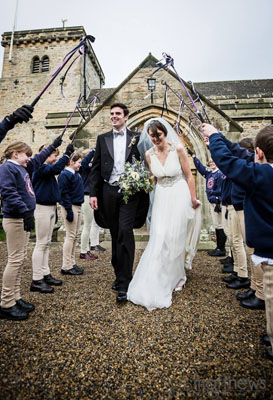 We went straight from the wedding on honeymoon and only arrived back the other day so still suffering from jet lag! The highlight of the trip was swimming with dolphins!
The horses have been on a basic feed programme over the last month while I was away, all just on haylage and Healthy Tummy – they were just lunged every other day to ensure they didnt loose too much fitness and we cut the fibre beet out so they could eat as much haylage as they wanted without getting too fat!!
I have been back riding two days – they will spend a week or so getting gradually back into full training and then I will look for some competitions to take them to!