Dengie Feeds for Horses and Ponies Prone to Laminitis
---
When it comes to choosing the best feed for horses and ponies prone to laminitis the general principle is to keep sugar and starch levels to a minimum. Dengie fibre feeds are all based on high fibre ingredients which are low in starch compared to feeds based on cereals. All the feeds in our range selected for those prone to laminitis are lower in sugar than grass hay and so are all safe to use but there are features of each product that make them particularly useful for different situations. We've highlighted these below in our laminitis feed selector along with some of the key nutrient levels.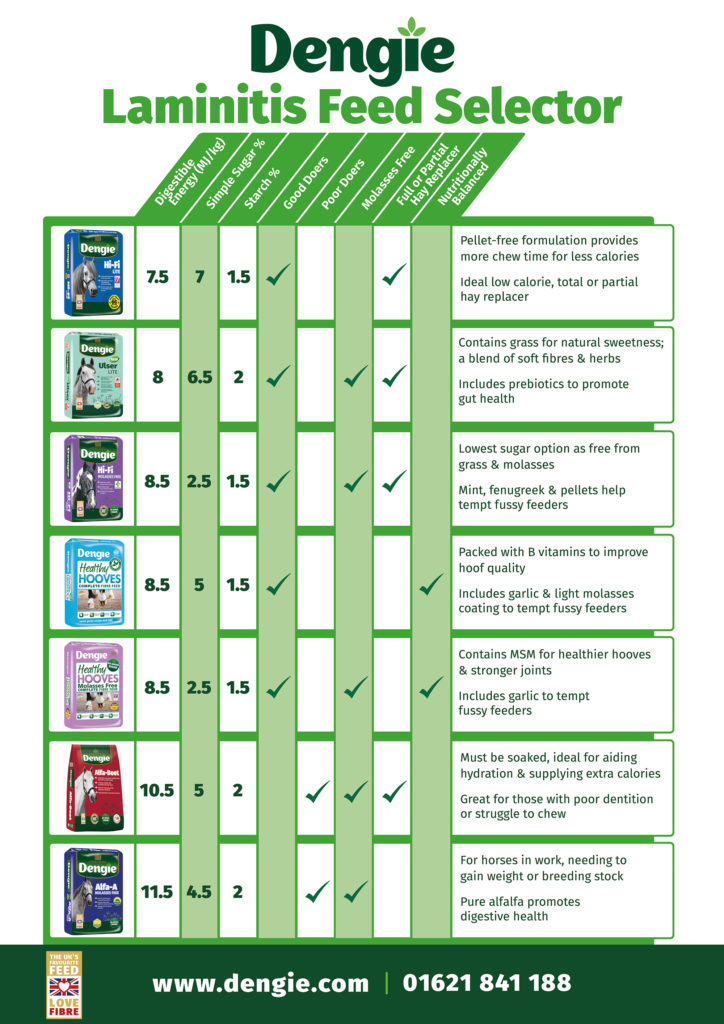 An area that often causes confusion is that products that are lowest in energy (calories) are higher in sugar. It is important to remember that all the Dengie feeds are relatively low in sugar, it's just that when they are compared to one another, some contain more sugar than others. There are two groups of ingredients that make up the majority of Dengie feeds: the fibre sources – straw, alfalfa and grass and the coatings – molasses and rapeseed oil. These are the ingredients that provide nutrients such as protein and fibre as well as being the main sources of energy in the feeds. It is the relative proportions of these core ingredients that determine the nutrient levels.
There are two ingredients that contribute higher levels of sugar to the feeds which are grass and molasses. If we don't use molasses then a light oil coating needs to be added. This is because fibrous ingredients such as grass, straw and alfalfa are very prone to shattering and can make a feed look very bitty. The coating provides some moisture to reduce the shattering and also helps to disperse other ingredients such as herbs, vitamins and minerals through the feed. Oil coatings provide more energy than molasses which is simply because oil is more energy dense than carbohydrates such as sugar.
Alfalfa is naturally very low in sugar but contains more energy than straw and so if we use alfalfa it helps to keep the sugar content down but the energy level comes up a bit. Grass is a popular ingredient in fibre feeds but any product with grass in will have higher levels of sugar than those that don't. This is why we use it sparingly in feeds for those prone to laminitis.
All of these factors are considered when our nutritionists formulate feeds. Dengie have been growing and making fibre based feeds for over 50 years and so understand the challenges of working with high fibre materials better than anyone. You can be sure that all our feeds are safe and efficacious which is supported by independent endorsements from organisations like The Laminitis Trust, the Laminitis Site and the BETA Approval Mark for horses and ponies prone to ulcers.