Dengie Grass – not just for horses!
---
At Dengie, we select the finest grasses and ingredients grown by British Farmers for our grass chops and pellets. By using 100% natural ingredients that are free from artificial preservatives, flavours and additives, we offer a range of grass-based feeds that are suitable for a variety of animals including horses, cattle, sheep, camelids and even zoo animals!
What makes Dengie grass so special?
In contrast to hay or haylage, the grass used in Dengie feeds is harvested whilst it is still young and highly digestible. Our precision drying techniques perfected over the last 50 years, lock-in all the natural goodness and ensures a consistently clean source of forage.
When to use Dengie Grass:
As a Forage Replacer – Our range of grass feeds are ideal for when the supply and quality of natural grazing declines.
For those with Poor Dentition – the naturally soft texture of the grass chops makes them great alternatives for animals that struggle to chew longer length forage due to old age, poor dentition or specific dental issues such as diastemas. Dengie Pure Grass Pellets can be soaked to an easy to chew mash.
Fussy Feeders – the natural sweetness of the grass makes Dengie grass feeds a palatable option for fussy or picky eaters. Dengie Meadow Grass with Herbs & Oil also includes a herbal blend for extra tastiness!
Extra Entertainment – Dengie grass feeds can be used to provide enrichment for a stabled animal – hiding some chopped apples or carrots in a big bucket or trug of chopped grass provides an extra special treat to keep them entertained! Fibre is crucial for the digestive health of herbivores and encouraging them to eat for longer replicates their natural eating and browsing behaviour.
For extra condition – the high digestibility of Dengie grass means that animals get a lot more nutrition than they would from mature forages such as hay and haylage. Simply topping up their usual forage with Dengie Pure Grass can help maintain or promote weight gain especially in the winter months.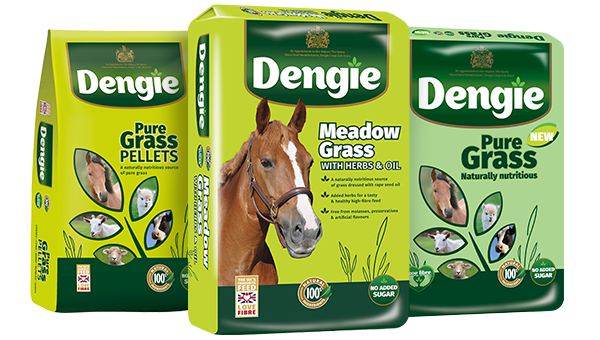 Woburn Safari Park
"We have been using Dengie Pure Grass for one of the female elephants living at Woburn Safari Park for the past couple of months as an extra source of fibre and we are all really impressed with the quality of the product and the service from Dengie.
Dengie Pure Grass is enjoyed by Yu Zin and the high fibre means it is very easy for her to digest whilst ensuring she receives all the nutrients she requires.
Yu Zin really loves it, probably helped by its deliciously sweet natural taste – as you can see from her enjoying a trunk full in the pictures!"