Hedgerow Haynets for Horses
---
Many horses like a munch on the hedgerow bordering their paddock and will try to snatch a sneaky bit of cow parsley from the verge when out for a more leisurely hack. Replicating this diversity for the stabled horse has become a popular trend in the form of a hedgerow haynet, where hedgerow plants for horses are mixed with or fed alongside the normal forage ration. Bringing the outside inside has advantages of encouraging foraging behaviour, environmental enrichment and offering diversity in the diet.
Are there any plants I should avoid feeding horses?
Not every plant, shrub or weed in the UK is safe for your horse or pony to eat ,so it is very important to identify the correct hedgerow plants for horses and know that you are feeding your horse safely. The British Horse Society and the RSPCA have some useful pictorial guides to common poisonous plants.
What plants are safe for horses that I can use in my Hedgerow Haynet?
Whilst not an exhaustive list, horses may enjoy a variety of items including cow parsley, cleavers (sticky weed), hawthorn, hazel, blackberry, rosehips, thistles, nettles, dandelion and willow. Softer, non-prickly items are easier for us to handle especially if trying to put them in the haynet, whilst woodier plants like hawthorn, hazel and willow may be easiest for feeding from the floor unless they are young growth. If you grow your own at home, common herbs like peppermint, rosemary and thyme leaves can also be a tasty addition to the ration. Hedgerow herbs for horses are a popular addition!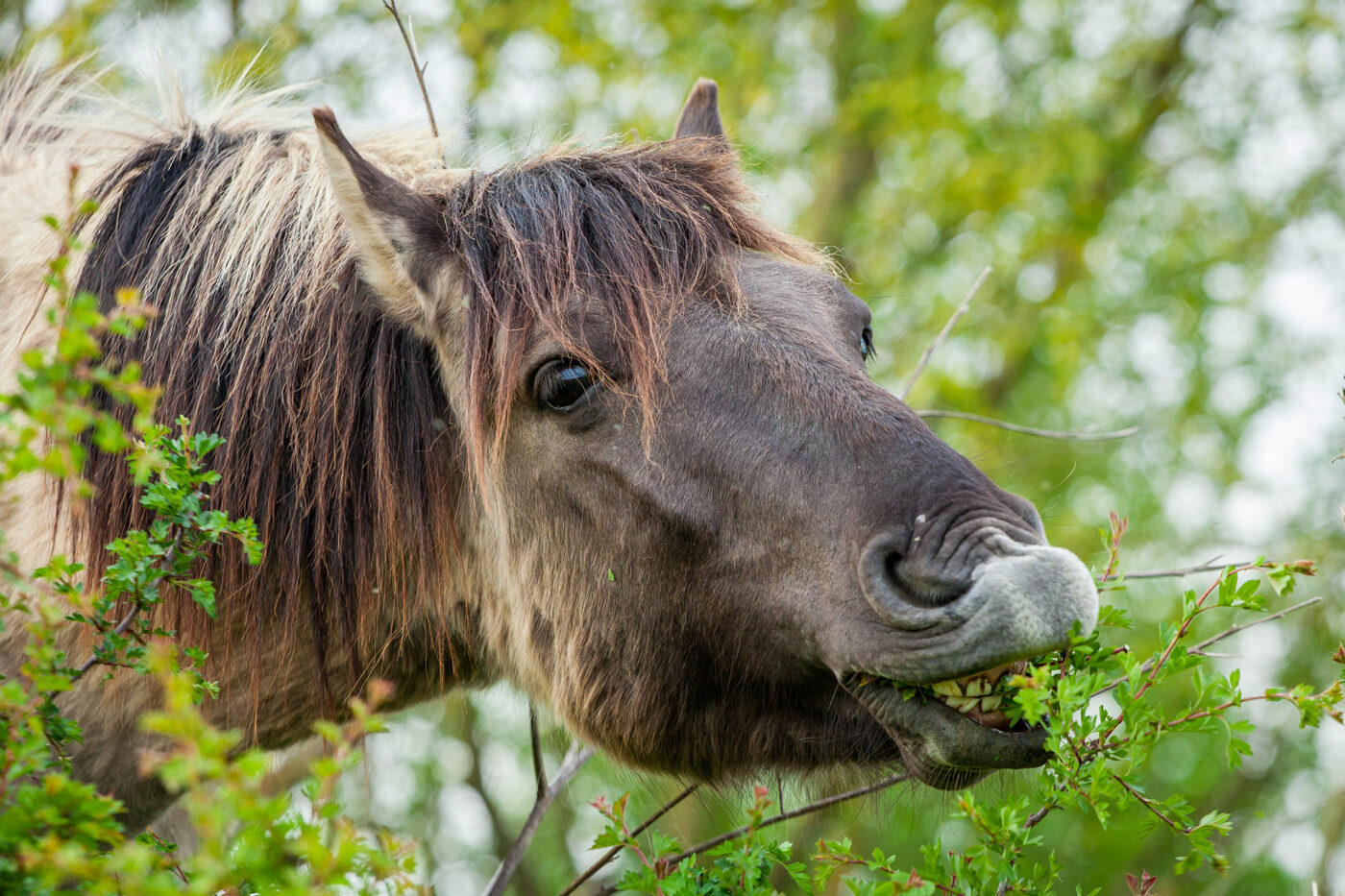 How much should I feed my horse?
Hedgerow plants for horses should be considered as a supplement to the forage ration and so should be fed in relatively small quantities e.g. a handful of each or less than 500g combined for a horse. This recommendation is to avoid sudden dietary change which increases the risk of digestive disturbance and to reduce significant fluctuation in nutritional intake. These materials will vary in nutritional value throughout the year and are being fed fresh whereas forages are conserved for use in winter and so are more stable in the levels of nutrients they are contributing to the ration. Mixing the hedgerow items through the usual forage encourages the horse to "forage" or sort through the different materials looking for those that are tastiest. This can extend eating time which is particularly useful for those on limited rations.
Will hedgerow items make a nutritional contribution to my horse's diet?
With so many hedgerow items on offer and with none of them traditionally being used as part of the horse's normal forage ration, we wanted to explore their nutritional value. Selecting just some of the items that our own horses find tasty we sent them for analysis. This had to be done using traditional wet chemistry techniques as equipment such as NIR, which relies on a bank of information from previous analyses, clearly wasn't an option!  It is important to highlight that these results are from just one sample of each plant and so should be considered indicative of what our horses were munching at that snapshot in time at the end of May. Much, much more analysis needs to be done to draw any firm conclusions about the nutritional value of these materials but it is really interesting to start exploring these materials.
| Nutrient*/Hedgerow Item | Hazel | Hawthorn | Cow Parsley | Sticky Weed | Average Hay |
| --- | --- | --- | --- | --- | --- |
| DE MJ/kg | 10.7 | 11.41 | 10.73 | 10.86 | 8 - 10 |
| Dry Matter % | 21.6 | 33.2 | 18.6 | 13.5 | 84 - 90 |
| Crude Protein % | 22.69 | 11.45 | 15.05 | 11.1 | 6 - 12 |
| Oil % | 0.78 | 4.25 | 4.41 | 3.48 | 1 - 3 |
| NDF % | 34.7 | 40.06 | 40.32 | 31.85 | 50 - 65 |
| ADF % | 22.73 | 32.32 | 29.68 | 30.89 | 30 - 40 |
| Starch % | 7.8 | 10.54 | 6.99 | 11.85 | 1 - 3 |
| WSC % | 4.86 | 4.3 | 13.7 | 20.74 | 9 - 17 |
*Analysis reported on a dry matter basis
For a greater understanding of the analysis used and nutrients analysed please see the Forage Analysis section of our website.
Can hedgerow haynets be given to laminitis prone horses?
One group of horses that we are always concerned about feeding extra treats to is those that are laminitis prone. It is very important not to assume that weeds or hedgerow items are any lower in sugar than grass or hay is. It is also important to appreciate that adding extra hedgerow items will provide more calories to the total diet too. Limiting these items to a treat only means that your horse doesn't have to miss out completely.
Looking at the table above, Sticky Weed provides the highest combined WSC and starch levels of the hedgerow items tested. Based on the dry matter results, and if this was a hay and being fed at typical levels, we would certainly advise against feeding it to a laminitis prone horse or pony where we would generally recommend using forages with less than 10% WSC and starch combined. However, if we look at the percentage dry matter, Sticky Weed only contains 13.5% dry matter and therefore 86.5% of it is moisture which means the actual amount of sugar consumed would be relatively low. For example, 200g of Sticky Weed as fed would provide 5.6g of WSC, whereas 200g of a mid-quality hay (ie about 13% WSC) would supply more than double the WSC at 22.62g so context is everything!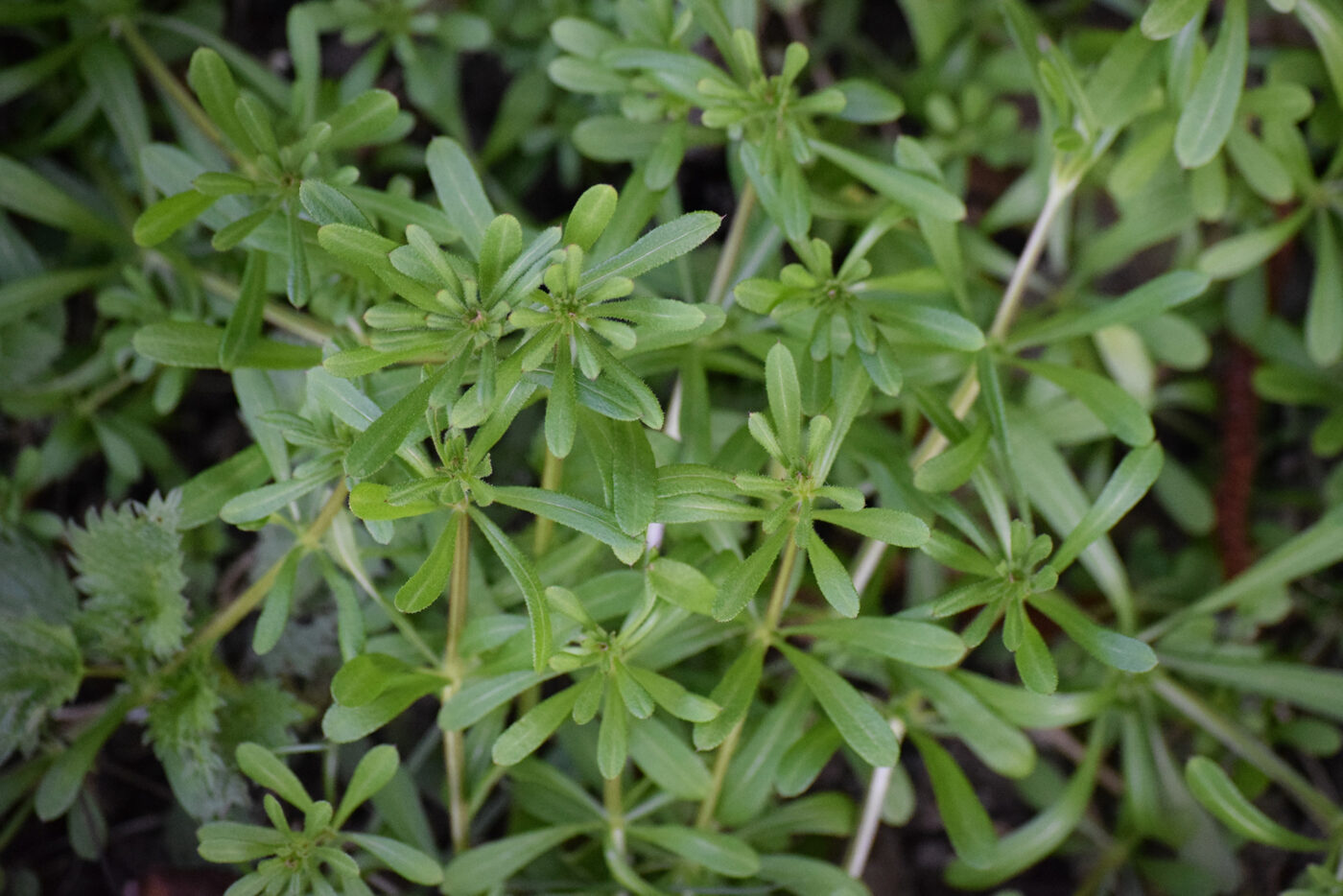 Carrots are another similar example where, on a dry matter basis, the sugar level is high, but because they contain lots of water, the sugar level in the carrot as fed is much lower making them suitable as a treat if used in moderation. Always remember though that these items should be fed as a treat. If you are prone to "portion distortion" and just can't resist feeding too much to your horse, then you may well be better off avoiding them altogether!
What can I use as a basis to my hedgerow haynet?
For good do-ers and those with insulin dysregulation, straw is a great source of forage that can mixed with the usual forage ration to encourage foraging behaviour without supplying too many additional calories or too much extra sugar. Whilst there has been some debate about the suitability of straw, recent studies are showing it is a useful feed material for good doers if used correctly. Click here for more advice on feeding straw to horses.
Top tips for making a hedgerow haynet
Be absolutely sure you have picked things from the range of hedgerow herbs and plants for horses that are suitable for them to eat. If in doubt leave it out!
Get inventive – place the hedgerow items around the paddock if your horse doesn't have a hedge to help themselves to, or in the stable either mix through the usual forage ration or leave in separate nets or buckets to encourage foraging behaviour
Use in moderation – feed a little, not a lot and always make gradual diet changes
Don't assume that hedgerow items are low in sugar, they may not be. Use as a treat only or not at all if you are concerned about laminitis
Being novel, it may take a while for your horse to be interested in extra items in the haynet. Don't worry if they take to sorting out and rejecting items you have picked and mixed in – this will still have kept them occupied and slowed the rate of consumption of the rest of their forage ration
If you are competing under rules picking weeds and herbs could increase the risk of NOPS contamination and is best avoided. Click here for further information about prohibited substances.
Click here for further feeding advice or if you would like our nutrition team to review your horse or pony's current ration.