Keeping Chickens
---
Chickens make great pets with the added benefit of providing you with fresh, tasty eggs. Keeping chickens as pets has grown in popularity, with a rise in chicken ownership over the last few months in particular. Here are some helpful management tips for new chicken owners or those thinking of getting and keeping chickens.
Housing and Coop Bedding for Chickens
When it comes to keeping chickens, the right housing is important. Your chicken coop should provide your hens with a place to lay their eggs and a secure space to roost overnight. Hens like to lay their eggs in a dark and quiet place. Many coops have a nesting box at the side with an access lid allowing you to easily collect your eggs without causing too much disturbance to the birds inside. Hen houses should be secure and protected from predators such as foxes; ensuring your coop is sturdy and raising it off the ground can help prevent predators digging their way in.
Chicken nest bedding, such as Dengie Fresh Bed for Chickens, can be spread on the floor of the coop to help absorb any moisture, droppings and smells. The chicken coop bedding material also provides cushioning for your hen's feet and insulation in the colder months. Nesting boxes should also be lined with soft and dry bedding material for chickens to provide comfort for hens when laying and also help protect your eggs. A pet chicken may also be an ex-battery hen. It's important to remember that ex-battery hens are often not used to roosting on a perch and may prefer snuggling into a nest of bedding for chicken nesting boxes instead. This can help to keep your pet chickens to feel safe, secure and comfortable.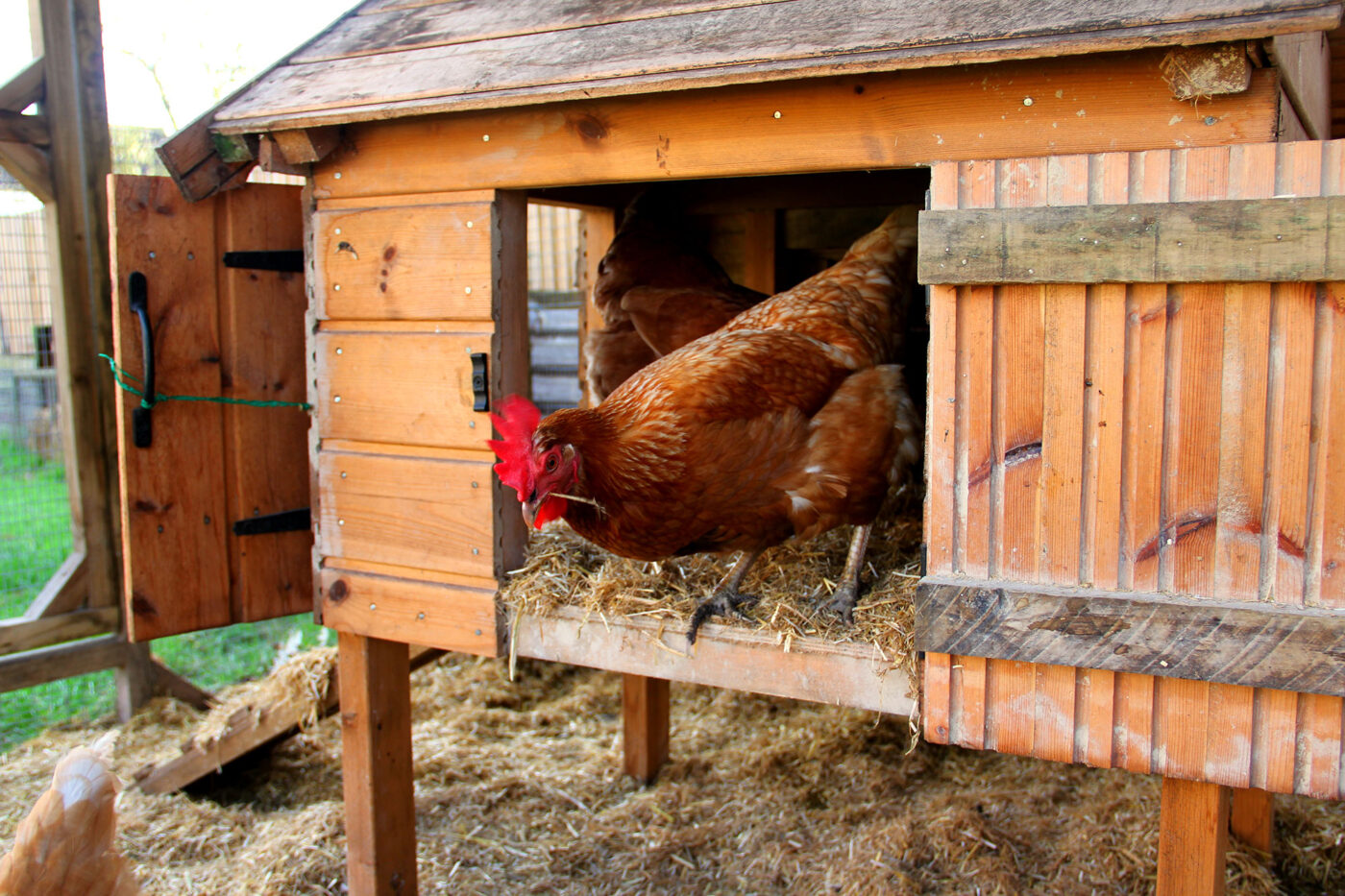 Cleaning and Management
Regular cleaning and disinfecting of your coop and chicken bed is important to keep harmful bacteria, parasites and viruses at bay. Droppings and wet patches can be removed from chicken house bedding on a daily basis and a thorough clean should be undertaken weekly. Always remember to clean out your drinkers and feeders too.
It is vital to check both your hens and their coop for parasites such as red mite which are often brought out by the warmer weather. It is important to keep up to date with parasite treatment and worming of your pet chickens should be performed three or four times per year.
What to Feed Chickens
Your hens will need daily access to fresh water to help keep them hydrated, an average laying chicken will need around 200ml of water per day. The best chicken feed will depend on the individual's needs, but it is important to ensure your hens have a balanced and nutritious diet by feeding a specially formulated chicken feed. Chicken feed pellets or a chicken corn feed would normally contain a blend of cereals, proteins, vitamins and minerals. Alfalfa feed for chickens is also popular due to alfalfa being beneficial for egg quality and therefore human health.
An average pet chicken will require between 120 – 150g of food per day. Chicken feeds suppliers should be able to advise on the most suitable ration for your chickens but remember to make any feeding changes gradually as making sudden changes can lead to digestive upsets.
Dengie Fresh Bed for Chickens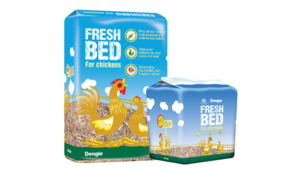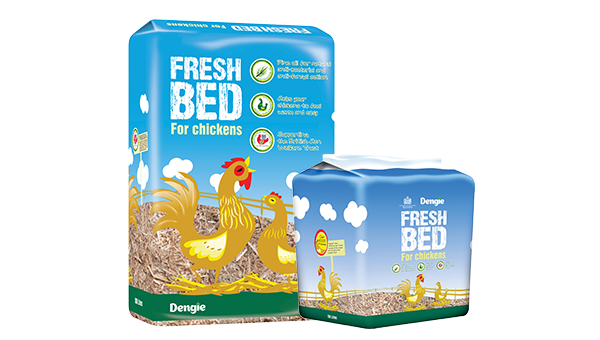 Dengie Fresh Bed for Chickens is made from chopped and dust extracted straw with a pine oil coating, providing anti-fungal and anti-bacterial properties which can be used for indoor or outdoor chicken run bedding. Fresh Bed for Chickens was developed in association with the British Hen Welfare Trust to provide a clean and warm bed chicken bedding that is dust free and smells fresh. Dengie customers think Fresh Bed for Chickens is the best bedding for chickens, but most importantly chickens love it!
Dengie Fresh Bed for Chickens is easy to dispose of as it breaks down much quicker than shavings or wood pellets producing great compost for your veggies. Fresh bed for Chickens is available in 100 litre or 50 litre bales and is also suitable for other poultry such as ducks, geese and pheasants.
If you have any questions about keeping chickens, don't hesitate to get in touch with our expert team today. While we may specialise in horses, our dedicated team can provide assistance with enquiries around our Fresh Bed For Chickens and bedding products.
Dengie Fresh Bed for Chickens RRP: £7.90 + VAT (50L) and £12.60 + VAT (100L) available from all good chicken bedding suppliers.
References
bhwt org hen husbandry
bhwt org health tips
bhwt org keeping chickens guide