A Study into the Relationship Between Horse's Chew Time and Consumption Rates
---
A research collaboration between Dengie and Writtle University College has provided more insight into the relationship between horse's chew time and consumption rates.
One of the greatest challenges for owners of good doers is finding the balance between feeding sufficient forage to maintain gut health without resulting in excessive weight gain. Increased awareness of equine gastric ulcer syndrome (EGUS) has contributed to this concern as a significant risk factor for ulcers is feeding too little forage. However, many forages are too high in energy (calories) and cause horses and ponies to gain weight when fed in larger amounts. Unfortunately misunderstandings about the use of straw have meant that many horse owners have shied away from feeding it to their horses, but recent studies have started to explore the use of straw and are demonstrating that it has many positive attributes, both as a low calorie forage and for slowing horses and ponies down when eating. We felt there were some areas that could be explored in more detail to further reassure horse owners that straw is a really useful forage source, especially for those with good doers and overweight horses.
The research trial was conducted by final year student Nadine Mostert who is studying for a degree in Equine Performance and Business Management at Writtle University College. Nadine conducted a cross-over study design over a 2-week period, whereby all eight horses used in the study were offered two diets; one that was 100% haylage and one that combined 50% oat straw and 50% haylage. Nadine measured the horse's bodyweight, chewing rate, consumption rate and number of bowel movements and compared these variables between the two diets.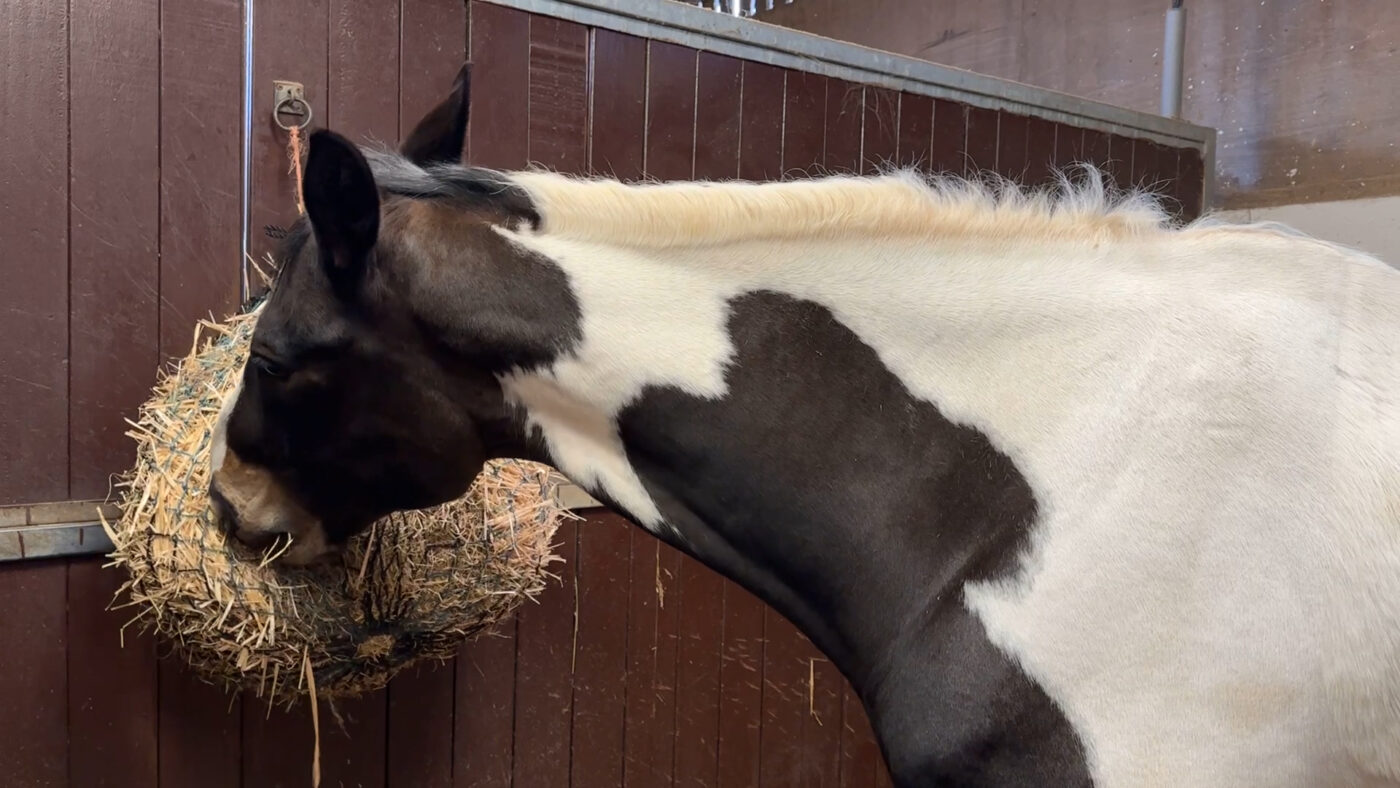 Nadine found a greater reduction in bodyweight for horses on the oat straw diet during the first week. Chewing rate on the oat straw diet was also lower than chewing rate on the haylage diet on Day 1, but on Day 7, chewing rate on the oat straw diet was higher than that of the haylage diet. Interestingly, the consumption rate remained lower on the oat straw diet compared to the haylage diet on Day 1 and Day 7, but this difference was statistically significant on Day 7. This suggests that there wasn't a direct correlation between chewing rate and consumption as Nadine explains "what seemed to slow them down is the novelty and decreased palatability of the oat straw. Introducing something new or less palatable likely results in an increase in sorting or searching behaviour. While this does not directly correspond to actual intake, it will prolong feeding which is beneficial in the context of welfare and gastric ulcers".
This is a key takeaway from the research but as Katie Williams M.Sc. (Dist) Technical Manager at Dengie highlights, the study also showed there is considerable variation between horses. "The study was so revealing in that it showed the chew rates varied considerably between individuals so, like humans, horses eat at different rates. Some individuals varied in response to changes in the forage but others were remarkably consistent in the number of chews they made whatever forage they received – clearly they weren't distracted or slowed down by anything when they were eating! This may reflect the breed or type of horse which is another area of study we want to explore "
For more information about the study watch our video below.

For more information on forage for the good doer or for help and advice on all aspects of feeding call the Dengie Feedline: 01621 841188 or complete our Feed Advice Form.