BD Youth Pony Progress – Olivia Langley
---
Dengie caught up with Olivia Langley as she finished her lesson with Dan Sheriff for an update on their progress.
"Since the last British Dressage Youth Pony Progress training I've been working hard at home with help from my trainers Vicky Humphrey and Sonia Baines on keeping Albert loose and working over his back. When we did our test riding in January he was great, much more off my leg and well behaved but in February, well it didn't go very well, as he was a bit spooky."
"My lesson with Dan today was great; Albert was really listening to me. Dan said that we had improved a lot and were much better as a partnership."
Claire Akers commented on the difference since first weighing and condition scoring Albert back in October.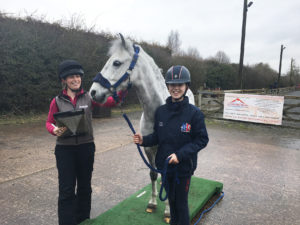 "Albert was a condition score 4 back in October and had a bit of weight to lose. The combination of working correctly, monitoring his hay and a diet of Alfa-A Lite with a vitamin and mineral supplement shows a much trimmer Albert. In total he has lost 28 kg which is equivalent to 8% of his body weight. He's now the ideal weight for him to be able to perform at his very best. Olivia can now relax Alberts diet a little to help him maintain rather than lose weight. To do this it was suggested to increase his soaked hay and his Alfa-A Lite. Alfalfa supplies a very good source of quality protein, this combined with his increased work load will help him develop a little more topline."
Next for Olivia and Albert is British Dressage Youth Northern Camp at Sheepgate and then looking forward to our first Premier League of the season at Keysoe.