Dengie Equine Nutritionist Katie Williams completes her PhD
---
We are delighted to announce that Technical & Product Development Manager Katie Williams M.Sc (Dist) R. Nutr, passed her viva voce exam following on from submitting her doctoral thesis meaning she has completed her PhD.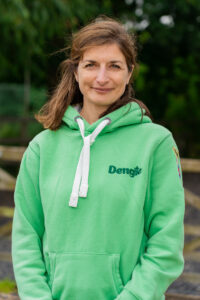 Katie's study reviewed the status of nutrition in the veterinary industry and explored the relationship between the professions. She has been presenting her work at conferences in Europe and the USA and her paper titled 'A detailed analysis of consultations between equine nutritionists and a client', was included in the Journal of Veterinary Science proceedings of the Equine Science Society 2023 Symposium.
Katie has been working full-time for Dengie whilst completing her PhD which is no mean feat! Dengie's Managing Director Ian Hassard was in no doubt Katie would complete her study "Katie's determination and dedication are second to none so we were in no doubt she would complete her study. Everyone here is very proud of her achievement".
One of the aims of Katie's work was to explore the effectiveness of equine nutritionists and make the case for the work those in the profession do being more widely recognised and valued.
"It was really encouraging to find that the client assessing the nutritionists rated them all very highly for parameters linked to empathy" shared Katie, "and they all highlighted the potential for the ponies featured in the consultation to become obese suggesting that nutritionists don't appear to have the same issues with talking about obesity as other professionals might".
Katie is already working on other projects including a review of nutrition training in the veterinary curriculum and developing a scheme for those giving nutritional advice under the auspices of BETA.