Dengie – the UK's favourite horse feed!
---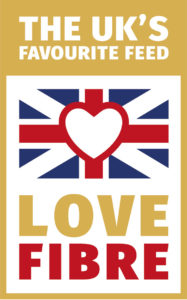 The 2019 British Equestrian Trade Association National Equestrian Survey has showed that once again Dengie is the UK's favourite horse feed!
We topped the chart for the most popular horse feed brand purchased by owners for the second consecutive time, increasing our lead from the last survey that took place in 2015.
The survey also revealed a marked increase in horse owners feeding fibre-based diets. Clearly horse owners were in no doubt that Dengie is their favourite horse feed brand.
With full traceability and accountability at the forefront of our manufacturing process, and with crops fully traceable from seed to feed, Dengie are a highly trusted company and known for producing consistent good quality horse feeds that prioritise the horse's health and have been doing so for over 50 years.
'We are very proud to be able to say that Dengie is the pioneer of fibre feeding. The benefits of a high fibre diet for horses are now generally accepted by equine nutritionists everywhere as the best and most natural way to feed horses', said Dengie's Managing Director Ian Hassard. 'We offer retailers and horse owners a range of horse feeds that are top quality, fully traceable, produced to a high standard; whilst protecting the environment and operating in a way that ensures a sustainable future. We are delighted that the survey results prove that horse owners buy their favourite Dengie horse feed with total confidence'.
In 2007 Dengie sealed their status as leading fibre horse feed producer when they were awarded HM The Queen's Royal Warrant. Sustainability is a key requirement for holding a Royal Warrant, which is an on-going process of continual improvement and recognises individuals and companies that operate to the highest standards.
Dengie provides a wide range of fibre feeds that promote health and performance in the horse.
For help and advice on all aspects of feeding the horse or pony call the Dengie Feedline: 01621 841188 or click here to request a personalised diet from our equine nutritionists.