Dengie's Green Cross Logo on Hi-Fi Molasses Free
---
Dengie's new Green Cross logo, has been added to Dengie Hi-Fi Molasses Free. Our new eye-catching logo has been added to help horse owners easily identify the right feed for their laminitis-prone horse or pony and is accompanied by an endorsement from The Laminitis Site. "We are delighted that The Laminitis Site feed and recommend Dengie Hi-Fi Molasses Free and it was a natural progression to add their endorsement to our packaging" commented Katie Williams, Dengie's Technical & Product Development Manager.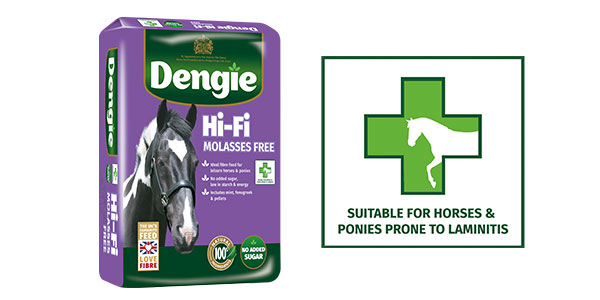 Laminitis is often the symptom of an underlying metabolic or endocrine problem such as EMS or PPID. One of the biggest risk factors for laminitis is obesity and levels continue to rise in the UK equine population; a recent study conducted by Carslake et al (2020) found 75.2% of horses and ponies in livery yards and riding schools were overweight.
Although Hi-Fi Molasses Free features the new Green Cross logo, there has been no change to the product itself. It still contains just 2.5% naturally occurring sugar which is between 5 and 10 times lower than average grass hay. Hi-Fi Molasses Free is low calorie making it ideal for good doers and overweight individuals and is high in fibre, providing the horse with slow-release energy that takes longer to chew than mixes and cubes. This provides a more natural form of nutrition for horses and ponies who have evolved to spend 16-18 hours of everyday eating.
Look out for the new Green Cross logo on Hi-Fi Molasses Free packaging appearing in stores this month!
For more information about The Laminitis Site visit: https://www.thelaminitissite.org/