Latest Equine Gastric Ulcer Syndrome Research Updates
---
At a recent seminar hosted by Dengie, leading veterinary expert Professor Celia Marr from the world famous Rossdales Equine Hospital and Diagnostic Centre in Newmarket, gave an update on Equine Gastric Ulcer Syndrome (EGUS).
Recent research suggests that once horses begin training their likelihood of developing gastric ulcers increases.
Figures show that 43% of untrained racehorses suffer with equine ulcers and once in training that figure jumps to between 80-100%.
48% of endurance horses are reported to have them out of season – while this jumps again to between 66-93% when they are in competition.
17-58% of competition and show horses in competitive work have ulcers
And the most surprising results were that of pleasure horses of which 37-59% suffer from EGUS.
While there are many possible causes, high concentrate diets and intense exercise have been identified as the trigger in many equines.
And whilst there can be many other medical causes of the same clinical signs that horses with ulcers display, it was agreed that endoscopy is the only way to definitively diagnose ulcers. Gastroscopy (endoscopy of the stomach) is carried out by a skilled veterinarian if a horse is underperforming or isn't quite right in some cases as part of a wide-ranging diagnostic investigation.
Once a horse is diagnosed with EGUS then Celia Marr discussed the various ways of treating and helping prevent their recurrence.
While Omeprazole medications were found to be the best practice for treatment, advice is to change feeding and management of the horse to reduce the risk of recurrence.
For years riders have been told not to feed horses for at least an hour before exercise. Research has found that feeding a small amount (couple of handfuls) of alfalfa chop helps to reduce the acid in the stomach from splashing around and causing ulcers. This practice is now being adopted by many racing and professional sports horse yards with great results. Click here to read more about the benefits of alfalfa
Feeding more fibre and reducing reliance on cereal based feeds is also beneficial. Advice is that starch intake should be less than 2g per KG of bodyweight per day to reduce the risk of ulcers. Free access to water at all times is also essential. For additional energy it is recommended that oil/oil based feedstuffs products are much more suitable than that of starch such as Dengie Alfa-A Oil that provides the same level of energy as a competition mix but 10 times less starch typically.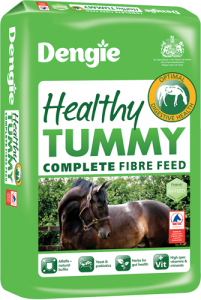 Dengie Healthy Tummy is a complete fibre feed containing ADM Protexin In-Feed formula which helps to maintain optimum levels of acidity within the gut. Suitable for horses in light to moderate work when fed at the recommended quantity this alfalfa based feed has the natural buffering capabilities to keep the gut healthy.
For horses in hard competition work Healthy Tummy can be fed alongside traditional mixes and cubes or can be combined with Dengie Alfa-A Oil.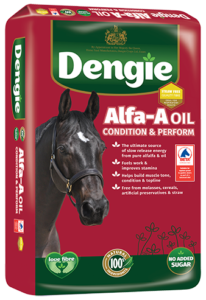 Alfa-A Oil has no added sugar and is low in starch yet high in oil and provides as much digestible energy (12.5MJ/kg) as a conditioning or competition mix/cube.
If you want like to know more about either of these products, or would like advice about feeding the horse or pony diagnosed with EGUS don't hesitate to phone the Dengie Feedline team on 01621 841188 or chat live to a nutritionist online.