New Meadow Grass Range
---
Simple, natural "green" horse feeds has always been the Dengie promise. Trusted for providing equines with the very best in locally grown, alfalfa based nutrition, we are now delighted to be able to offer horse owners a British grown, grass product that will provide all the fibre and much more that a healthy equine needs.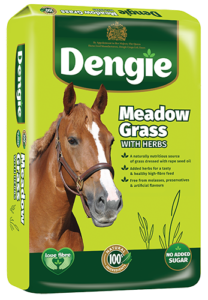 Dengie Meadow Grass with Herbs has been formulated by the Dengie team of scientifically trained nutritionists to be used as a source of pure, chemical free fibre that can be added to any bucket feed to help increase chew time. Ideal to use as a hay replacer it supplies additional calories to help gain/maintain weight especially during the winter months. The finest Lincolnshire meadow grass is dried, chopped and lightly dressed with  rape seed oil.  It is then topped with a unique blend of tasty herbs – liquorice root, fennel, mint, chamomile and aniseed. It is naturally sweet and as it is a short, soft chop is it great for veterans or horses with poor teeth.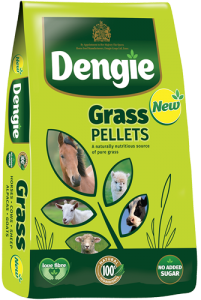 Dengie Grass Pellets are a blend of naturally nutritious 100% pure British grasses. Naturally sweet to tempt fussy eaters the pellets are ideal as a partial hay replacer, can be fed dry or soaked, used in a snack ball or as a healthy treat. Non GM they provide highly digestible fibre; ideal for promoting gut health and contain as much energy as a low energy mix or cube. Ideal soaked for veterans or those with poor teeth they contain no added sugar and provide an alternative source of non-heating calories for winter weight gain. They are suitable for all horses and ponies as well as other livestock.
All the ingredients are 100% natural and each and every one is supplied by nature with minimal processing to retain as much natural goodness as possible. There are no artificial preservatives, flavours or additives used and both products are molasses free and contain no cereal or cereal by-products including straw.
The health and happiness of the horse together with caring for the planet is central to every Dengie product and the new Dengie Grass range are no exception. We grow as many of our own ingredients as possible and source as locally as we can to keep our "feed miles" down and support UK farmers. Each ingredient in a Dengie feed bag can be traced back to the field it was grown in to create natural and safe feeds you can trust. All this makes Dengie a truly environmentally friendly, feed brand.
For further information on Dengie's new grass range click here.
If you need some nutritional advice for your  horse or would like to know more about any of our products, don't hesitate to contact the Dengie Feedline team on 01621 841188 or chat live to a nutritionist.