Winter & Competition Prep by Libby Gill
---
Earlier in the year, three lucky Horse&Rider readers won a 12-month training bursary from Dengie. As part of their prize, they won lessons with Dengie ambassadors, Hannah Esberger-Hancock and Lucy Jackson. Their horses were also given a nutritional consultation with Dengie's Performance Horse Nutritionist, Claire Akers. We catch up with one of the lucky winners, Libby Gill on how her winter and competition preparation has gone with Sherbert, her 12-year-old, Thoroughbred X Welsh Section D gelding.
After a successful year, our season finished with a busy October. We competed at the Quest Regional finals where we qualified for the My Quest Championships at Bury Farm and was delighted to finish 5th in the Novice. We also competed at the Area Festival Finals and we won our Novice class giving us a direct qualification to the Area Festival Championships in April! Camping at a show in October in the middle of a storm is not recommended!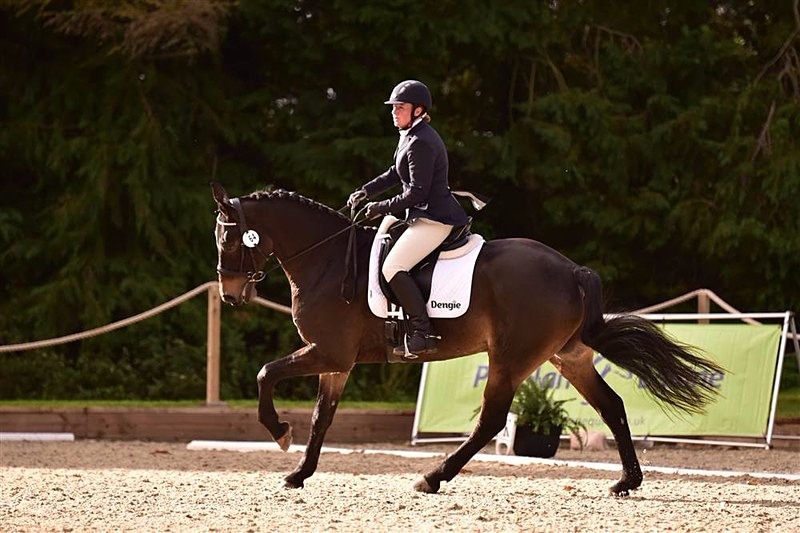 October also saw me taking a trip to Aston-Le Walls for my Dengie competition winners day. I had fabulous lessons with both Hannah and Lucy who are both amazing trainers and gave me plenty to take home and work on to help me with competition season ahead. Sherbert had his nutritional assessment with Claire Akers from Dengie and a new diet plan which he loves.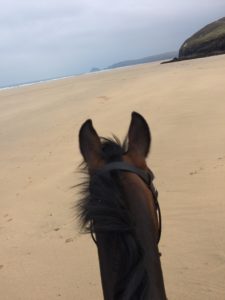 Sherbert had November off and came back into work at the beginning of December with a fresh clip, lots of hacking and a trip to the beach which he really enjoyed! Sherb had his jabs, teeth done and a massage to ensure he was in top health to start our competition preparation. I was all set for our first dressage training session of the year and Sherbert went lame! Typical! With a few days rest he was sound again, so let the training commence!
I find it very difficult to ride on week days during the winter due to the limited daylight hours and am really looking forward to the spring! The dark evenings have given me ideal time to start planning my season ahead with shows I hope to attend to get my qualifications at Novice and Elementary. I also mapped out a training schedule working up to the Petplan Championships in April so although I haven't competed through the winter months, I have been busy planning for 2018.
Sherbert is looking and feeling fantastic all thanks to his Dengie diet and I am really looking forward to the season ahead.