Great results for Tanya and her horses
---
We have had a busy week out and about eventing, along with training and teaching.
Last weekend I took Candy to Eland Lodge in the Open Novice. The dressage arena was unfortunately right next to the start of the XC which meant there were some rather excited horses! Candy held it together just about…we added a couple of unnecessary changes in the canter work, but she didn't explode like some other horses! She showjumped well, just had a pole which was my fault pushing her too quickly into a double and then pinged round the XC for a steady clear to finish just out of the placings.
On Monday I was back at Breckenbrough Horse Trials with Skip for an unaffiliated one day event, but around the same course as he did at the BE event the week before. He was very settled in the dressage to get a score of 29.3 and once we got him into the showjumping arena he jumped without napping this time and just caught a pole at the second last. It was like riding a different horse round the XC this time, there was no napping and he felt super confident to go clear inside the time to finish 7th. It was a much better result!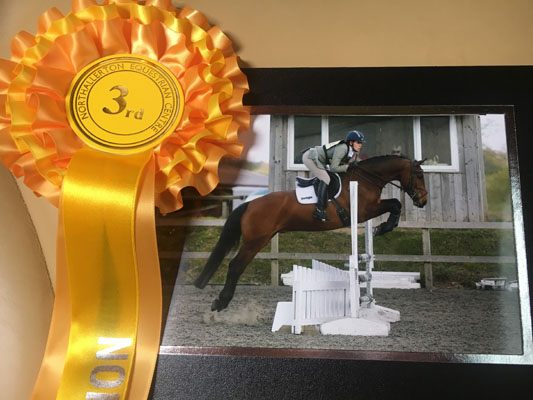 On Saturday I had Skip and Stan out at Northallerton BE. Stan was a little pro…he's amazing for a 5year old!! He did a lovely test for a score of 25.8 and jumped a fab double clear in the time to finish 3rd! Skip was good again in the dressage, doing the 2nd best test of the section and again jumped a good double clear, but sadly the 1st and 2nd XC jump ran alongside the warm up and he found this far too tempting to nap! However once he got going he was awesome, but sadly got time faults so wasn't placed…he is getting better though and I'm very excited about his future!
Sunday we went for a trip to Scotland to Dalkeith Horse Trials. It was our first trip there and I have to say it was a beautiful event! Amazingly well run and a big bold XC track! Candy was in the ON and was a star – 28 dressage test, 1 down which was so unlucky as she was pinging and then a super round XC to finish 4th!
Very clever ponies!
The horses are nearly all living out now – yay! I have to say they are all doing so well on their Dengie fibre diets and even Candy who came to us looking in rather poor condition has put on some weight and is enjoying her Dengie Alfa-A Oil!
I'm just on my way back from a 'Bridging the Gap ' clinic with Gill Watson. This is a BE organised training scheme for horses/ riders going 2 or 3 star during the year. Candy was fab – we ran through her dressage test for Floors Castle and then had a jumping session working on balance and straightness. I would highly recommend anyone to get involved in the training offered by BE as it's so worthwhile and you learn so much!