Eventing in Ireland by Alicia Wilkinson
---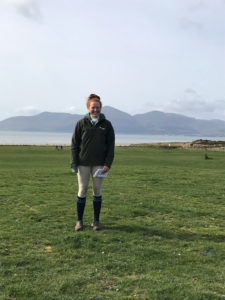 I have had 3 fantastic events here in Ireland with Googie. Our first event was an Intermediate at Tyrella. The night before my mum arrived into Dublin airport where I picked her up from. We then had an leisurely wake up at 5am, followed by a 3 hour journey. We arrived to the most picturesque setting as the event takes place right on the beach. It took us about 10 minutes to drive 200 metres because my mum kept wanting to take pictures!!!
Warming up for dressage (9am ish) Googie was so calm! I'm always slightly worried when she is so relaxed, I always say "she must be ill". She is really enjoying her work and loves the way that Sam trains so is blossoming into the horse I know she can be. We did a good test, but as ever there are lots of bits to be improved.
'Eventing Ireland' only holds the event on one day, so to fit everyone in onto the only day of the event the Intermediate competitors have to run cross country before showjumping. VERY strange!! Also in Ireland for some reason it is so much lighter than the UK so people are still happily jumping at 6/7pm.
Anyway so after my dressage we quickly walked the cross country and then tacked up to go (for 11am). The course seemed pretty straight forward with a few tricky questions and some interspaces towards the sea! But Googie sailed round in the time. We then went paddling into the sea 🙂 What a fantastic way to cool off a horses legs after cross country.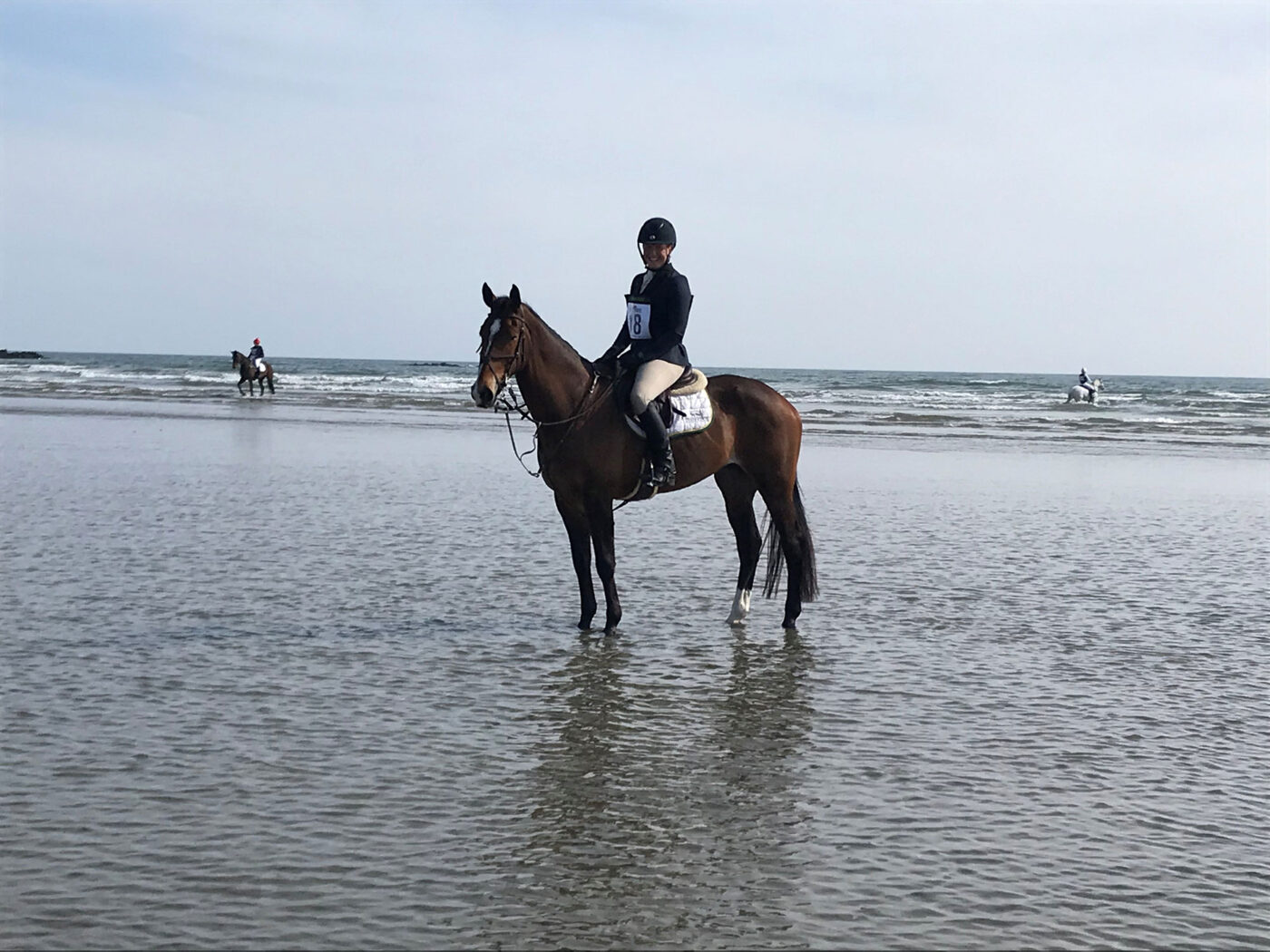 Although it was strange having cross country before show jumping it was rather nice as we did the big wash off and messy bit in the middle of the day and weren't in a rush to chuck everything in the lorry all dirty. Googie washed off and legs iced she then had a graze before going back onto the lorry for a couple of hours before the showjumping began (1.30pm ish).
Warming up for showjumping Googie felt pretty lazy and I had this awful feeling that she would stop! (my worst nightmare). I only jumped a handful of jumps in the warm up, which were two jumps in the middle of a field and in the corner was the ring which was roped off but it just seemed 'very irish' in the way it was done. I tried to razz her up and then I went in. There was no need to do too much razzing! As soon as she saw the showjumps she knew her job. She did the most beautiful clear round and finished 6th.
Two weeks later we went back for Tyrella 2 which was equally successful and Googie pulled off another FOD (Finished On Dressage) for 3rd. These were two fantastic runs in preparation for her first CCI4*S at Ballindenisk.
My next blog will be all about Ballindenisk and how Ziggy did in his first event!!