Lessons learnt during '2020 Lockdown'
---
Well, lockdown has been something of an experience for each and every one of us. Something no one could have expected or prepared for. My existing levels of admiration for the NHS, and frontline workers has been sent into over drive. Their courage and resilience an inspiration to us all. My reliance on communication with my family and the Eventing family has been modernised into the zoom world, and I'm relieved I'm not sitting anything more challenging than 2-3 year-old classes in home schooling.
From a work perspective we have had to adapt fast with pre-trainers understandably returning to their trainers almost instantly and not being replaced, leaving several empty boxes. We were lucky enough to have an owner needing our retraining services and four new TBs fresh from racing arrived at the beginning of lockdown to seek their fortunes away from the track. This is one of my favourite challenges and as you can see from the pictures it's a hugely rewarding experience.
This fellow is 8-year-old Chesterman who with a month of lungeing, long reining, hacking, flat work, pole work and jumping has progressed rapidly. He is now ready to jump into water and over some logs, ditches and banks and as soon as we're given the go ahead will now be for sale to pursue his new career.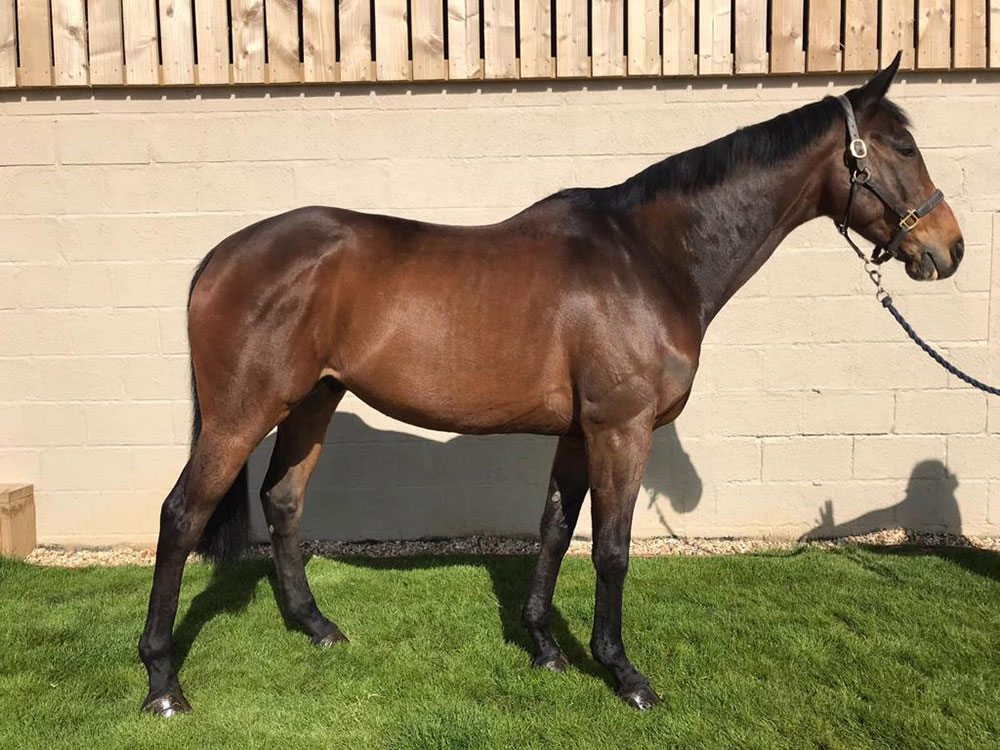 As with all our horses during lockdown a simple high fibre diet of Dengie Alfa-A Original, balancer, haylage and turnout suited him down to the ground. His coat, muscle tone and condition score have all benefited hugely.
With our eventers we chose to give two of the novices a 6 week holiday as they'd been in fairly heavy work and with no competing on the horizon we felt they were ready for a break. They continued to have a handful of balancer each, twice a day for essential vits and mins. They'll return to work on Monday and we'll start to introduce some Alfa-A Original back into to their diet.
The other eventers continued in "January" levels of work. We've been doing variety of lunging, hacking, flat work and pole work 4-5 days a week with plenty of turnout.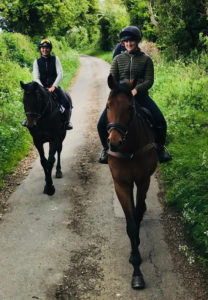 At the start of lockdown I felt a little lost without the structure of the usual hectic competition schedule to adhere to. Most eventers will know what I mean when we refer to 'Aston and Chatsworth week' but none of us would have a clue which date of which month that was in! As time has gone on I've really got into the swing of it. We were lucky enough to be in our snazzy new facilities here at BQES so there have been masses of jobs that we needed an enforced rest to have time to complete…grass seeding, jump painting, mat washing, board re writing, cupboard labelling etc. We have had time to move house onto the yard which is a huge advantage for security, safety and our sanity! It's a breathtakingly beautiful place to be and we as a family are LOVING it here. We have had time to just enjoy riding our lovely horses, improving their way of going, learning new movements and strengthening up. It sounds crazy given that it is my job, but more time to do it in has given me a new perspective.
All in all we have endeavoured to use the negative that is the horrors of a global pandemic as an enforced wake up call, a "reset" to appreciate the positives in our lives. One can't begin to comprehend what the front line has been through, or how differently we may feel if we didn't live in the country that we do. That said, the time to enjoy our surroundings, our precious animals, our loyal and hardworking teams of "lads" helping with our horses hasn't been lost on us. We are so incredibly fortunate in so many ways, I can see that now more clearly than ever.
As we look forward to the chance of returning to cross country, jumping and dressage shows and going to Eventing again, we'll be increasing the canter work, their diets will remain largely unchanged and I hope we can remember and retain the lessons we've learnt during "the extraordinary season of 2020". I'll sign off wishing everyone lots of luck during "re-entry" and just remember we are all well practiced and being resourceful, resilient and optimistic. If we weren't we wouldn't be involved with horses. So as fresh challenges emerge in the coming months use those characteristics to your best advantage and enjoy every moment with your families and horses reunited!