Maisie's final season in ponies
---
After the ponies had a good winter holiday out in the fields they came in looking rather fat and feral and they were ready to start preparing for the 2023 season which was also my final season in ponies, so an important one! At the same time as working hard with the ponies I was also working hard at school to prepare for my GCSE exams which began at the start of May!
Our season started at Lincoln Horse Trials after Oasby was abandoned due to all the rain, little did we know that that was going to be a common theme this spring! Oli did a brilliant double clear in the pony trial to finish in the top 10, it felt good to put a competitive score on the board to begin the season up against the other pony riders. Chance had a good spin round the 100 as our final run at that level before stepping up to Novice. It was a good feeling to come away from our first event of the year with both ponies feeling very well and to know our hard work during the winter had paid off; they were both looking good and performing well thanks to their Dengie diets!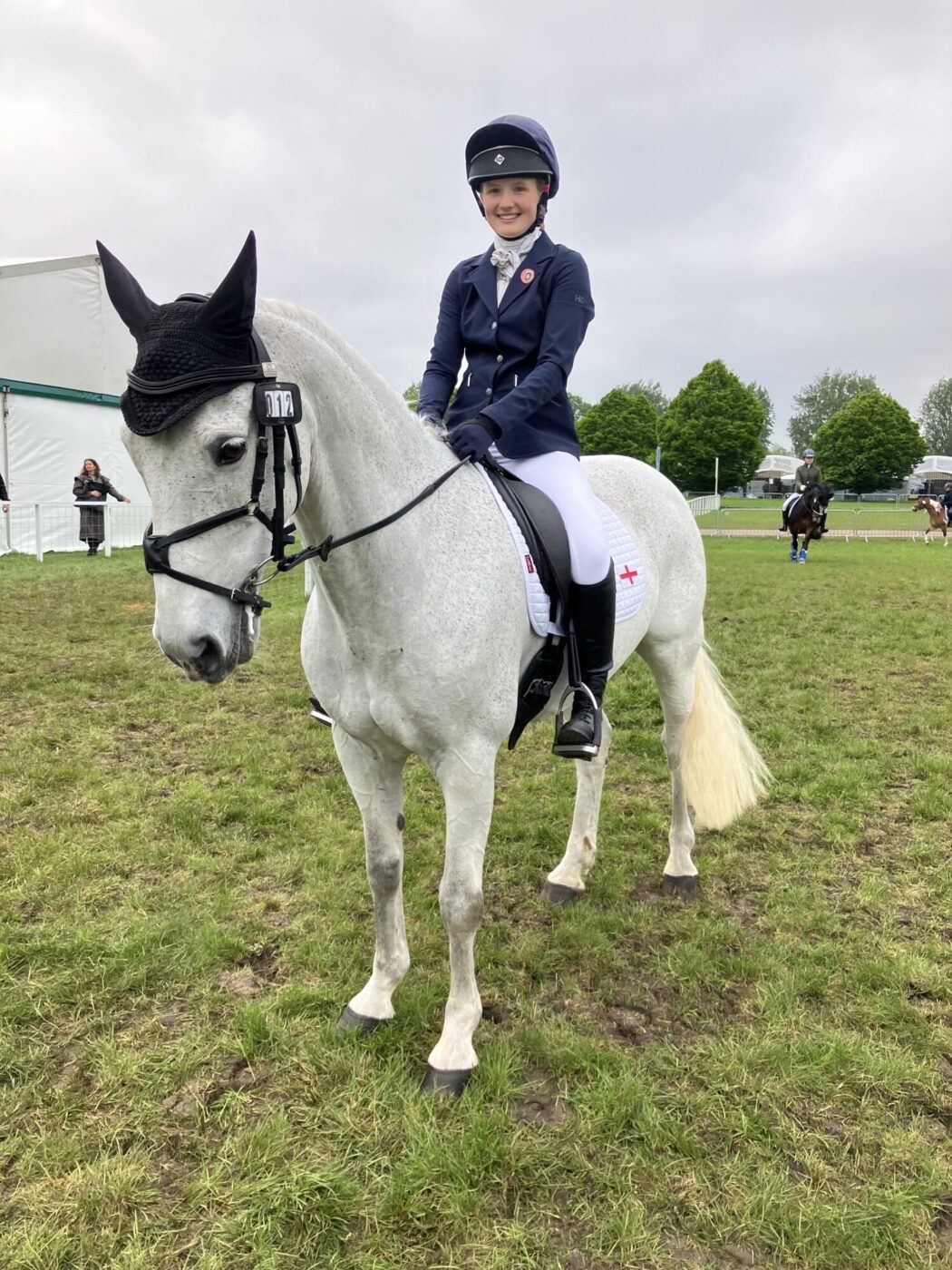 Our next event was Lark Hill with Chance where we stepped up to Novice. It was a very strong novice track and we were in a section with a lot of big names, but Chance and I gave it a good go! We started off with a solid test to score 30.5, definitely room for improvement but it was a pleasing test for our first go at this level together. Chance jumped her socks off round a big showjumping track just to have an unlucky pole down. We finished with a brilliant clear cross-country just picking up a few time penalties where I took my time to set her up and make sure we got a confident round under our belts.
Our next event was Cirencester Pony Trial with Chance. Due to even more rain which meant more events where cancelled Chance was feeling rather keen and happy to be out again. Due to a lack of runs the excitement of being at a party crept in leading to not our best test! However she definitely redeemed herself by jumping a brilliant double clear just picking up 1.2 time penalties to climb from 30th after dressage to 8th after the jumping phases, she is such a good jumping pony and she makes the fences feel easy!
Sadly after Cirencester my pony journey came to an end. Chance had picked up a small knock and it was important to us that we gave her the time she needed to rest and recover, which meant missing some key events. It was so gutting, especially after our result at Cirencester. She has now returned home to her owners to recover and when she is ready she will return to eventing with a new jockey as I am no longer in ponies. I miss her very much, but look forward to watching her with her new rider next year.
Oli had enjoyed a quieter time while I focused on Chance as we made the decision with his owners that he would step down from eventing. He was turning 20 this year and he'd done so much for me this past year we didn't want to push him if he was starting to feel his age. He owes us nothing and the ponies health and well being is our top priority. He was still in work and we were working towards what was going to be our last competition together at Royal Windsor Horse Show, where we had been selected to compete for England in the Pony Club Home International Dressage Competition. It was a huge honour to be selected and it was really exciting to be able to compete at such a prestigious venue.
Oli performed a beautiful test to not only help the England team to win, but also to secure the Individual Win of the Intermediate section. I was so pleased with Oli and it was a very special end to our time together. He is now enjoying a quieter life back with his owners, he's definitely earnt it!
Although it was sad to finish my time on ponies sooner than planned, it meant I had more time to focus on my exams. My exams finished mid June and since then I've had lots of fun and been enjoying my summer holidays. I had an amazing trip with dad to Achen in Germany, it was an incredible experience and definitely a show I would like to compete at it in the future, the atmosphere in the main arena was electric! I've also started riding and producing our two homebred 5- year-olds, Lunar and Lupin; its been lovely starting their education. They are both beautiful horses and it makes me very excited for the future. Most recently Lunar and I were very lucky to be able to spend two weeks under the watchful eye of Pippa Funnell. She is my biggest inspiration and I've watched her for as long as I can remember, so to be able to spend some time working and training with her was a complete dream come true! Me and Lunar learnt so much and it was a really good experience for us both. Since coming home we have taken Lunar to her first ever dressage competition, she behaved beautifully and came away with 68% and a win!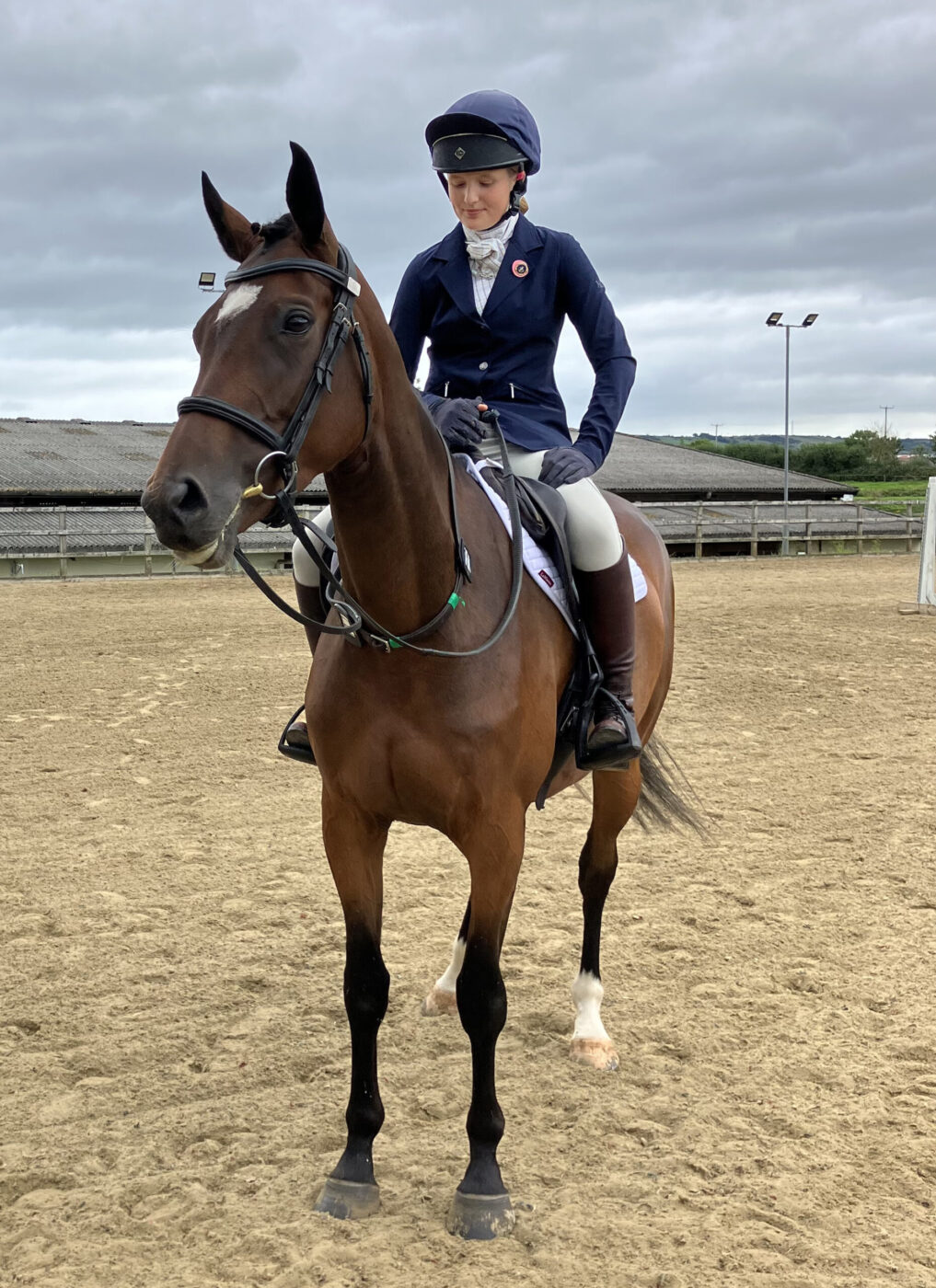 Her half sister Lupin has been making really good progress at home and going out for lessons and is feeling ready for her first competition in a few weeks time. I hope that they will be ready for an event in the autumn, which will be exciting, but we are in no rush, the main focus is to produce them slowly and correctly with the future in mind! Both Lunar and Lupin are fed on Dengie Hi-Fi Molasses Free with a performance balancer to ensure they get everything they need. They both have lovely shiny coats and are looking and feeling very well on their Dengie Diets!
I look forward to catching up again soon! Maisie x